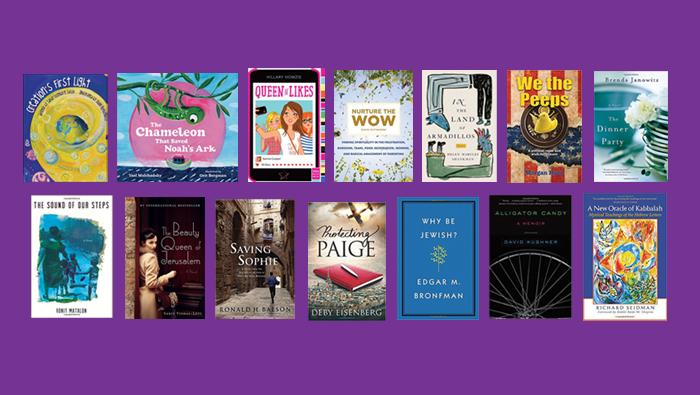 Whether you spend your summer lounging by the pool or on the beach, camping in the mountains or relaxing at home, a good book can enhance your pleasure. Here is a selection of the books that have come across my desk in recent months. I've dipped into a few while compiling this listing and have found a few more that I plan to delve into over the summer. I hope you do the same.
BOOKS FOR CHILDREN/TEENS/PARENTS
Creation's First Light by Rabbi Sandy Eisenberg Sasso, illustrated by Joani Keller Rothenberg, IBJ Book Publishing, 32 pages, hardcover, $25.
Award-winning author and rabbi, Sandy Sasso, honors the religious imagination of children and offers an artistic way of looking at the creation of the world from the book of Genesis. Jewish legend tells of the light on the first day of creation, which was different from all the other lights. Through it, you could see the whole world. Rabbi Sasso tells the legend of the light as a way of opening up conversations between parents, grandparents and their children.
The Chameleon That Saved Noah's Ark by Yael Molchadsky, illustrated by Orit Bergman, Nancy Paulson Books, ages 5-8, 32 pages, hardcover, $16.99.
The inspiration for the story came from an ancient text of less than 50 words, describing the troubles Noah had while feeding the animals on the ark. Discovering what the chameleon will eat is a challenge that saves everyone on the ark. This book is a PJ Library selection.
Queen of Likes by Hillary Homzie, Simon & Schuster/MIX, ages 9-13, 272 pages, paperback, $7.99.
Hillary Homzie's book for tweens features Karma Cooper, 12, who's studying for her bat mitzvah. Like everyone in her middle school, Karma's smartphone is almost another body part. She's obsessed with her "likes" on Snappypic. When her parents take away her smartphone, Karma's whole world crumbles. Ultimately, Karma ends up learning to do something because she LIKES it versus what others think. For her b'nai mitzvah project, she completes a photo project for the local historical society on the history of her synagogue.
Nurture the Wow by Rabbi Danya Ruttenberg, Flatiron Books, 308 pages, hardcover, $24.99.
This book about parenthood is subtitled Finding Spirituality in the Frustration, Boredom, Tears, Poop, Desperation, Wonder and Radical Amazement of Parenting. Rooted in Judaism, but incorporating a wide range of traditions, Rabbi Ruttenberg invites parents to approach parenting as a source of solace, not stress. She shows how parenting can be a spiritual practice and how the experiences we have as parents can change us for the better.
FICTION
In the Land of Armadillos: Stories by Helen Maryles Shankman, Scribner, 285 pages, hardcover, $25.
These compelling stories weave together the unfathomable experiences of the victims and the perpetrators of violence in Nazi-occupied Poland. The title story of the SS officer obsessed with rescuing the creator of his son's favorite picture book, even as he sends the man's family and friends to their death, is especially haunting, though beautifully told. An astonishing array of characters face impossible circumstances, yet glimpses of humanity pepper the tales.
We the Peeps by Morgan Hunt, BookBaby, 248 pages, paperback, $15.
Morgan Hunt has written a novel blending "political caper and wish-fulfillment" that is deeply in tune with today's political maelstrom. When seven ordinary citizens are unreasonably detained by the TSA, they bond over their upset with the government and decide to launch a second American Revolution with whimsical yet hopeful results.
The Dinner Party by Brenda Janowitz, St. Martins Griffin, 286 pages, paperback, $15.99.
Brenda Janowitz's fifth novel explores family dynamics, acceptance and forgiveness as the Golds of Connecticut meet the famed Rothschilds of New York City at a life-changing Passover seder.
The Sound of Our Steps by Ronit Matalon, translated by Dalya Bilu, Holt/Metropolitan, 384 pages, hardcover, $35.
This novel about an Egyptian Jewish family living in a shack near Tel Aviv during the middle of the last century is a collection of scenes described in intense detail by the family's youngest daughter, a deeply insightful if not always trustworthy narrator. A major voice in Israeli fiction, Ronit Matalon tells this tale of immigration, exile and family.
The Beauty Queen of Jerusalem by Sarit Yishai-Levi, Thomas Dunne Books, 372 pages, hardcover, $25.99
English-speaking journalist and author Sarit Yishai-Levi's portrait of the complex relationship between a mother and daughter has spent two years on the bestseller list in Israel. The rich history of Jerusalem shapes the lives of four generations of colorful characters.
Saving Sophie by Ronald H. Balson, St. Martin's Griffin, 416 pages, paperback, $15.99.
Private investigator Liam Taggert and attorney Catherine Lockhart, who appeared in Balson's first novel, Once We Were Brothers, team up again to investigate the kidnapping of a young girl caught in the middle of the Israeli-Palestinian conflict.
Protecting Paige by Deby Eisenberg, Studio House Literary, 336 pages, paperback, $13.99.
Set in Chicago in 1962, this novel revolves around Paige, a girl orphaned by a random act of gang violence, and her exploration of her family history in Paris and Buchenwald. With her Uncle Maxwell, she embarks on a quest to find one remaining family member and make peace with a legacy of suffering, sacrifice, strength and survival.
NONFICTION
Why Be Jewish? A Testament by Edgar M. Bronfman, Twelve, 256 pages, hardcover, $26.
This book covers Edgar Bronfman's early break with his Jewish heritage to his relearning how Judaism provides more than cultural identity. Before he passed away in December 2013, he left these compelling reflections to help secular Jews create a meaningful practice of their own.
A New Oracle of Kabbalah: Mystical Teachings of the Hebrew Letters by Richard Seidman, White Cloud Press, 200 pages, paperback, $17.95.
Richard Seidman makes ancient teachings about the Hebrew letters accessible and practical for contemporary readers and spiritual seekers. He describes the traditional meanings associated with each letter and shows readers how the teachings of the letters can apply to their own lives.
Alligator Candy: A Memoir by David Kushner, Simon & Schuster, 256 pages, hardcover, $26.
Award-winning journalist David Kushner shares this memoir of how a family survives unthinkable tragedy. This story chronicles his brother's kidnapping and murder by two drifters in 1973 suburban Florida and everything that happened after.