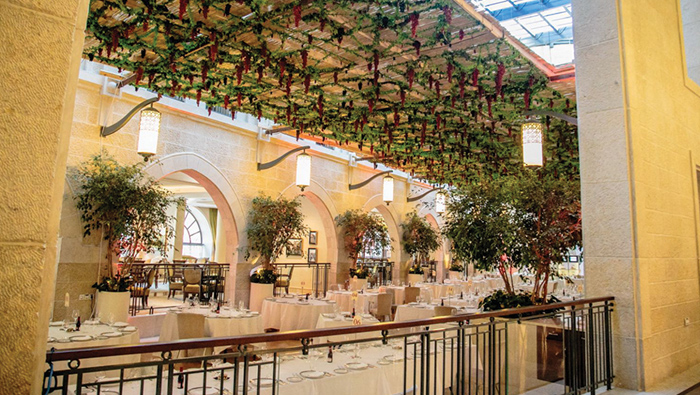 Right after Yom Kippur is over, Jews throughout Israel and the rest of the world busy themselves building temporary "huts" called sukkot (plural; the singular is sukkah). The sukkah can range from a basic design decorated with posters and paper chains to more elaborate structures adorned with draperies and chandeliers. Most of the requirements for a sukkah revolve around the roof and its materials. The roof must have some exposure to the stars and heavens and be made of a material that grew from the ground but which is not still attached to the ground, so branches, lumber or bamboo are good choices.
Sukkot is usually translated as Feast of Tabernacles, although the word itself is derived from sukkah, the name of the shacks farmers would live in during harvest. Sukkot is said to have two meanings – a harvest-style feast for all and a commemoration of the Jewish Exodus and the Israelites sheltering in the wilderness.
The week-long harvest and thanksgiving festival this year begins at nightfall on Sept. 20 and runs through Sept. 27. Sukkot brings many Israelis and tourists outdoors to dine in the sukkah; some will even spend the night inside the structure, sleeping under the stars.
Located in the Waldorf Astoria Jerusalem is possibly the most elaborate sukkah in Israel. (It has been deemed the world's largest indoor one!) The sukkah is set up inside the Waldorf's lobby atrium under a retracting glass rooftop. The retractable roof allows the sukkah to be temperature-controlled and if it starts to rain the roof can be closed so there's no disruption for the 200-plus diners underneath.
The sukkah-building team gets to work on installation three weeks before the holiday. The Jerusalem-based interior design firm Yarok Yarok is responsible for the décor and comes up with the annual theme months in advance. The design team also works closely with the hotel's kosher supervisors to ensure that the building and decorations are in line with all halachic standards. Even though the retractable roof sits several stories high, a traditional schach (bamboo) covering is positioned at a height to make the sukkah kosher. The Waldorf also offers two other large sukkot at the hotel, as well as private sukkot for some of the luxury suites.
So, if you are visiting Jerusalem during Sukkot, drop in to see this incredible sukkah, or better yet, be inspired to create a magnificent sukkah of your own!