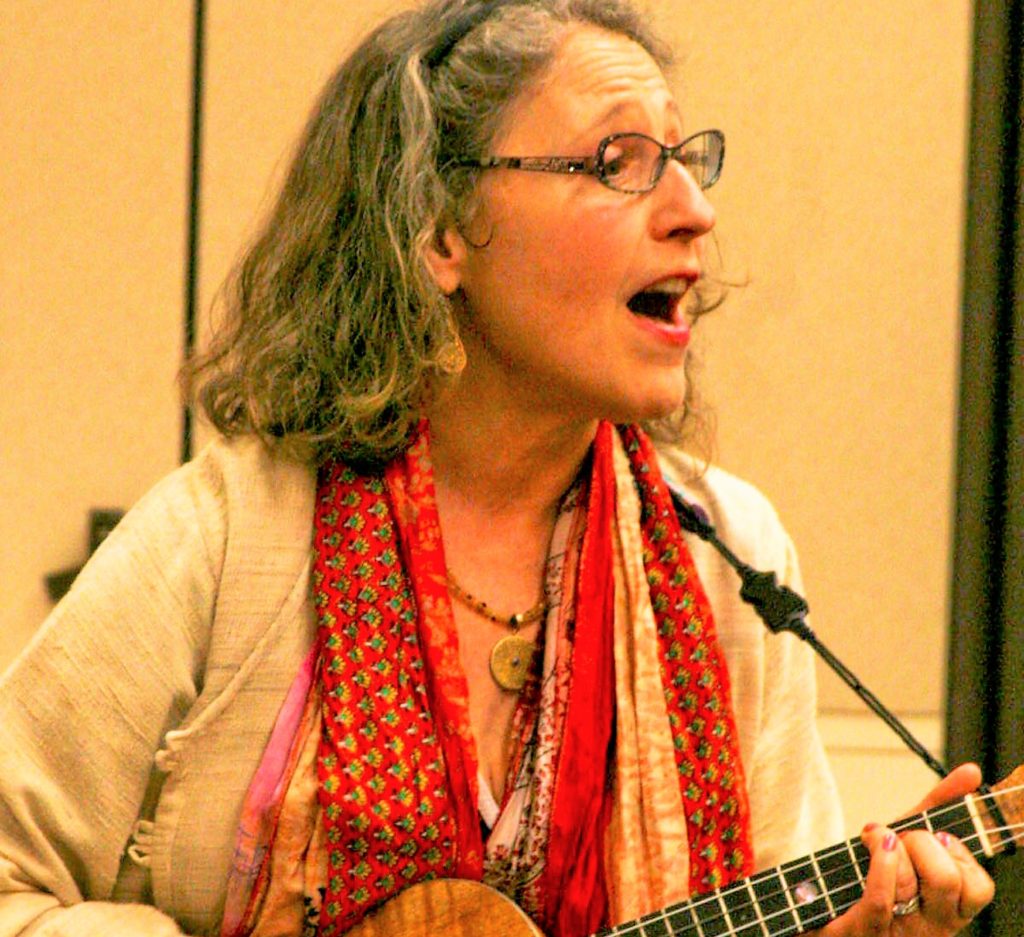 PHOTO: Maggid Cassandra Sagan
By Debra Shein
This winter Cassandra Sagan, an ordained maggid-educator on the faculty of Reclaiming Judaism's Jewish Spiritual Education program, will work with representatives of Portland-area social service and cultural organizations to shape their stories and then present them in a series of Story Swaps (see below) at Oregon Jewish Museum and Center for Holocaust Education.
Cassandra is an artist, poet, InterPlay leader and singer/songwriter who has devoted her life to helping others access their creative brilliance. She teaches and performs at various conferences nationwide and offers maggid-in-residence programs at local Jewish congregations.
Today many are not familiar with the role of a maggid (Jewish teacher/preacher/storyteller), but in the past maggids played a key role in Jewish communal life. In Europe, as cantors held the melodies of Judaism, maggids held the story line. Maggids would roam from village to village, lead services in towns where a rabbi wasn't present and bring the Torah to life with their narrative skills. This tradition nearly died out in the aftermath of the Holocaust. The tradition was revived during the past 20 years in the United States and then spread to Israel and beyond. While their role is not exactly as it was in the past, Cassandra says modern-day maggids continue "filling in the white spaces of the Torah with stories."
In a recent interview, Cassandra discussed the genesis and evolution of her interest in storytelling.
"Some people come from a long line of great rabbis or doctors, I come from a long line of synagogue talent show emcees. From an early age, my dad had me on stage doing stories, songs, comedy, etcetera. I love stories; I love hearing stories. I love thinking in story with people and seeing our lives in terms of story."
"In this (Story Swap) series, we get to bring together people from various community service organizations – people who share so many common goals, challenges, values and missions – to connect on a heart level," she says. "When we share stories, we share who we are.  … There is a beautiful thing that happens when the storyteller is telling a story in a way that's new for them and for the whole audience, too. As poet Muriel Rukeyser wrote in her piece 'The Speed of Darkness,' 'The universe is made of stories, not of atoms.'"
In her workshops Cassandra encourages people to tell their stories from the perspective of who they are now, shaped by "20/20 hindsight," rather than presenting a linear or familiar account of past events. "If we have 20/20 anything, we may as well use it," she says. "That's what a museum is all about, using hindsight to frame the past."
She hopes these Story Swaps will be a pilot that will continue into the future, "bringing people together in the context of sharing stories from our lives, hearts and experience."
In this series, the storytellers will tell their stories, not read them. "Something happens in live telling," Cassandra explains. "You might see something you never saw before. The story might end in a different way than you thought because of the setting in which the story's being told, the group dynamic."
"I absolutely delight in the transformative power of story," Cassandra says. "You can take a story you've been telling over and over, step back, put it in a different container, and see it differently. It's like the frosting on the cake of the world."
Story Swap
Cultural and social service agency representatives will share their stories, after which the audience will have the opportunity to share their own stories in an open mic segment.
Family Stories: Tuesday, Jan. 29, 7 pm. Gail Mandel and Nate Smith of Oregon Jewish Community Foundation, and Freda Ceaser and Gary Cobb from Central City Concern.
Immigration Stories: Tuesday, Feb. 26, 7 pm. Marc Blattner and Rachel Nelson of the Jewish Federation of Greater Portland, and Sankar Raman and Wafa Almaktari from The Immigrant Project.
Stories of Resistance: Tuesday, March 19, 7 pm. Mike Murawski, Portland Art Museum, Bobbin Singh, the Oregon Justice Resource Center, and Erin McKee, co-founder of OJRC and co-director of OJRC's Immigrant Rights Project.
Tickets: $8 members, $10 nonmembers at ojmche.org or 503-226-3600.