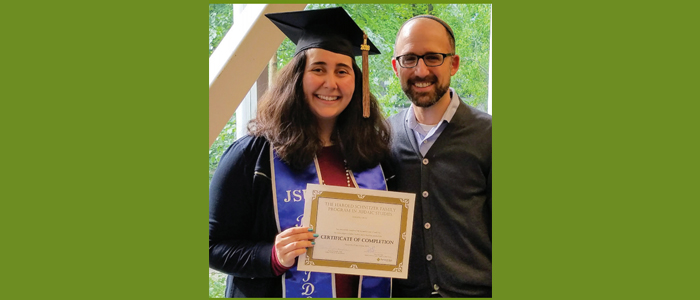 The Harold Schnitzer Family Scholarships will serve undergraduate students majoring in Judaic studies. The award will cover more than half the cost of tuition and fees for nearly 20 students over the next five years.
Sarah Rohr, a Judaic Studies major, is a recipient of the Harold Schnitzer Family Scholarship (2018 onward), and 2019 recipient of the Sara Glasgow Cogan Memorial Scholarship. Sarah enrolled at Portland State University in 2018.
Sarah's life journey has taken her through a number of fascinating careers, disparate in some ways but united in their emphasis on physicality and the body. She has worked as a farmer in Hawaii, a stone sculptor, a yoga teacher, and she started her own business in breath work. practice. She has a passion for working with children, and for the past five years she has taught Hebrew at multiple synagogue religious schools around Portland.
She had been aware of the Harold Schnitzer Family Program in Judaic Studies but it had never occurred to her that it might be right for her until interacting with one of the JST faculty members in an informal setting. She was inspired to look at the program website and discovered classes that spoke to her: Hebrew language, Jewish history, literature and poetry. A major in Judaic Studies, it seemed to her, would deepen her knowledge as a Jewish educator.
"I had no idea how healing and restorative it would be to come back to school – with the brain that I have now and the spirit and the heart and the life experience," says Sarah. "There's so much richness that's being offered."
The scholarships are made possible by a $500,000 grant through the Harold & Arlene Schnitzer Family Fund of the Oregon Jewish Community Foundation, on behalf of Arlene Schnitzer and Jordan D. Schnitzer.
"The Schnitzers' gift is nothing less than a transformative investment in Judaic Studies," says Natan Meir, Lorry I. Lokey Professor of Judaic Studies and academic director at Portland State University. "Indeed, the scholarship program has already begun to attract new students to the major in Judaic Studies. Thus far, all of the Harold Schnitzer Family Scholars have been from the Portland area, and some of them are already serving as educators and change-makers in the community. Whether they choose to remain in Portland after graduation or travel afar, they will be well prepared to make a profound impact on society."
Study Jewish history, culture and literature at PSU
The Judaic Studies department features
A small group of scholar-teachers who are deeply committed to their students
An intimate learning environment with small-scale lecture classes and seminars
Modern Hebrew courses with outstanding language instructors
Opportunities for study abroad, internships, and independent study
A close-knit community of students
A range of scholarships for Judaic Studies majors
Connections to Jewish student groups on campus and Jewish community organizations across Portland
About the Harold Schnitzer Family Scholarship
The Harold Schnitzer Family Scholarship is open to undergraduate students pursuing their B.A. in Judaic Studies at PSU.
Applicants may be entering first-year students, transfer students and current PSU students.
Selection will be merit-based with a focus on demonstrated academic rigor and achievement. Students must have and maintain a minimum 3.0 GPA.
Community service/civic involvement: preference will be given to those applicants who are actively engaged in any kind of community service and/or volunteering activities and demonstrate leadership potential.
Award limit: Students will be eligible to receive the scholarship for a maximum of 4 years.
Applications for the Harold Schnitzer Family Scholarships are accepted on a rolling basis throughout the academic year, with deadlines tied to Portland State University's timetable for admissions and scholarship applications. For more information, or to apply, visit pdx.edu/Judaic.