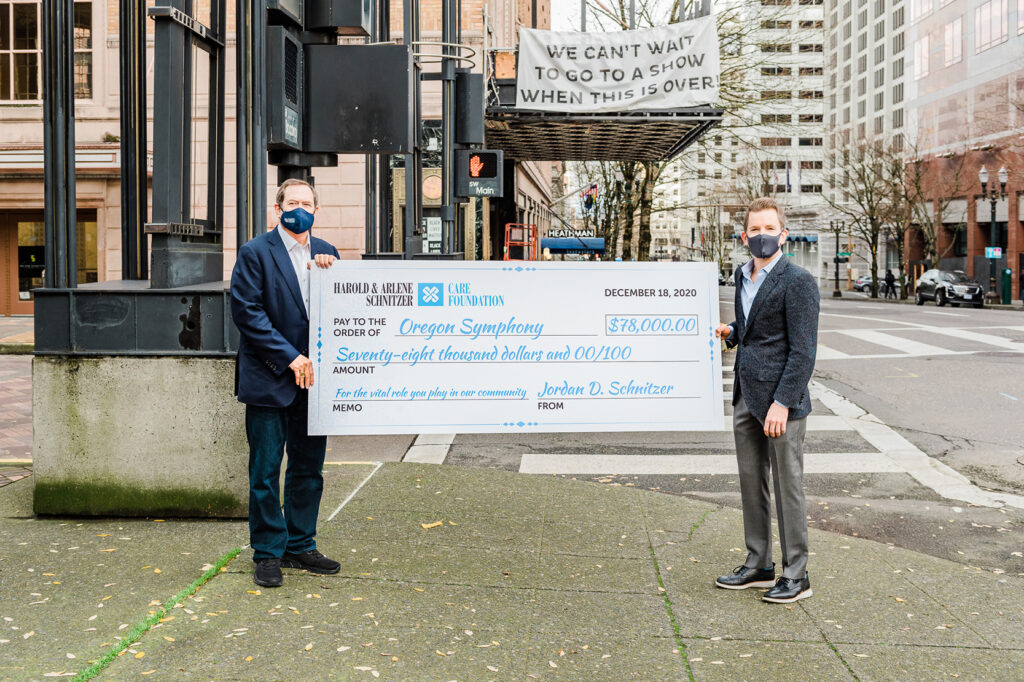 Photo: Harsch Investment Properties president Jordan Schnitzer (left) with Oregon Symphony President and CEO Scott Showalter gave performers $1,000 each.  Photo courtesy Deann Orr
Jordan Schnitzer Donates $100,000 to Oregon Ballet Theater & Oregon Symphony
On behalf of the entire Board of Directors at The Harold & Arlene CARE Foundation, Jordan Schnitzer announced on Dec. 18, 2020, the donation of $21,000 to the Oregon Ballet Theatre and $78,000 to the Oregon Symphony.
"The arts have always been the heart and soul of any community," says Jordan Schnitzer, President of The Harold & Arlene Schnitzer CARE Foundation and Harsch Investment Properties. "The arts inspire us; they take us away."
The funds will be distributed as $1,000 gifts to each of the 21 dancers for the Oregon Ballet Theatre (OBT) and $1,000 each to 74 musicians with the Oregon Symphony. Any additional funds will be used to cover tax liabilities.
The donation represents Jordan's desire to support the Oregon Ballet Theatre's dancers and Oregon Symphony musicians during this challenging time by presenting them each with a $1,000 "end-of-the-year" gift, thanking them for the vital role they play in our community.
"It's been very, very hard to keep hope alive and this very significant gesture is going to just brighten their lives," says Kevin Irving with OBT. "We are grateful for the extra boost that this will give to our musicians at this difficult time of year until we can come back and perform again," added Scott Showalter with Oregon Symphony.
"At a time like this, those that can, must reach out and help others," says Jordan.
Harsch Investment Properties Hosts Food Distribution Event at Gresham Station Shopping Center
Jordan Schnitzer, President of Harsch Investment Properties, announced a $20,000 donation to SnowCap Community Charities on behalf of The Harold & Arleen Schnitzer CARE Foundation. COVID-19 has had a significant impact on the way we all do business and has been the cause of heartache and food insecurity within the community. In response, Jordan felt the need to help this past holiday season by donating funds to support SnowCap Community Charities. Harsch Investment Properties hosted a food distribution event for low-income families and those affected by the COVID-19 crisis at the Gresham Station Shopping Center on Dec. 29, 2020.
More than 628 families, including 2,729 individuals, went home with a box of fresh produce, meat and pantry essentials at the event. SnowCap will continue to serve East County additional food boxes over the next several weeks with the funds provided by the CARE Foundation.
"On behalf of all of us at Harsch Investment Properties and our tenants at Gresham Station, the thought that our neighbors and friends in East County may not have enough food on their table this holiday season breaks our hearts," says Jordan. "We are honored to work with SnowCap to provide the funding for 1,000 boxes of food that will be able to feed a family. There are always those who need a helping hand, but the COVID-19 pandemic has increased the need to reach out and help others. My philosophy has always been that those that can, must reach out and help others."
Founded in the 1960s, SnowCap Community Charities works tirelessly at their mission to provide food, clothing, advocacy and other services to those in need who currently live east of 82nd within Multnomah County. SnowCap is the largest provider of food assistance in the State of Oregon. Last year, SnowCap distributed more than 500,000 meals to over 116,000 local people in need. SnowCap's food pantry, clothing, utility assistance and mobile delivery programs provide direct assistance to low-income people, with a focus on the most vulnerable populations, children and seniors. These direct service programs impact the lives of people who live in a world of food insecurity.
"This donation could not come at a better time. Low-income working families are struggling to make ends meet with many facing reduced and unpredictable work hours. Kids distance learning from home need nourishing food and seniors on fixed incomes are often facing tough choices when unexpected expenses come up," says Kirsten Wageman, Executive Director of Snowcap Community Charities. "This generous gift is an encouragement to SnowCap and will provide over 3,000 people with plentiful food to brighten the end of a difficult year. We are grateful for this gift and for giving folks in need of something to celebrate!"