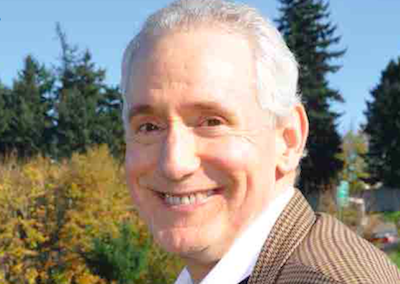 Relying on the vision, tenacity and collaborative skills he used to launch projects for affordable home ownership, rentals and an artist community, real estate developer Ted Gilbert is focused on bringing a regional bicycle park to Portland's most "park deficient" region. Gateway Green will be a 38-acre park featuring bicycle paths and trails, picnic areas and a nature-themed play area. Located between Interstates 84 and 205 and owned by the Oregon Department of Transportation, the long, thin strip of right-of-way property is an easy walk from the Gateway Transit Center.
"Ted Gilbert had a vision of transforming dead space into a park," says Portland City Commissioner Nick Fish. "He has been a relentless cheerleader from inception until today. … It's no longer of question of whether, now it's only a matter of time."
"Ted is a big idea person and wears his passion on his sleeve," Fish continues. "He just believes in his gut this is a good idea, and he has been pushing public and private partners to make this happen."
Ted envisions a park that serves as a neighborhood gathering place, a regional recreation destination and a world-class, off-road cycling area that could draw 500,000 cyclocross and mountain biking visitors a year – none of whom will need a car to get to the park with three Max lines converging at Gateway Transit Center, including the airport Max train.
"Cyclocross is families," says Ted, noting the park will feature a skills area for kids to learn the sport.
Because the plan for a park on ODOT land involved so many pieces and government jurisdictions, Fish says that then Gov. Ted Kulongoski designated Gateway Green an Oregon Solutions project four years ago. Oregon Solutions convened all the partners and, with government staff and resources, created a blueprint for the project. Then Ted and neighborhood activist Linda Robinson pulled together a team and created the nonprofit Friends of Gateway Green to bring the plan to reality. ODOT has agreed to donate the land to the city, and the city has agreed to operate and maintain the park once it is built. This fall Friends of Gateway Green launched a crowdfunding drive on Indiegogo. Ted says that Oregon Solutions asked the group to try the approach to see whether "crowdfunding could augment and leverage scarce resources." The $123,880 raised from 756 donors over the 33-day campaign was a tremendous success says Ted. "In addition to the money, it is an indication of the level of support for the idea." While the funds will pay to design the park, he says the support also will help the group apply for grants to raise funds to build the park.
Fish says grants will be a key step in building the park. "Crowdfunding tells us there is an appetite. We are looking for someone with a big check to help us move it forward. … I have no doubt with Ted at the helm, we will find someone to write the big check." Having worked with Ted on some of his earlier projects, Fish has seen the man's power. He says Ted's formation of HOST Development, Inc., in 1989 created "some of the most successful affordable single-family developments in the city." Ted says he got the idea for the project, Home Ownership a Street at a Time, after hearing how a meth lab epidemic was creating swaths of abandoned houses at the same time a major recession was creating a rise in homeless families. "I had a desire to give back," says Ted, adding he thinks the most effective way to do that is by combining what you do for a living with what you are passionate about. He shared his idea to turn the neighborhood around with brokers, architects, bankers and others. They started at the periphery close to stable neighborhoods and worked in to the struggling areas. He says he has followed that lesson of building from strength in his subsequent projects.
During HOST's 21 years, Ted says, "We helped 400 families buy a home … and turned the area around faster and more dramatically than we ever imagined. Today residential brokers will tell you the hottest residential neighborhoods are those close-in Northeast and Southeast neighborhoods that were really struggling."
Eric Friedenwald-Fishman, founder of the social change consulting group Metropolitan Group, has worked with Ted on HOST and other projects, including Gateway Green. Eric sits on the board of Congregation Beth Israel, where Ted is a life-long member.
"Ted has been an incredible force for good in Portland for over 20 years," says Eric. He points to HOST's tremendous success in fostering affordable home ownership along with a similar effort that created about 500 affordable rental options for low-income families (Portland Affordable Housing Preservation Trust) and an arts colony at Milepost 5. Ted describes the Milepost 5 project as an affordable space for artists to live and work. Artists can rent studios and apartments for as little as $200 in the now flourishing community, he says.
Eric says his Metropolitan Group was hired to do a small project for the Gateway Green project and since then has done pro bono work for Gateway – a project he says will be an off-road cycling area with a national presence, a regional resource and an incredible open space and play area for the people of that neighborhood. "More people and foundations need to invest in this project," he says. "If you want young people to be healthy, happy and smart, one of the best investments is open space and recreation opportunities. It gets kids engaged in outdoor, active lifestyles and it builds community – that's what Gateway Green does."
"Ted is a mensch," says Eric. "He sees a need in the community and does the crazy and wonderful act of stepping forward and making it happen and getting others to come on board. Every project benefits working families or communities that have experienced disparity." While Eric says Ted has many gifts, he believes two of those gifts have enabled Ted to truly change Portland: He believes in the impossible and is incredibly tenacious. "He has a willingness to take risks and not believe something is impossible," says Eric. "That is how change happens, you take a leap of faith."
"Ted puts energy into people who actually need help and who others have ignored," adds Eric. "I think it's a very Jewish act of tikkun olam and inviting the stranger into your tent." Ted's older brother Kerry, who introduced Ted to the real estate business, says that Ted really cares about the community. "Without children, I think this (helping the community) is the biggest thing he wants to do," says Kerry. "Ted is the real deal. There is no hidden agenda."
Ted is not quite so selfless in his description of his own involvement. He believes that community development is beneficial to all involved. Rescuing a crime-infested neighborhood of abandoned homes and turning it into affordable housing for families benefited not only the families, but also those involved in any facet of real estate and businesses in the area. "You need a job to be able to own a home, so economic development became a passion," says Ted. So he became part of Albina Opportunities Corp., a nonprofit in the private sector offering financing to women, people of color and minorities unable to get financing through regular mainstream means. "We make small loans on a creative basis to build wealth and create jobs." He says he became involved in Gateway Green because in 1992 he bought an apartment building in the Gateway area "because it was a good deal." He says Metro had classified Gateway as a Regional Center, but despite having jobs, transit, shopping and health care all readily available, "it was anything but a Regional Center." Ted says he wondered what was missing to keep Gateway from being a true Regional Center and decided it was perception. "For most Portlanders, the city stopped at 82nd (Avenue)." Learning from the HOST model first had transformed the close-in eastside neighborhoods, Ted says he saw huge challenges and great opportunity in the Gateway district. "If you can do something bold and catalytic to the area and work your way east … (Gateway can be) the front door of east Portland."
Ted describes Gateway Green as an incredibly visible site since it can be seen from two freeways and the airport Max. He thinks creating such a visible destination recreation area will give people a much more positive perception of Portland east of I-205. "People will live, work and play in the Gateway Regional Center."
Recreation and sports are important to Ted. A former triathlete and marathoner who hasn't competed since 1988, he nonetheless continues to run, swim and bike, and support young distance runners.
"My big brother Kerry has been a tremendous influence and role model for me," says Ted, adding that has made him aware of the importance of a role model for young men. About eight years ago he says he read a newspaper article about a young man whose family of five was living in one room, Ted and Connie Gilbert yet the young man managed to maintain a 4.0 GPA and was a talented distance runner. Ted and a friend who had also competed in marathons decided to go to support the boy at the state cross country meet. "We met him and he's an amazing kid," says Ted. "We kind of adopted him and his family. … I helped him get a scholarship for running and watched him run for his college in Salem." People began to point out other talented runners who were succeeding against the odds, and Ted and his wife, Connie, stepped in to help them too.
"I have a love and talent for distance running," he explains. "I just want to be there for them. Where would I be without a role model?"
With four young distance runners under his wing, Ted joined a committee that interviews applicants for the Beat the Odds scholarship for Oregon high school seniors who have "Beat the Odds" by succeeding in school despite daunting obstacles. "My first year on the committee there were 215 applicants," he says. "One of the young men I interviewed is a remarkable kid. He was one of the winners. We clicked. Connie and I essentially adopted him. Now he's a junior at the University of Oregon."
Of the five young men he is now connected with, Ted says, "It's been a gift for me." "My father, Al, used to tell my brother and me, 'If you are fortunate enough to succeed in providing for your family, you have a responsibility to provide for the community that helped you get there.' "
He says his mother Rosalie, whose maiden name was Braunstein, and his father both grew up in the Old South Portland Jewish neighborhood. He's still a member of Beth Israel, where he became a bar mitzvah. "The passion I have for community development feels like a real Jewish thing to me," says Ted. "My belief is if you can engage the private sector in a community cause, you can be a force for change."