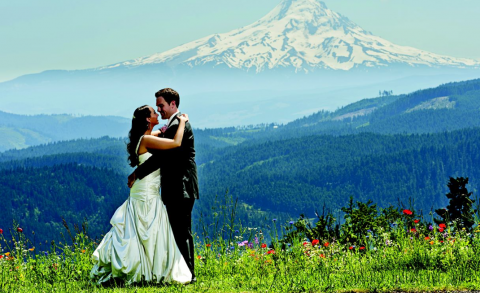 When I got engaged, I thought reading a few books and skimming wedding blogs would adequately prepare me to plan my wedding. Despite all the research, there were still a few things I wish someone had told me before my big day:
1. Give Your Phone Away – I should have coordinated with someone to take my phone away from me the moment I woke up on the day of my wedding. You would be surprised how many people text the bride with questions like, "Is there kosher food?" Or even worse, "I'm running late!" or "I'm lost." Have a designated bridesmaid who is in charge of your phone and can respond for you.
2. Schedule Alone Time with Special Guests (and the Rabbi) – If you have people flying in for the wedding and you want to be able to talk to them for more than 15 seconds, schedule time with them. Especially if your rabbi is flying in to perform the ceremony, make sure to have time to meet with him or her to go over ceremony plans and the script.
3. Get Chairs for Dance – Hopefully you got to practice being lifted and catapulted into the air for the hora during your bar or bat mitzvah. Be sure to get sturdy chairs for this tradition of lifting the bride and groom on chairs for a dance. We had white folding chairs at our outdoor wedding and had to scramble to find chairs that would hold us.
4. Designate "Hora Men" – Be sure to designate a few strong men to lift you and your husband during the hora. You don't want your Uncle Arnold to hurt his back because not enough people volunteered. Also appoint someone to hand you and your husband napkins tied together. My mom and aunt were chasing us both around, trying to get us to hold the napkins at the same time.
5. Practice Bustling and Getting Into Your Dress – We scheduled 15 minutes for me to get my dress bustled after the ceremony so I could move around without people (including me) stepping on my gown's train. I thought this was plenty of time – wrong! Bustles are different on every dress, and unless you have a wedding-dress seamstress as a bridesmaid, you should try to have someone practice bustling your dress before the wedding.
6. Prepare Your Family for Photos
Most people take family photos between the ceremony and the reception. We did most of our photos before the ceremony. But after the ceremony we still wanted to take about 10 photos with extended family. It was incredibly challenging to try to track down all of the required people during cocktail hour. Send a little note ahead of time to people you want in photos kindly telling them where to wait for photos immediately after the ceremony.
7. Make a Shot List for Your Photographer and Videographer – Make sure to tell your photographer and videographer the list of all shots you want. We made the mistake of only giving our photographer a list of the family photos we wanted, so some of our decorations were not captured.
8. Eat After signing the Ketubah – Tell your caterer to prepare a dish of appetizers and nibbles and have it sent up to the room where you and your husband will sign the ketubah and/or marriage license. We were not very hungry at this point, but later we were glad we had eaten because otherwise we would not have had time to try the food.
9. Labeled Tip Envelopes – Most of your vendors will expect tips and you and your husband will not have time to give them out that night. Put tips in labeled envelopes and give them to your father or wedding planner to hand out at the end of the night. This will ensure that no one is forgotten.
10. Prepare Your Escape – We had a town car pick us up and take us to our hotel and I had my bridesmaids put my overnight bag in the back of the car. My husband left his wallet, phone, shoes and toiletries in the groom's dressing room. We had to frantically call our parents to drop everything off at our hotel after the wedding – funny, but not very romantic!
Hopefully these tips will help you, but even if something goes wrong – and something always does – it will be the best day of your life. Our wedding, despite some of the little hiccups, was truly the most magical day of my life.
Vanessa Van Edwards is a freelance writer and speaker in Portland.