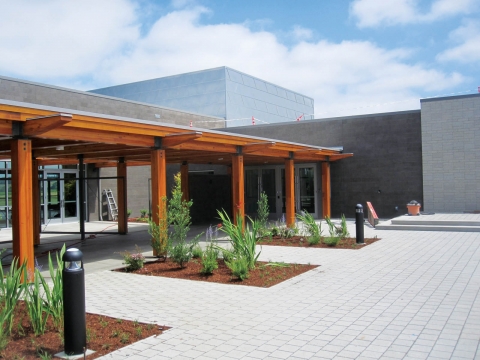 by Amy R. Kaufman
The first synagogue in Clark County, now rising near scenic wetlands, creates a visible Jewish presence on the skyline of Southwest Washington.
In 2007, an anonymous donor stunned Congregation Kol Ami members by pledging $6 million to fund the building and maintenance of a synagogue. Now the Reform congregation will observe the High Holidays in a sanctuary that looks out on a bright future.
After remaining anonymous for five years, financier and philanthropist David Nierenberg of Camas has come forward. He is the founder of Nierenberg Investment Management, which manages The D3 Family Funds. He made the gift from his family fund.
Known for high-profile projects such as the PeaceHealth Southwest Medical Center in Vancouver, Nierenberg led the capital campaign for that facility with a $15 million contribution "which funded, among other things, a 24-bed neonatal intensive care unit named for my mother and her identical twin."
Descended from a long line of rabbis and cantors, Nierenberg said, "Coming from this family, with 10 generations of service to the Jewish community, I felt that, where I lived, I wanted to help perpetuate that tradition, and this gift is a good way to do it."
Designed by Richard Brown, AIA, of Richard Brown Architects, the shining steel-clad structure reflects the values that have sustained the congregation for 23 years.
Rabbi Elizabeth Dunsker characterized the congregation as a close-knit family welcoming to all. "We take really good care of each other," she said, emphasizing that the youth are respected members who are called to read from the Torah from bar or bat mitzvah onward.
The entrance radiates welcome, she said, with a covered walkway from the landscaped courtyard to glass doors that allow immediate recognition and secure entry.
Dunsker said "everything was a struggle" when the congregation alternated between tiny rooms in an office park and the sanctuary of First Congregational Church. "Our limiting factor up to now has been space," she said. The new administrative offices and social hall will be a novelty.
"We'll have a real library with a fireplace in it so we can sit and have discussions," she said.
Dunsker says it was "really important to the congregation" to have a sustainable building in harmony with the existing landscape.
The 200-seat sanctuary is bathed in light pouring through the windows that provide a view of three mountains. A skylight tints the walls a celestial aqua in the alcove for the ark. "We wanted to bring in light, bring the outside in," she says.
The "air-handling system, the lighting system and the strategic use of windows" are among the energy-efficient features of the building, which was constructed according to LEED principles, said building committee co-chair Steve Horenstein.
Religious School Director Jan Rabinowitch described how dramatic the transition will be. She recalls having to use a "shoehorn" to fit students into either "a space in back of the sanctuary or a storage room." The religious school will have six classrooms, including a three-part divisible classroom, and a youth lounge.
Rabinowitch said the new space opens up fresh possibilities for creative education.
"Before, we couldn't even have parents come into the classroom to have activities with the children," she said. "Now we can introduce family education, where the parents and children learn together. … We will also have the first opportunity to bring in music. Before, the walls were too thin. … This space is really going to transform everything we're able to do."
The 16,000-square-foot synagogue sits on the congregation's 8.3 acres of land overlooking 38 acres of protected wetlands. The synagogue is "in the middle of Clark County, with good arterial and freeway access" from I-5 and I-205, according to Horenstein.
The project also represents the congregants' own investment, said Horenstein. "We raised (an additional) $3 million internally, much to our surprise, from about 85 of the 125 families."
By remaining anonymous, Nierenberg, in his wisdom, encouraged people to take "emotional ownership of their worthwhile project."
"I did not want, by getting out in front of this early, to discourage other donations or to make donors who gave less than I feel that somehow their gifts were not important," he said. "People give according to their ability to do so … and there's a great deal of financial support from the community for this."
Nierenberg said his desire to make the gift "evolved over time as the congregation grew and matured."
When he was "on the verge" of making the commitment, he said, he met with the board of directors "to assess from the point of view of a professional investor … whether they could actually build the synagogue and run the congregation in a solid manner. And I became convinced that they could. … I felt that the quality of the leadership in the congregation – that's the lay leadership and the rabbinic leadership – were strong enough that it was a risk worth taking."
He then stepped aside.
"I didn't think it was my prerogative to make esthetic judgments about the architecture and layout of the building," said Nierenberg. "I've been a relatively passive donor. I've let the board of directors and the other people involved in the process do their work, and I think they've done an excellent job."
Nierenberg said he and his wife, Patricia, and their three children, now ages 19, 17 and 14, came to Camas from San Mateo, CA, in 1996.
"We came because we wanted to raise our children in a place where they could attend first-rate public schools and where they could grow up normal," he said.
He observed, however, that "many of us have lived in places where the Jewish community was much larger and much better organized than it is here."
"I certainly felt I missed the connection with fellow Jews that I enjoyed when I lived in California and when I grew up in the Northeast," he said.
He thought it would be "very gratifying" for him and others in Southwest Washington to have a physical home. "A synagogue is not only a place where Jewish people worship, it is also a central gathering place for the Jewish community, for cultural, intellectual, education and civic activities. … I do think it's critically important that the Jewish community have a home of its own."
Dunsker said most Jewish children in Vancouver feel "they are the only Jew in their school … so our congregation is the place where they have Jewish community. [In Vancouver] most people come from other places; almost no one has family here. So the synagogue becomes their family."
Lorna and Julian Levi, founding members of the Jewish Community Association of Southwest Washington, which evolved into CKI, believe the new synagogue will "pique the interest" of unaffiliated Jews in the region.
"It's hard for the only Jewish child in a class," said Lorna, "but if other Jewish children come forward because of this, those who are just discovering their identity may feel prouder of being Jewish."
Kol Ami teens have filmed a documentary commemorating this historic event. On video, Leah Beck, 18, says, "Being a member of Congregation Kol Ami has shaped my life because I have been here since I was 5. So it hasn't changed me, it has built me from scratch."
Rob Horenstein, 14, commented, "I can already tell it feels more welcome. It will be ours – we can call it our own."
Nierenberg's donation also stems from a desire to honor his family. He and his cousin Ron Nierenberg, who also lives in Camas, come from a family that produced eight consecutive generations of rabbis and cantors. "And the first one in this country was my great-great-great grandfather, Abraham Levi Mayer, who was among the founders of the Reform Jewish movement in the United States."
He and Ron view this as an opportunity to honor their family's "leadership of the last three generations – the final rabbi, who was Rabbi Eli Mayer; our grandmother, Elodie Nierenberg; my father, Ted Nierenberg; Ron's father, Jay Nierenberg; and Ron's mother, Inge, who was a Holocaust survivor. I feel in making this gift we are honoring all of them as well as the seven generations of leaders before them."
Referring to the Jewish Federation of Greater Portland's demographic study, Nierenberg said, "People say there may be between four and six thousand Jews in Southwest Washington – in other words, we're one to 1.5 percent of the population here. And if that's so, my fond hope is that, as Kevin Costner said in Field of Dreams, 'Build it and they will come.'"
________________________
On Aug. 19, Congregation Kol Ami members and friends will walk the Torah scrolls five miles to their new home at 7800 NE 119th St. in Vancouver. The dedication is set for Sept. 6. For more information, visit www.jewishvancouverusa.org.