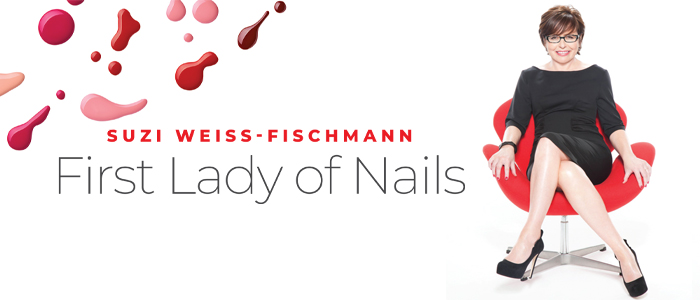 One of my fondest memories connected to OPI nail polish was when my daughters, ages 6 and 10 at the time, were picking out the nail polish colors for their first mani-pedis. They had a blast turning the bottles over and giggling at the names like "Ladies and Magenta-men," "Orange You Glad it's Summer" and "Suzi Sells Sushi by the Seashore."
I always knew the iconic brand for its fun names and rainbow of unique colors, but I never knew that the "Suzi" mentioned in so many of the names was actually a nod to the incredible woman behind OPI, co-founder Suzi Weiss-Fischmann. Along with her brother-in-law, George Schaeffer, she created OPI, which blossomed into a celebrated brand with products distributed in more than 100 countries on six continents.
FAMILY AND FAITH
Suzi Weiss was born in Hungary in 1956 during the Hungarian Revolution to parents Magda and Laszlo Weiss. Many Jews had crossed the border to Austria to escape the Russian invasion, but her family lived far from the border. With no way to get to Austria, they were forced to stay in Hungary.
"My father's dream was always to come to America," says Suzi. "He hated communism, and finally, we found a way to emigrate to Israel." They were able to obtain the proper paperwork due to Israel's diplomatic relations with Hungary at the time, prior to the Six-Day War in 1967.
"We got passports because of some connections – in the communist system you always have to find the little door next to the big door – and we got passports, emigrated to Israel and then we applied to the American embassy in Israel," says Suzi.
After applying to the embassy, it took almost three years for the family to receive their green cards (permanent resident cards). They moved to New York in 1969.
Both her parents were survivors. Before meeting, Magda was imprisoned at Auschwitz, and Laszlo was on the Russian front in a forced labor camp. They both returned to Hungary after the war, met and married. Her dad would share stories, but her mom only opened up after Suzi's niece came back from a March of the Living trip (an educational program, bringing individuals from around the world to Poland and Israel to study the history of the Holocaust) with many questions.
"That was the first time, in the beginning, she never spoke about it, but I tell everybody I was very lucky because my parents were very loving and very warm," says Suzi. "Among the first generation of survivors, sometimes there are many issues of love and showing affection."
Suzi shares that her mom always had a smile on her face and was a woman of faith. She prayed twice a day, and as a promise to herself when she left Hungary, she always kept kosher and observed Shabbat, but her dad, not so much.
"When they would go back to Hungary, my dad would say, 'I'm going for a walk,' and we all knew that he would go to the deli and eat a hot dog," says Suzi with a chuckle. "I think my mom knew too, but she didn't say anything."
Suzi's husband, Dr. George Fischmann, dons tefillin every morning, and they try to do Shabbat dinner every Friday night with family, friends, or both. She believes that growing up with these traditions gave her children Andrea, 26, and Andrew, 23, some discipline.
"I always tell my kids these traditions were kept for thousands of years, and I feel it's our duty to continue for the many more thousands of years to (come)," says Suzi.
BEGINNING OF SOMETHING BIG
While Suzi lived in New York, she attended Hunter College. Her sister had married George Schaeffer, and his parents owned a manufacturing company that made tops for juniors on Broadway and Bleecker St. After school, she would work at the company, sweeping floors, cutting threads, and tagging blouses with the Dennison gun.
Miriam and George moved to Los Angeles in 1981, where he bought a dental supply company from his uncle. His parents kept the factory open for a little while longer, but eventually, the rest of the family also moved to California. Suzi followed in January of 1982. At this time, Suzi began working for her brother-in-law at Odontorium Products, Inc. They carried a product called methyl methacrylate (MMA), a chemical compound used in the production of dental bridges and crowns. Suzi and George began noticing that nail technicians were buying this compound and using it to make acrylic nails, a popular trend of the early 80s.
The problem with this use of MMA was that the compound formed an extremely strong bond so that if you hit your hand, there was a good chance that your natural nail would come off along with the acrylic on top.
Suzi and George wanted to create a better, safer, more flexible product without sacrificing the strong bond. They met Eric Montgomery, a chemist who worked in the movie industry with special effects. He created a formula that consisted of a monomer liquid, a polymer powder and a primer.
"I needed to hold the three products together, because they were a unit, so a rubber band was the easiest thing," says Suzi. "That was our big marketing genius – to call it the 'rubber band special.' "
Suzi would drop those rubber band specials off to salons along Ventura Boulevard in the San Fernando Valley.
"People loved it!" Suzi remembers. "The product gave them enough time to shape the nail, the powder was very fine, so you didn't need too much filing, and people said, 'Where can we buy it?' And that was the beginning of OPI."
Do you see what they did there with the name? Odontorium Products Inc. = OPI.
"We sold the dental business two years after we started with OPI, and then George Schaeffer and I concentrated on the nail business," says Suzi.
In 1989, they launched their first line of nail polish. "Nail polish was kind of boring. It wasn't fun, sexy, or aspirational. It was just like a color and a number," says Suzi "I always say to young people today, we would be called disrupters, we really rebranded the category of professional nail polish."
The first line of polish contained 30 shades from light to dark, and the first geographic collection was the Alpine Collection. "We gave these geographical collections the fun names which became part of the brand, its DNA," says Suzi. "People asked for OPI by name. We printed color charts you could take home.  You could look at the colors, at the names and you could laugh. It's amazing wherever I travel in the world I see OPI. People can recite 5, 10, 15 names of colors (to me); it's just amazing."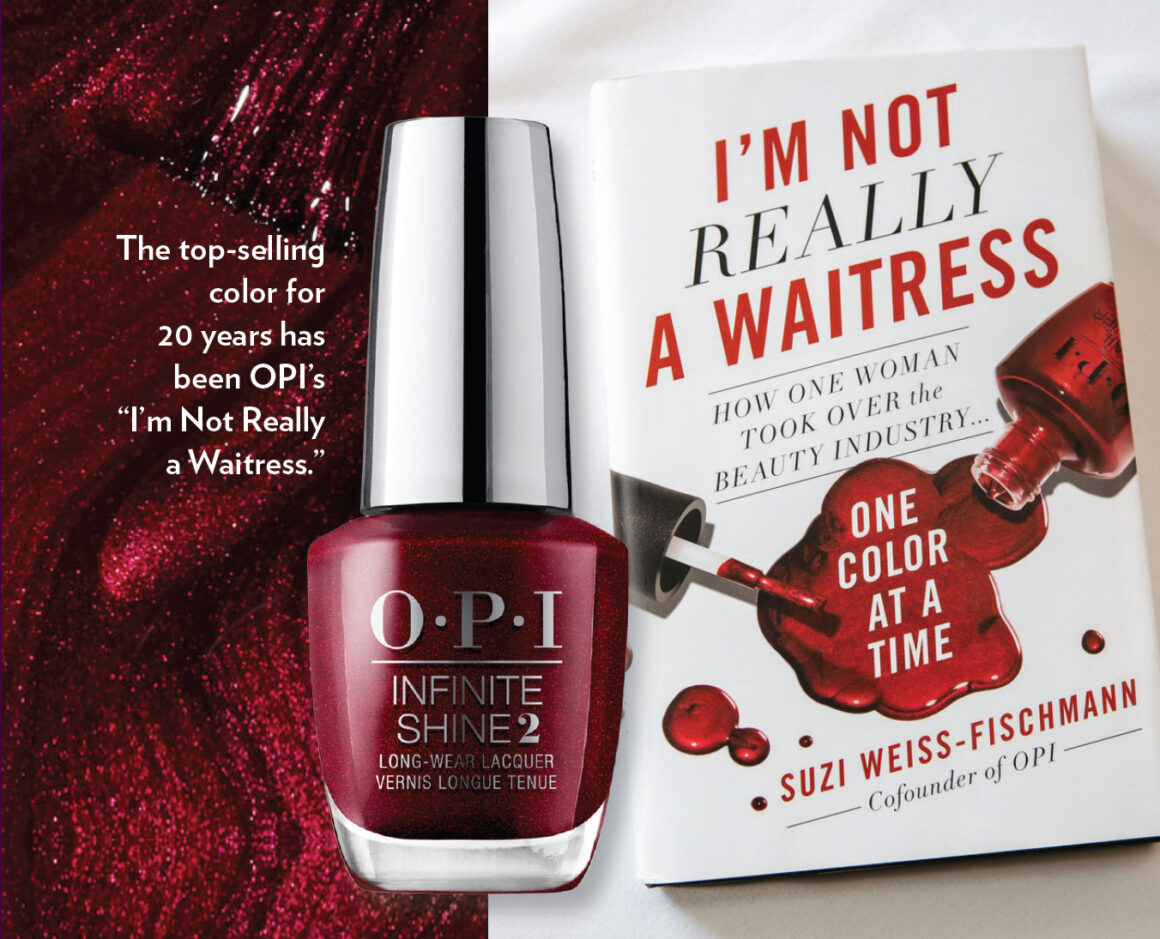 WHAT'S IN A NAME?
Every year OPI launches four seasonal collections: Spring, Summer, Fall and Holiday. Two of them are themed to a geographic location; in 2019, Scotland was the theme for the fall, and Tokyo was the spring theme.
Suzi has had a hand in naming every color of polish that bears the OPI name.
The creative process for naming the colors would start with a core group knowing what the "theme" would be for the upcoming collection a few days ahead of the meeting. "It would be myself, George Schaeffer, someone from the marketing, creative, purchasing and customer service (departments), and then there would always be a guest from within the company," says Suzi.
"We would sit around the table, I would present the shades and then everybody kind of gave their opinion, gave names." They would also have food representing the country or city that the theme was centered around. It took between six and eight hours to come up with 12 names and a few alternatives (in case there was a problem when they got to the legal department).
"Honestly it was really fun, we laughed a lot, we teased each other, but it was a very democratic process, so majority ruled," says Suzi.
In 2010, Coty, Inc, one of the world's largest fragrance companies, acquired OPI. Suzi is still involved with the colors and the naming, which is what she loves most of all. Before the end of 2019, they were already working on the spring colors for 2021.
She says they work with groups out of Milan and Paris who predict trends and colors. "Everybody, whether you're in fashion, package design, the cosmetics or beauty industry, you take that and you translate it to your category, and that's how the colors are created."
When asked what her favorite OPI colors are, Suzi says that she has two answers to that question. "My favorite color was always the one that equaled the most dollar signs," she jokes. "I love reds. "Big Apple Red," "I'm Not Really a Waitress," of course. In the summer, pinks, yellow – who would have thought yellow was going to be such a hot color? And look so good. And greens and blues – I always say nothing is taboo anymore."
The light pink polish dubbed "Bubble Bath" is the number one seller in the "soft" shades. But for 20 years, the top-selling polish for OPI has been "I'm Not Really a Waitress." "It's that candy-apple red that looks good on all skin tones," says Suzi. "The name has a double meaning to it because in Hollywood, everybody says, 'I'm not really a waitress, I'm an actress.' "
A COLORFUL TALE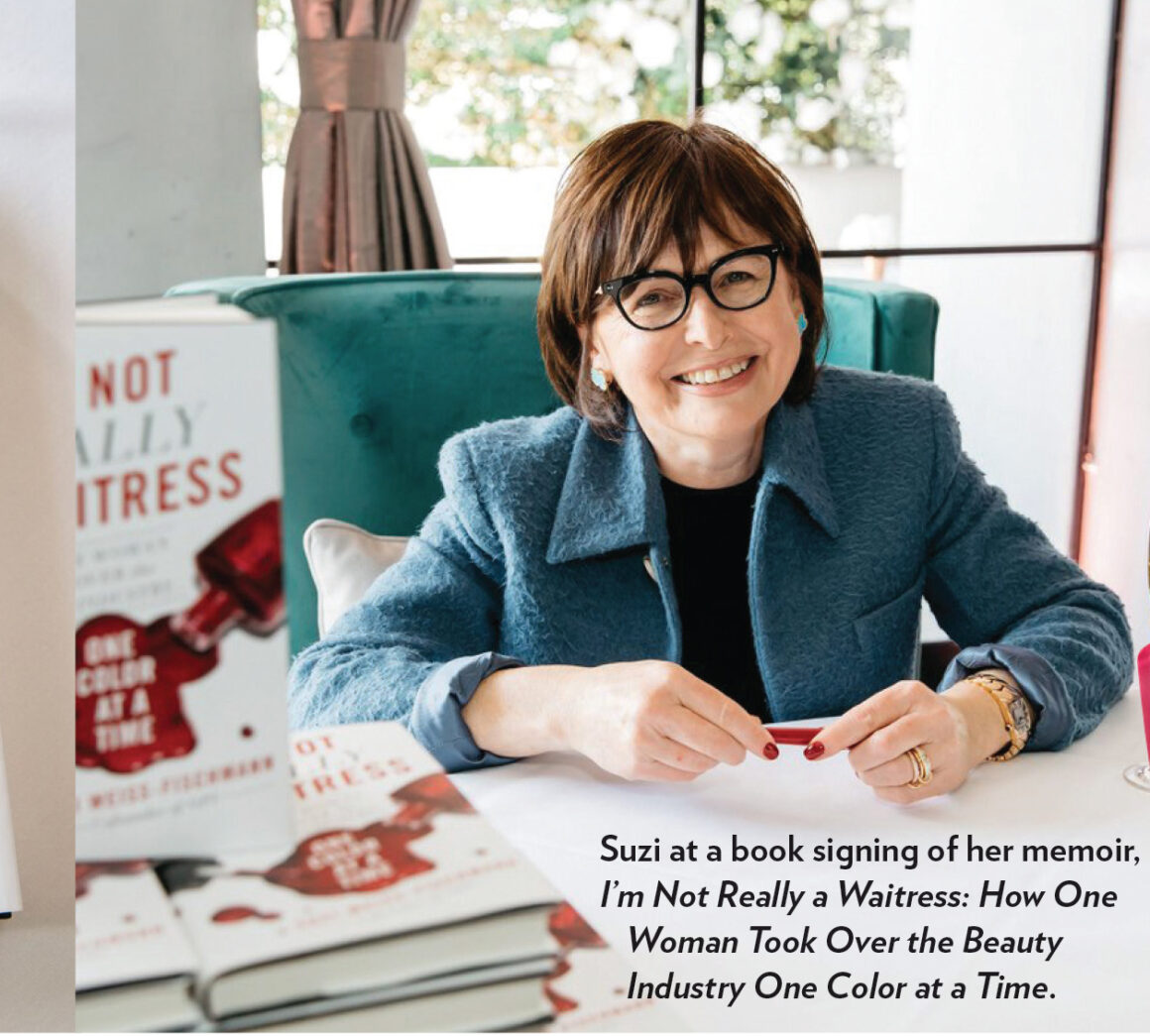 In March 2019, Suzi published her memoir that shares the same name as the best-selling polish, I'm Not Really a Waitress: How One Woman Took Over the Beauty Industry One Color at a Time. When Suzi spoke at high schools or colleges, people would approach her after and ask her if she could talk longer, or if she had a book. At last, she had the time to dedicate to this project.
"I wanted to tell both my parents' stories, I think it's important for people to know what that generation went through and their survival and resilience to make a new life," she shares. "My story as an immigrant. I lived the American dream and but the one thing I tell all the young people before I start to say anything – you need to work hard."
Suzi continues, "You have to work hard, but the opportunity is here, and to appreciate the freedom we have – sometimes I cannot even put it into words. Until you don't have it, you don't realize what it means."
She thinks that storytelling is essential and that women should share their stories to inspire each other, to lift each other up and to find commonality with each other.
"Speaking to people, I get inspired, I'm a very honest person, I can only be who I am, I never try to be somebody else," says Suzi. "People can relate to me. I'm a woman with a family, ­business, social life, and there are all those things that we all struggle with and try to make it all happen. Nobody's a superwoman, and it's OK not to do everything. I always say, give yourself some grace. You do the best you can."
When people ask her what her "aha moment" was, she says that there were so many: reaching the first million in sales, realizing you have a product that people love, launching every new collection.
"I loved to go to work every day," admits Suzi. "I loved the people that we had at OPI. I loved what we did. I loved the distributors. The whole (thing) – it was just an amazing time."
She also enjoyed visiting the testing salon at OPI. "When they wanted to test on me, I said, 'As long as it includes a massage, I'm there.'" Jokes Suzi. "If you get that little foot or hand massage – oh my God! I always told them whatever you want. And when I walk out of that (mani-pedi), that instant gratification, immediately you look so much better."
Nail art is something that amazes Suzi today. What used to be a "kitschy" element on nails for the holidays has now evolved into couture with the hottest designers, including nail art incorporated into high fashion. Additionally, there are thousands (maybe even millions) of YouTube videos and posts on all social media platforms showcasing nail art.
"We didn't have social media – it was a different time. Maybe more personal," reflects Suzi. "I love today that I can reach women all over the world in seconds, which is still amazing to me. You have all these social platforms but all that communication, sometimes that personal touch is lacking. This is the world we live in – it's both amazing and challenging."
With all of her success, when asked what she would like her legacy to be, Suzi immediately answers, "My two children. That, for me, is the most important. Those two are my legacy."
She continues, "They are amazing people, I'm very proud of both of them. The nice thing that I can say about them is that they are both mensches." She remembers going to teacher conferences and the teacher would say, "Your kid's a mensch," and that would make her so happy.  "I always say everybody figures out 2 + 2 is 4, some sooner, some later, but you can't teach them when they're in their 20s or 30s to be mensches and to be good people."
Her mother passed away in January of 2019, and she reflects on the fact then when both your parents are gone, you become your parents. "My sister and I are my parent's legacy. And that's what I want to pass down. My children are going to be mine."