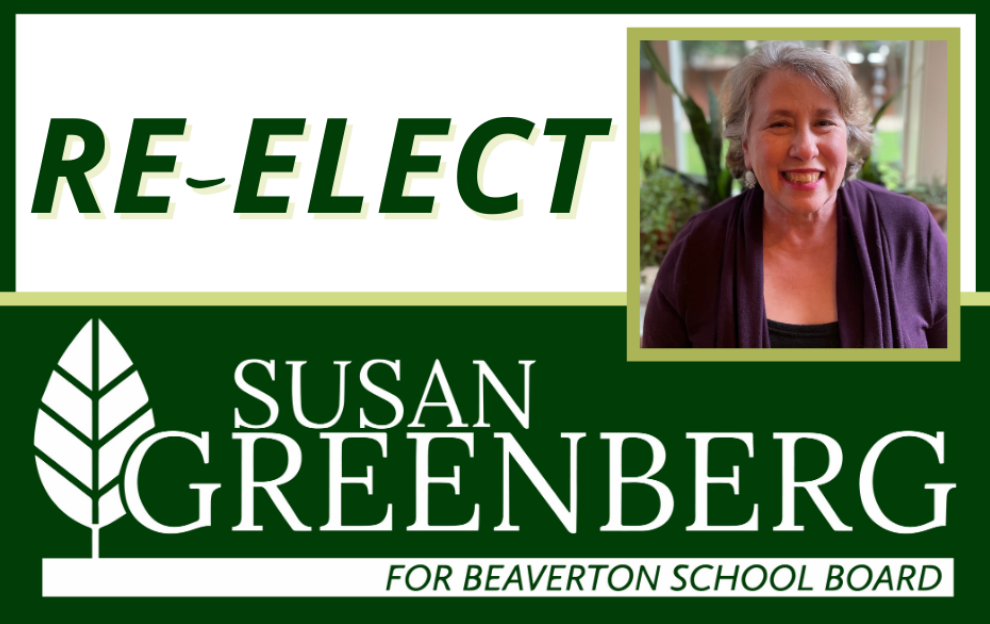 Susan Greenberg is running for re-election for Beaverton School Board Zone 1. The election in  May 18.
Susan is a Beaverton School Board Member, mom, and a proven champion for Beaverton students. With a 15-year record of volunteer work and advocacy in our schools, Susan has the experience we need to ensure our students and schools recover from the COVID-19 pandemic.
In addition to return and recovery from COVID-19, her priorities for the school district include:
– Continuing to serve as a voice for our underserved students
– Adding more programs for college prep, music, math & CTE
– Using equity-based decision making to meet the needs of students of color
– Providing the resources needed to support at-risk children for success
"Kids obviously mean a lot to me, and mental health issues with kids mean a lot to me," says Susan. "Especially those kids who are at risk and don't have the support that my children have had – it's scary."
Traditionally, Oregon schools return to the fall semester after the Labor Day holiday. The problem in 2021 is that Sept. 7, the day after Labor Day, also falls on the first day of Rosh Hashanah, one of the holiest days of the Jewish calendar.
Susan was instrumental in making the superintendent understand the impact that starting the 2021-2022 school year on Rosh Hashanah would have on Jewish students. Beaverton was one of the first districts to move the first day of school to Sept. 8, so now Jewish families do not have to make the difficult decision to keep their children home on the first day of school.
For more information, visit susanforbeavertonschools.com.