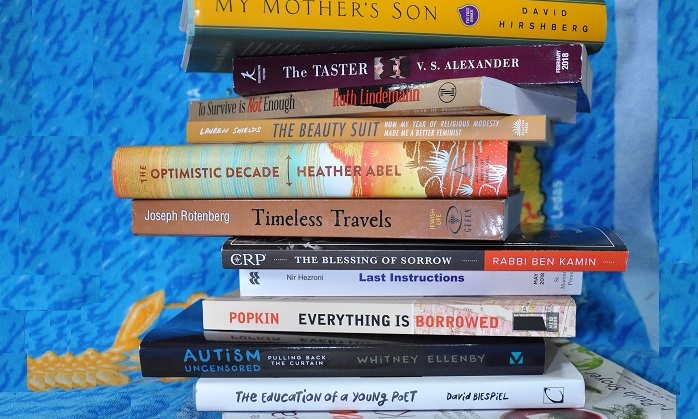 PHOTO: This summer, grab a beach towel and an armful of books and head for the beach, the pool, your backyard or …
Compiled by Deborah Moon
Every summer I catch up on stacks of books that I haven't found the time to read. Somehow more hours of daylight always translates into longer hours of activity – and that includes "actively" reading as much as I can.
Following are some books that have come across my desk since my last reading roundup.
FICTION
Everything is Borrowed, by Nathaniel Popkin, New Door Books (May 2018), cloth, $24.95.
Acclaimed yet restless architect Nicholas Moscowitz has his guilt-ridden memories stirred by the site of his latest commission. Digging into the city's archives, he discovers a Jewish anarchist who lived in the area 100 years earlier – Julius Moskowitz. Their dual narratives of a radical life and faltering contemporary life intersect with the city's past and present to create a poignant meditation on cruelty and regret.
The Family Tabor, by Cherise Wolas, Flatiron Books (July 2018), hardcover, $27.99.
The Tabor family comes together one warm weekend to lounge by the pool and celebrate their patriarch, Harry, a doting father, grandfather and husband, as he prepares to accept the biggest award of his career. He will be named Man of the Decade for his philanthropic work helping Jews to resettle in Palm Springs. But as the weekend wears on, Harry is haunted by a long buried secret. Is a lifetime of generosity enough to atone for one bad decision?
My Mother's Son, by David Hirshberg, Fig Tree Books LLC (May 2018), hardcover, $23.95.
A radio raconteur revisits his past in post-World War II Boston, the playground and battleground for two brothers whose lives are transformed by discoveries they never could have imagined. This coming-of-age story plays out against the backdrop of the Korean War, the aftermath of the Holocaust, the polio epidemic, the relocation of a baseball team and the shenanigans of politicians and businessmen. Hirshberg weaves events, characters and clues into a tapestry of betrayal, persecution, death, loyalty and unconditional love that resonates with today's America.
Come Back for Me: A Novel, by Sharon Hart-Green, New Jewish Press/University of Toronto Press (2017), paperback, $20.
Hungarian Holocaust survivor Artur Mandelkorn is on a desperate quest to find his beloved sister, Manya, after they become separated during the war. Artur's journey takes him to Israel. Intersecting Artur's tale is that of Suzy Kohn, a Toronto teenager whose seemingly tranquil life is shattered by her uncle's sudden death. As Suzy's coming-of-age story reaches a climax, Artur's quest for his sister leads to a shocking discovery. Their stories come together in Israel following the Six-Day War.
Last Instructions, by Nir Hezroni, St. Martins Press (May 2018), hardcover, $26.99.
In this sequel to the critically acclaimed Three Envelopes, former Israeli secret service operative Agent 10483 is trying to shut down the spy organization he once worked for. As he travels the world to find a nuclear warhead to use against them, he is pursued by twin assassins from the organization. This dark thriller is a chilling exploration of the mind of a master killer.
Timeless Travels: Tales of mystery, intrigue, humor and enchantment, by Joseph Rotenberg, Gefen Publishing House (2017), hardcover, $24.95.
This collection of stories traverse time and genre to explore what it means to be a Jewish person in America. Rotenberg says, "Most of the characters … in these 62 stories demonstrate remarkable adaptability and courage in the face of the difficult life challenges they face."
The Optimistic Decade, by Heather Abel, Algonquin Books (May 2018), hardcover, $26.95.
This coming-of-age story about a utopian summer camp and its charismatic leaders asks smart questions about good intentions gone terribly wrong.
The Taster, by V.S. Alexander, Kensington (January 2018), paperback, $15.95.
In this historical novel set in World War II, a young German woman finds a precarious haven when she is recruited to be one of Adolf Hitler's food tasters. The story is both harrowing and hopeful as the woman finds extraordinary courage from within the toxic inner circle of Hitler.
NONFICTION
To Survive Is Not Enough, by Ruth Lindemann, AquaZebra Book Publishing (2016), paperback, $17.95.
Author Ruth Lindemann moved to Portland in 1947 and began speaking about the Holocaust at the Anne Frank Exhibit in 1983. She is part of Holocaust speaker's bureaus in Portland and Rancho Mirage, CA. The events in the book are drawn from the many survivor stories she has heard over the past 45 years.
The Healthy Jewish Kitchen: Fresh Contemporary Recipes for Every Occasion, by Paula Shoyer, Sterling Epicure (2017), hardcover, $24.95.
This delicious take on Jewish cooking uses only natural ingredients and offers a nutrient-dense spin on every dish. More than 60 recipes include both Sephardic and Ashkenazi classics.
The Beauty Suit: How My Year of Religious Modesty Made Me a Better Feminist, by Lauren Shields, Beacon Press (May 2018), paperback, $18.
Rooted in feminist theory and religious history and guided by a snappy personal narrative, The Beauty Suit unpacks modern American womanhood: a landscape where the female body is still so often the battleground for male ideals, and where we struggle with our rights as human beings to define and exercise our freedom.
The Education of a Young Poet, a memoir by David Biespiel, Counterpoint Press (2017), hardcover, $26.
Biespiel shows himself to be exhilarated as much by failure as by success in writing. His poetry reveals aspects of his inner world to him and shows him how to live better. He shares his journeys through the Jewish quarter of Houston in the 1970s and the bohemian Boston of the 1980s. He weaves in tales of his great-grandfather's journey from Ukraine to America in 1910.
America's Pioneer Jewish Congregations: Architecture, Community and History, by Julian H. Preisler, Fonthill Media, paperback, $22.99.
From the earliest Jewish congregations established in the original 13 colonies, to the later congregations established in the central and western regions of the country, beautiful synagogues were built and vital communities were created and thrived. America's Pioneer Jewish Congregations takes the reader on a tour of the oldest existing Jewish congregation in each of the 50 states and territories.
Autism Uncensored: Pulling Back the Curtain, by Whitney Ellenby, Koehler Books (April 2018), hardcover, $29.95.
Rather than a "miraculous breakthrough" story, Ellenby provides an unflinching, real-time portal into the mind of a parent who adopted extraordinary and unorthodox methods to include her son in his community regardless of public ridicule or scorn. She redefines notions of shame, conformity and success in order to carve out a meaningful life for those with autism. Ellenby offers parents of children with autism realistic hope and attainable goals. She tells the public about the crucial role they can play in the true inclusion of an autistic child in her or his community.
The Blessing of Sorrow: Turning Grief into Healing, by Rabbi Ben Kamin, Central Recovery Press (July 2018), paperback, $17.95.
A graduate of Hebrew Union College, Rabbi Ben Kamin examines the diverse ways we mourn the death of loved ones. In a nation where we are often not forthcoming about death and loss, this book offers answers, direction and a path to recovery.