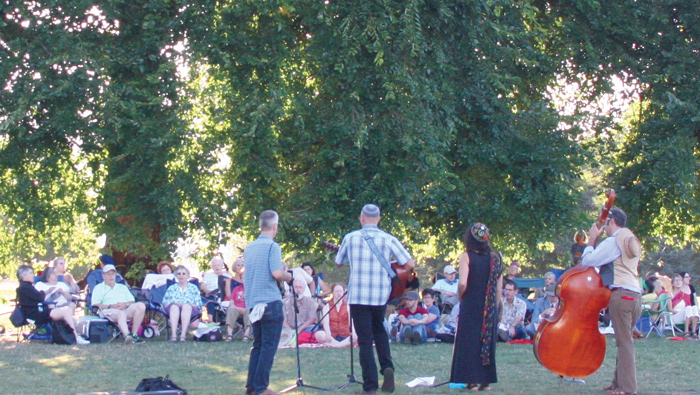 When summer arrives, Oregonians flock to the outdoors to enjoy hiking, biking, beachcombing, paddling, windsurfing, picnicking, playing and a host of other traditional outdoor activities. But that doesn't mean we abandon our cultural pastimes from the rainy months. Concerts, plays and art all find venues under the sun. Even Shabbat observance heads outside.
Congregation Beth Israel hosts Shabbat on the Plaza seven Friday evenings during the summer months. Congregation Shir Tikvah heads out for Shabbat in the Park again this summer – July 8 at Laurelhurst Park and Aug. 19 at Overlook Park. Congregation Neveh Shalom also has two Shabbat in the Park dates: on the eastside at Sellwood Park, Site A on July 8; and on the westside at Raleigh Park and Swim Center Aug. 12. Havurah Shalom splashes into Shabbat with Shabbat in the Pool on Aug. 6.
Travel Oregon lists eight outdoor summer music festivals, at least two of which have Jewish ties and make use of public parks.
The Waterfront Blues Festival (July 1-4 at Portland's Tom McCall Park) was founded by a Jewish boy from Buffalo, NY, who learned firsthand how much a mitzvah can mean to a hungry person after he was robbed when he arrived in New York City to pursue a music career. Delmark Goldfarb produced the first five festivals, which have benefitted the Oregon Food Bank since the second year. It was Del's idea to create a family-friendly music event in a Portland park in 1987. Last year the 28th annual festival raised $869,214, providing about 2.6 million meals for Oregonians facing hunger.
You'll find the Britt Music Festival June 4-Sept. 23 in Jacksonville, which Travel Oregon calls a "premier outdoor music and arts festival featuring world-class jazz, folk, country, pop, dance and classical music artists." Britt's Music Director and Conductor Teddy Abrams was featured in the June 2014 issue of Oregon Jewish Life (orjewishlife.com/britt-festival-introduces-prodigy-conductor-teddy-abrams). Though the festival has its own outdoor venue in Jacksonville, this year the Britt Orchestra will travel to Crater Lake National Park for outdoor concerts July 29 and 30.
Portland Parks and Recreation (portlandparks.org) offers free movies and concerts in parks across the city. The Portland Festival Symphony has slated five concerts in Portland parks during July and August. In September the Oregon Symphony launches its season with a free performance at Tom McCall Waterfront Park (tentatively scheduled for Sept. 1; visit orsymphony.org).
Portland's art scene offers at least three regular outings: First Thursday in the Pearl, Last Thursday on Northeast Alberta and First Friday on the Central Eastside  (travelportland.com/article/monthly-art-walks-in-portland/). Central Oregon gets into the groove too with First Friday in Bend. Enjoy art, music, wine and entertainment (downtownbend.org/events/).
Camping and backpacking are popular summer activities with a wide range of terrain and scenery. See story on page 16 on backpacking with tots.
Feeling the lure of the camping bug, but not sure you want to rough it? Check out the 75 luxury camping experiences in Oregon posted on glampinghub.com. When you go glamping (glamorous camping), you can be one with nature, but still feel pampered in tepees, yurts, tree houses, tents, cabins or campervans.
Runners, walkers and cyclists can choose from organized events or scenic routes around Oregon.  The annual Hood to Coast for runners and Portland to Coast for walkers is a fun relay that annually draws more than 20,000 participants. This year's race will be Aug. 26-27 (hoodtocoast.com).
Cyclists look forward to the annual Cycle Oregon weekend ride (July 8-10) and week ride (Sept. 10-17), which attracts more than 2,000 cyclists for a seven-day excursion through a different part of Oregon each year (cycleoregon.com).
More casual strolls and cycling options are easy to find, too. Sunday Parkways offers five traffic-free events through Portland's beautiful neighborhoods every summer (portlandoregon.gov/transportation/58929).