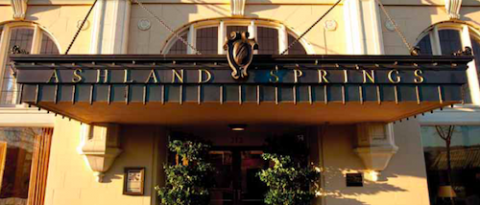 Beautiful Ashland makes a great getaway with enough indoor and outdoor activities to keep the whole family happy. Home to the Oregon Shakespeare Festival with its Elizabethan stage and variety of plays, the compact city is the perfect place to kick back and have it all. Browse the shops or sip wine at an outdoor table by the stream. Take a hike in the nearby mountains. You'll find a perfectly preserved Old Western town in nearby historic Jacksonville, which even features MacLevin's Whole Foods Deli known for homemade pastrami and blintzes. Karolina Wyszynska Lavagnino came to Ashland from Poland to attend Southern Oregon University and stayed on to direct marketing at the Ashland Springs Hotel. Built in 1925 in time for the Ashland Chautauqua, a popular adult education and cultural movement, the hotel is an easy walk from the theater and offers well-priced packages that range from white water rafting to wine tasting. Theater lovers will enjoy the special $269 "Summer Sundays," which include two A or A+ section tickets to the festival (Sundays only), an overnight stay for two, and a $30 dining credit toward dinner at Larks Restaurant, along with the hotel's usual complimentary parking and continental breakfast.
"Ashland is a wonderful destination, because we have everything in a small place – fantastic theater, great dining, boutique shopping, art galleries and wonderful trails," Lavagnino says. "Our concierge is a walking encyclopedia of Southern Oregon and will customize everyone's stay. Email her ahead of time for suggestions." After a day of fly fishing, bird watching or hiking, the concierge may recommend a soak in the Japanese Ofuro tub or the Vichy shower at the Waterstone Spa and Salon across the street. See this year's Shakespeare plays, "The Taming of the Shrew," "King Lear" and "A Midsummer Night's Dream."
Other OSF choices include favorites like the musical "My Fair Lady" and Tennessee William's "A Streetcar Named Desire." Check out the backstage tour for a peek behind the scenes. And, don't forget to dress in layers for chilly evenings, especially in the outdoor Elizabethan theater. Wear comfortable shoes for a stroll through beautiful Lithia Park before the play.
IF YOU GO…
{Stay and Eat}
Ashland Springs Hotel: 212 E Main St, Ashland, 541-488-1700, AshlandSpringsHotel.com. Email concierge Gigi LaRossa at concierge@AshlandSpringsHotel.com
Larks Restaurant: 212 E Main St, 541-488-5558, ashlandspringshotel.com/larks-restaurant
Lithia Springs Resort: 2165 W Jackson Road, Ashland, 541-482-7128, LithiaSpringsResort.com
Morning Glory (breakfast and lunch) 1149 Siskiyou Blvd., Ashland, 541-488-8636, MorningGloryRestaurant.com
MacLevin's Whole Foods Deli 150 W. California St., Jacksonville, 541-899-1251, MacLevinsonline.com
{What to Do}
Oregon Shakespeare Festival: 800-219-8161, osfashland.org
Waterstone Spa and Salon: 236 E Main St., Ashland, 541-488-0325, WaterstoneSpa.com
Lithia Park, downtown Ashland: 59 Winburn Way, Ashland 541-488-5340
Science Works Hands-on Museum: 1500 E Main St., Ashland, 541-482-6767
Kokopelli River Guides: 2475 Siskiyou Blvd., Ashland 541-201-7694
Hellgate Jetboat Excursions: 966 SW 6th St., Grants Pass 800-648-4874
Emigrant Lake: 5505 Hwy. 66, 541-776-7001
Historic Jacksonville: 541-899-8118, JacksonvilleOregon.org
Crater Lake National Park: 541-594-3100, nps.gov/crla
Oregon Caves: 19000 Caves Hwy., Cave Junction, 541-592-2100, oregoncaves.com