By Amy Hummell
Jewish Disability Awareness, Acceptance, and Inclusion Month (JDAIM) was formed in 2009 when the Jewish Special Education International Consortium got together for their annual meeting. Two of the members presented the idea of selecting a specific month for all communities to raise awareness and share resources on the topic of disability. Becca Hornstein, co-founder of the Council For Jews With Special Needs (today Gesher Disability Resources), served on the consortium and helped prove the need for worldwide inclusion and understanding. It was working in Arizona, so she knew it could work everywhere. The goal – Jews of all ages with any disability could participate in the mainstream of Jewish life.
This was very important to Becca. When she first arrived in Phoenix, AZ, in 1983 and called looking for a religious school her son with autism could attend, none of the synagogues were able to accommodate. "Because of my son's disability, my family was excluded from participation in Jewish life," says Becca. So she set out to find available resources for her son and other families, increasing awareness while challenging the status quo. People lined up, and the programming began to flow.
In 1989, CJSN helped Jewish children adapt to and enjoy Jewish camp. In the years that followed, the agency opened its first residential home for individuals with disabilities, created Shabbat programs for individuals with special needs, held the first b'nai mitzvah for adults, and assisted with testing for students in Jewish day schools who required aides as an accommodation.
All these community services brought about the desire to change the name of the agency to more widely reflect the mission, so in 2017, Gesher Disability Resources (Gesher) was unveiled along with Gesher Model Seder and a Special Needs Community Dance for adults. "Providing essential resources for inclusion isn't about strategic plans and annual budgets," says Becca. "This is about acknowledging the value and dignity of every member of 'k'lal Yisorel' and our obligation to accommodate their special needs in our Jewish communities."
In reality, it costs money to provide specific programming and services. Continuing the growth trajectory, Gesher has taken another chance with an opportunity to increase revenue for programming while employing individuals with disabilities. In October of last year, Gesher Disability Resources acquired Damon Brooks Associates (DBA), a disability-focused speakers bureau. This acquisition fulfills Gesher's mission to support individuals with special needs and their families in the Jewish community to lead fuller lives while allowing Gesher to expand nationally.
What is a speaker's bureau? As defined by Wikipedia, a speakers bureau is "a collection of speakers who talk about a particular subject, or a company which operates to facilitate speakers for clients requiring motivational speakers, celebrity appearances, conference facilitators, or keynote speakers." The speaker bureau team initiates the introduction between speaker and client, supporting both parties throughout the booking and logistics process as well as negotiating the fee and commission costs. For more than 30 years, DBA professional speakers have been working throughout the United States, providing insight into their world and training about living with a disability.
"When I started Damon Brooks Associates, the goal was to break down barriers that existed against those with a disability. There is still work to do, but I'm excited to help with the transition to the next chapter of DBA under the direction and leadership of Gesher," says Marc Goldman, founder of Damon Brooks Associates.
While only some of the speakers on the DBA roster are Jewish, Goldman decided selling his company to a Jewish-based group was good for business and his soul. His Judaism is personal but also very important to him. One of the big decisions Gesher's board of directors made was to take Goldman's California sole proprietorship, and with the help of local attorneys at Lane & Nach P.C., change DBA to an Arizona nonprofit LLC. This allows clients to look at the dollars spent on a speaker in a different light – as the fees employ an individual with a disability – while the commission lets disability programming through Gesher remain at little to no cost for the disability community.
From JDAIM to Diversity, Equity and Inclusion, DEI is a term used to describe policies and programs that promote the representation and participation of different groups of individuals. Many companies view DEI programs as key to building strong teams of engaged employees.
To inquire about a professional speaker for February JDAIM, Diversity Month in April, and Disability Month in October, call Gesher at 480-629-5343. You can meet the current book of speakers by visiting damonbrooks.com/speakers/.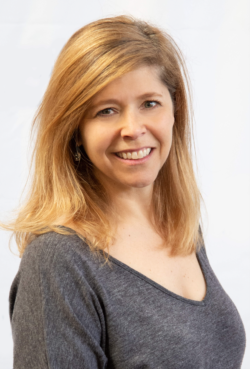 Amy Hummell is the executive director for Gesher Disability Resources in Scottsdale, AZ.