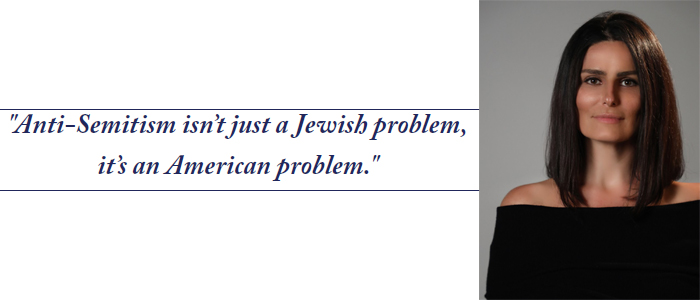 Photo: Liora Rez founded stopantisemitism.org
Sometimes in life, you meet someone with a strong sense of right and wrong combined with a passion for the Jewish people and Israel. When either are threatened, they just can't help themselves – they have to take action.
Liora Rez is one of those people. She is one of the founders and the executive director of stopantisemitism.org. She is a social media influencer, dynamic and articulate. She also has a wicked sense of humor while taking on some of the most serious issues facing the Jewish community today. But most of all, she is a woman on a mission.
Earlier this year I had the chance to interview her about her life and her mission. The following Q&A has been lightly edited for brevity and clarity.
Before we discuss anti-Semitism, tell me a little about your background and the evolution of your social activism career.
I was born in the former Soviet Union. I immigrated to the United States with my family when I was 4. Like most Soviet Jewish immigrants at that time, we were not religious. I was raised in a very secular home in Cleveland. But also like many Soviet immigrants, my family instilled in me a deep-seated love for Israel. My parents are ardent Zionists.
Not yet 40, you have had such an interesting career trajectory, from being a social media influencer to combatting hate. Tell us about Jewish Chick.
I worked in structured finance for a decade and then became a stay-at-home mom. In 2013-14 I started an Instagram account called Jewish Chick showcasing fashion and sometimes writing about my daughter. I was just an everyday person who also happened to be a Zionist, and I was concerned about anti-Semitism. I really didn't start the brand for anything other than as a mental health outlet for me.
I was in the second wave of social influencers. Year after year the account continued to grow and attract a wide variety of people from around the globe. I was surprised by the number of people who would reach out to me telling me that before they started following me they had never observed Shabbat and sharing other comments about their Jewish identity. But what really astounded me was the countless students who reached out to me confessing their love for Israel but saying they were afraid to admit it. This gradually led me to out and identify the online anti-Semitic threats that are often cloaked as anti-Zionism. They are plaguing social media today.
Together with others, you created stopantisemitism.org. What was the final catalyst that motivated you to create stopantisemitism.org?
The concerns students had shared with me on Jewish Chick made me realize there was a massive problem in America today. The (anti-Semitic) incidents at Columbia, NYU and University of California were one of the catalysts that inspired me to co-launch stopantisemitism.org. Now In the wake of a series of anti-Semitic attacks, including the deadly Pittsburg Tree of Life massacre, many in our community are looking to be pro-active and fight anti-Semitism head-on.
There is such a massive influx of Middle Eastern money that is influencing how things about the state of Israel are taught. This has been going on for over a decade. You can find information on Department of Education website on how many millions of dollars is being donated by Qatar, the Saudi Arabian government, and others funneled into these schools for the sole purpose of influencing a university curriculum. Because of these donations, the colleges are hiring very controversial professors who are influencing political science and everything. This creates a very hostile environment for Jewish students, and not only Jewish students. Try being an active Christian at Columbia or NYU. On campuses, people are defining a good Jew as someone who does not support the state of Israel and a bad Jew as one who believes in a Jewish state, in Zionism. So many students tell us that they are even afraid to say they are Jewish.
These incidents aren't just affecting Jewish students. We are hearing from Christian students who are afraid to say that they want to celebrate the Christian holidays. It is really impacting our civil liberties and is a bi-partisan issue.
What came from my experience with stopantisemitsm.org was the realization that what starts with the Jews doesn't end with the Jews. Essentially anti-Semitism is an attack on all of our American civil liberties and values. And hence, that is how stopantisemitism.org came about.
What do you say to people who say they are not anti-Semitic, just anti-Zionist or anti-Israel?
If you are solely demonizing and criticizing the Israeli government, which is a democratic country, and not perfect by any means, just like America, Australia, Canada, it is one thing. But if you are just demonizing Israel while ignoring the human rights violations – actual human rights violations – in Saudi Arabia, Yemen's famine and war, the decade-plus Sudanese civil war where hundreds of thousands were massacred, what is happening in Syria and the Asian countries, then you are a hypocrite and you are anti-Semitic.
If your sole agenda is to demonize the state of Israel while ignoring the evil doings of Hamas, deemed a terrorist organization by the EU, America and Australia, and if you are ignoring Mahmoud Abbas' pay to slay policy, then you are anti-Semitic.
How is today's Diaspora better able to fight anti-Semitism than in the past?
Unlike the Jewish Diaspora of the past, today's Jews have the strength and ability to fight back, we also have the State of Israel. However, anti-Semitism isn't just a Jewish problem, it's an American problem. Stopantisemitism.org exposes anti-Semitism in all facets of American society through social media platforms, and mobilizes Americans through petitions that call to action. We are now seeing that it doesn't stop just at anti-Semitism, but moves on to being anti-American.
Since you created stopantisemitism.org in October 2018, what successes have you had?
In just a few months, stopantisemitism.org was able to: reach an average of 350,000 people per month on Facebook and Instagram – primarily users under age 35; engage social media followers, who have submitted tips and incidents not yet covered by the mainstream media or reported to the authorities. partner with a couple dozen social media groups with an aggregated following of approximately 200,000 people; and get nearly 100,000 signatures related to six petitions that exposed controversial events and speakers whose rhetoric advances anti-Semitism.
How has being a mother of a young child influenced your connection to Judaism and Israel?
It really wasn't until I became a mother that I began doing Shabbat dinners and observing the holidays. I began to realize that for me, it wasn't enough to just say you're Jewish. And I slowly started understanding what my parents had to go through to be able to emigrate to the United States, and what so many went through in the Holocaust and I wanted our (Jewish) traditions to be carried on through my daughter. My goal is to raise a proud, Jewish child; who of course is a strong supporter of the Israel.