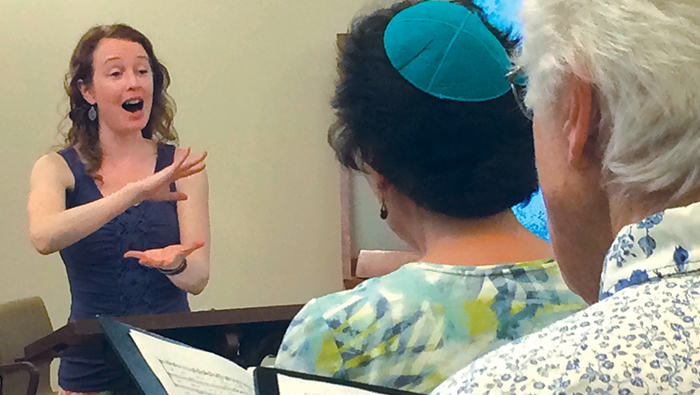 If you grew up in a Reform or Conservative synagogue in North America and you are over a certain age, chances are your shul had a choir. Choral music was an integral part of Reform and Conservative worship for much of the 20th century. Most synagogues had a congregational choir; some also boasted youth choirs and/or professional ensembles.
The rich tradition of Jewish choral music stretches back to King David, who is credited with forming the first instrumental and vocal ensembles for use in worship services in the Temple in Jerusalem. After the destruction of the Second Temple in 70 C.E., the rabbis abolished most of the worship practices from the Temple era, including the musical innovations King David had introduced. Jewish choral music emerged again in the late Renaissance during the early Baroque period with the music of Italian Jewish composer Salamone Rossi, known as "El Ebreo," (The Hebrew). By the 19th century, choral music had become a central aspect of Reform synagogue services; composers such as Louis Lewandowski, who wrote in the grand operatic tradition of Jules Massenet and Giuseppe Verdi, created lavish four-part arrangements of liturgical settings to enhance the worship experience. Some 19th-century Orthodox congregations, following the example of Rabbi Samson Raphael Hirsch, formed male a capella (unaccompanied) choirs, as well.
Over the last 40 years, choral music has been supplanted in many congregations by more contemporary and participatory styles of music, but the choral repertoire – along with those who want to sing it – remains. Conductor Becca Stuhlbarg is reviving Jewish choral music in Portland, both within and outside worship services, as leader of Koleinu (Our Voice), a new choir based at Congregation Neveh Shalom.
Koleinu, which formed in November 2015, is a non-audition choir open to all; CNS membership is not required.
"Anyone who can commit to Monday night rehearsals is welcome," says Stuhlbarg. "We are still accepting new members, especially men."
Tenors and basses are in short supply within Koleinu, as is the case for community choirs everywhere. The choir currently boasts almost 20 members; Stuhlbarg hopes for a group of 25, with balanced sections, that will eventually be able to tackle some of the more challenging works in the repertoire.
"I like to push my singers, but not push them too far," Stuhlbarg explains. "Their musicianship level varies, but most are beginners. For some, this is their first choral experience, but I see the choir as a place for members to learn and grow as singers."
To that end, Stuhlbarg, who holds both bachelor's and master's degrees in music from the University of California at Santa Cruz, incorporates lessons in proper vocal technique and musicianship into every rehearsal.
Koleinu is currently working on music for CNS's congregational Hanukkah party on Dec. 28. In 2017, the group will be featured in some of CNS's regular services; they will also make a couple of visits to Rose Schnitzer Manor to sing for residents there.
This past summer, Stuhlbarg was one of four Conducting Fellows at the North American Jewish Choral Festival, an annual event in the Catskills sponsored by the Zamir Choral Foundation and led by its founder, Matthew Lazar. The festival, now in its 27th year, brings together hundreds of professional and amateur singers, conductors and cantors for five days of intense music making, with daily concerts and rehearsals that stretch late into the night.
"Having the opportunity to work with Mati was really special," says Stuhlbarg. "His passion for the music, his knowledge of the repertoire and his insistence on being true to the music reminded me that I can demand a high level of concentration and devotion to the music from my own singers."
Stuhlbarg's repertoire highlights from last summer's festival include "Unter di Churves" (Shaul Berezovsky/Itsik Manger, arr. Gil Aldema); "Yefey Nof" (Paul Ben-Haim/Yehuda Halevi) and works by contemporary young composers Samuel Dylan Rosner and Ari Sussman.
As a fellow, Stuhlbarg had the opportunity to conduct the Next Dor choir, whose members include high school- and college-age singers, and to hear members of HaZamir choirs from around the country.
"It was really inspiring to hear the younger people in HaZamir and see how passionate they are about the music. It gives me hope that Jewish choral music will continue to evolve and grow," says Stuhlbarg. "There is a future for Jewish choral music in synagogue services as well as in the concert hall."