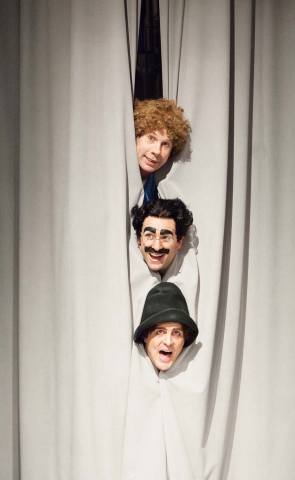 A trip to Ashland is not like a trip to "chill" at the beach. It's a jaunt that can include amazing art galleries, a raft of consciousness-raising seminars and healers, soothing parks, great hiking trails, the best food available in any town under 25,000 and – the crown jewel of the region – the Oregon Shakespeare Festival, with a dozen top plays in repertory.
It may be called the "Shakespeare Festival" (and it's the best such theater around), but nine of the plays are not by the Bard and will include such intriguing and contemporary fare as All the Way, the story of President Lyndon Johnson's triumphal 1964 campaign leading to a presidency brought low by an ill-advised war, and Medea, Macbeth, Cinderella, a stunning study of ambition in a trio of archetypal females.
"You can come here for the beautiful valley and all the outdoor activities it provides, for the cultural activities (three other thriving theaters) and a symphony, the 50-plus B&Bs with beautiful cottages within walking distance of everything, but the Festival is the main draw," says longtime OSF actor Catherine Coulson, "I just saw Medea, Macbeth, Cinderella and it's wonderful. You have to see it."
The play, penned by OSF's multi-talented artistic director Bill Rauch and Tracy Young, who directs it, has women behaving bravely, but often badly – one getting ultimate revenge on a cheating husband, another reaching for the throne by way of murder and a third using magic to secure love. And it's a musical to boot!
"It's some of the best theater in America, with the strongest, deepest acting company, producing works from all countries and eras," says actor Tony Heald, a veteran of eight seasons, acting now in New York. "It's all in a wonderful small town, with the best audiences anywhere. It's really the pinnacle, working rep with an incredibly talented company. For people coming to Ashland, it's the height of their day – and it's been the richest creative experience of my career."
The Festival is always stretching the envelope and this season is staging a re-do of the classic 1930 Marx Brothers film Animal Crackers – a zany fiasco set at a Roaring '20s cocktail party, with African explorer (Groucho Marx) and a missing priceless painting. Try keeping a straight face as the crazy quartet tosses endless goofy one-liners like, "I was outside smoking some meat. There wasn't a cigar store in the neighborhood!"
The play has lots of improv, with actors doing wild but benign capers with a few audience members, such as carrying one up on stage and marrying her, then sending her back to her seat, says John Tufts, who plays Chico.
"We're the oldest, largest rep theater in the country. It's an American institution, such a huge variety of shows – and after you see me as Chico in the afternoon, you can come to Henry V at night and watch me, in the title role, invade France. The scope of what we produce here is massive."
OSF is famed for its large, loyal and well-schooled audience, but, says media relations chief Amy Richard, it's also a great place to learn to love theater – and it's always fun to start with a comedy.
"The beautiful thing about the Festival – and the reason it's thrived for 77 years – is that it's not in a busy, urban environment where you have to go home at night. The founder, Angus Bowmer, understood that in order to keep people coming here, you have to offer quality theater and work closely with the community (scores of shops, restaurants, galleries and taverns) to keep people here more than one day."
Ashland and OSF are both noted for their tolerance and for embracing of diversity, with "a large percentage of very talented people of color and tremendous openness to LGBT and gender issues, as well as being family oriented, with a generous definition of 'family' as all colors and kinds," says Coulson.
For culture, cuisine and recreation, Ashland is a shining island in the West. It's got a beautiful trail system perched on the hills above town.
If you want more, there's rafting on the Rogue River; boating on Emigrant Lake; musical acts at the Britt Music Festivals, in Jacksonville; scores of wineries in the nearby Applegate Valley; and stunning Crater Lake a few hours into the Cascades.
Located in Grants Pass, Hellgate Jet Boat Excursions provides access to the wild and scenic Rogue River onboard wide-beam jet boats that skim the water's surface, while a professional Coast Guard licensed captain narrates the trip through Hellgate Canyon.
Complete festival information and tickets are at www.osfashland.org.
______________________________________________
Jewish life thrives too
Ashland's repute as a cradle of diversity shows in its spiritual life as well, with "a large number of churches and three Jewish communities, something most people are surprised to hear," says OSF actor Catherine Coulson, wife of Rabbi Marc Sirinsky, recently retired from Temple Emek Shalom. The town also has a beautiful new Tibetan Buddhist Temple – Kagya Sukha Choling.
Temple Emek Shalom, Coulson notes, is "affiliated with the Reform Movement, is pluralistic and seeks to welcome people of all traditions, appealing to a broad range of congregants and guests."
Havurah Shir Hadash, a Renewal community led by Rabbi David Zaslow, is "infused with song, dance, meditation … a safe place for prayer and transformative spiritual experiences … dedicated to creating a real sense of community." (www.havurahshirhadash.org)
The two synagogues have a day camp, Camp Gesher: Bridges to Friendship, Aug. 6 to 10 for kids entering kindergarten through 7th grade. Located at Havurah Shir Hadash, it offers a fun Jewish experience. For more information,
see www.CampGesherAshland.com or email Camp Director
Andrea Shupack at andreashupack@gmail.com.
Chabad Jewish Center of Southern Oregon "embraces the millennia-old traditions of Judaism with a welcoming and modern approach," says its website.
Chabad's three-week day Camp Gan Israel is for children ages 3 to 12. It's 9 to 3 weekdays, July 2 to 20. For information, contact camp director, Faigy Zwiebel, at 541-482-2778 or
Camp@chabadofashland.org.
_________________________________
John E. Darling is an Ashland freelance writer and author.