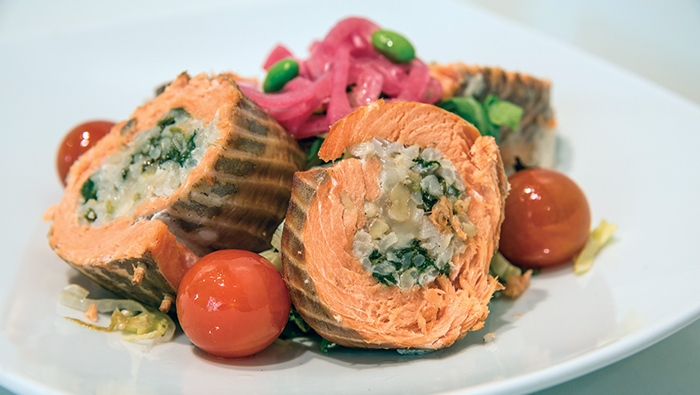 Being in my 40s, maintaining a healthy lifestyle is vital, even more so as I get older. It's important for both genders to eat an array of healthy foods. But for women, science shows these seven foods could offer that extra edge by promoting bone, breast and heart health and even weight loss: salmon, flax seeds, walnuts, Greek yogurt, cranberry, kale and tomatoes.
These stuffed salmon rolls are rich in omega-3 fatty acids from both the salmon and the walnuts. Accompany these rolls with a kale salad, adding flax seeds, cranberry and tomatoes with a Greek yogurt vinaigrette dressing on the side. Voila! You'll have a meal that incorporates all seven foods. Enjoy!
STUFFED SALMON-WALNUT ROLLS
Ingredients:
2 teaspoons olive oil
1/4 cup minced onion
1 clove garlic, minced
4 cups chopped spinach
1/2 teaspoon salt
1/2 teaspoon pepper
1 cup cooked brown rice
2 teaspoons lemon zest
1/4 cup shredded cheddar cheese
1/2 cup chopped walnuts
1 pound salmon fillet, skinned and pin bones removed
Directions:
1. Pre-heat oven to 375 degrees.
2. In a large non-stick skillet, heat oil over medium heat.
3. Add onion; cook until tender but not browned, about 5 minutes. Stir in garlic, spinach, salt and pepper and cook until spinach starts to wilt, about 3 minutes.
4. Remove from heat.
5. Add cooked rice to spinach and stir in lemon zest until well combined.
6. Spread spinach mixture evenly over salmon and sprinkle with cheese and walnuts. Roll up gently using toothpicks or butcher's twine to secure.
7. Place salmon on a parchment-lined baking sheet and bake in oven until fish is cooked through, about 15-20 minutes.
8. Transfer to cutting board and let rest 10 minutes before slicing. Serve with steamed seasonal vegetables or kale salad.
Lucia Schnitzer and her husband, Ken, own Pomelo (a full-service restaurant), Luci's at The Orchard and Splurge (a candy and ice cream shop), all at The Orchard Phx, 7100 N 12th Street, Phoenix. They also own Luci's Healthy Marketplace, 1590 E Bethany Home Road, Phoenix, which they opened in 2009 in Lucia's honor after her successful battle with breast cancer.
Photo by Matthew Strauss