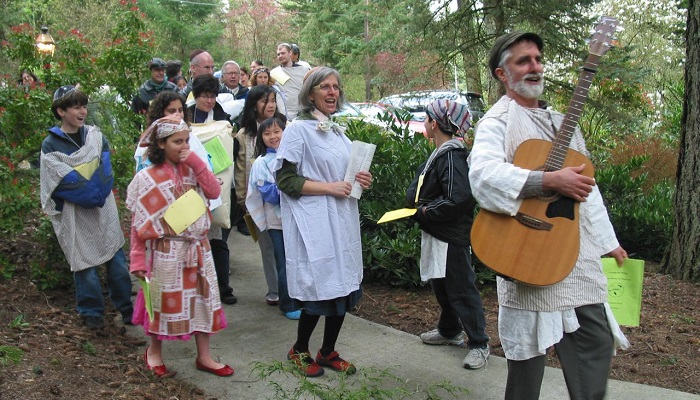 PHOTO: At Gesher, seder participants role play their way through the Passover seder. "Dress up" as slaves, flee to the middle of the Red Sea, feast and tell the story as if we were slaves leaving Egypt. Gesher provides slave clothing and sustenance for the journey.
Passover
(March 31-April 7, 2018)
Passover, also known as Pesach, is the eight-day observance (seven in Israel) commemorating the freedom and exodus of the Israelites from slavery in Egypt. The seder plate with six symbolic foods takes center stage at the seder, a lavish ritual meal where we retell the story of Passover by reading the Haggadah. In addition to the items on the seder plate, each of which represents a piece of the Exodus story, matzah is featured at both the seder and throughout the festival to represent the unleavened bread the Israelites ate when fleeing Egypt.
The first seder will be March 30. In the Portland area, you may eat chametz until 11:07 am. Burn remaining chametz crumbs in your home by 12:11 pm. Candle lighting (one set works for both Shabbat and Passover) in the Portland area is 7:19 pm.
"Friday night, first seder, Shabbat kiddush is included in the kiddush as well as some other minor liturgical additions for Shabbat," says Rabbi Tzvi Fischer, head of the Portland Kollel. "Additionally, all cooking would need to be done prior to the onset of Shabbat."
The second seder is Saturday evening, March 31. The seder begins after Shabbat ends at 8:22 pm in Portland. "The kiddush includes a special version of havdalah known by the acronym yaknehaz," says Rabbi Fischer. "Usually havdalah concludes with 'blessed be the Divine who separates between holy and mundane;' here it concludes "who separates between holy and holy.'"
MARCH 22
19th annual community intergroup Passover seder. 6 pm at the MJCC, 6651 SW Capitol Hwy., Portland. RSVP by March 8: 503-245-6219 or laurar@jewishportland.org
MARCH 30
Passover 1st Night Seder at the Oregon Hillel Foundation in Eugene at
6 pm.
Cost is free for students and $10 for community members. The Oregon Hillel Foundation in Eugene is offsetting seder costs for University of Oregon and Oregon State University students. Andy Gitelson, executive director, said seders are too important to be missed for financial reasons. https://oregonhillel1.wufoo.com/forms/oregon-hillel-seder-society
Vancouver Passover Seder. 7:30 at Chabad Jewish Center of Clark County, 9604 NE 126th Ave., Vancouver. RSVP:  jewishvancouverwa.com/holiday-celebrations
Salem Seder. 7 pm at Chabad Center for Jewish Life-Salem, 1370 Crowley Ave. SE, Salem. RSVP at JewishSalem.com or call 503-383-9569
Hillsboro Pesach Seder. 7:30 pm at Chabad Jewish Center of Hillsboro, 965 SE Brookwood Ave., Hillsboro. Registration required: ChabadH.com or 503-747-5363
Chabad at Reed Student Led Passover Seder (10th Annual). 7:15 pm at Chabad House-Jewish Student and Community Center, 3355 SE Steele St., Portland. All college students are welcome. Free. RSVP to RabbiDov@JewishReed.com
Family Style Community Seder. 7:30-10:30 pm at the Chabad Center for Jewish Life: 2858 NE Sandy Blvd., Portland. RSVP by March 25: JewishNortheast.com/seder
Community Passover Seder as Theater. 5:30 pm at Gesher, 10701 SW 25th Ave., Portland. Info: gesher@comcast.net or 503-246-5070. RSVP necessary: ourjewishhome.org
MARCH 31
March 31: Chocolate 2nd Night Seder at the Oregon Hillel Foundation in Eugene at 6pm. Cost is free for students and $10 for community members. https://oregonhillel1.wufoo.com/forms/oregon-hillel-seder-society
SE Portland Passover Seder (10th Annual). 7:15 pm at Chabad House-Jewish Student and Community Center, 3355 SE Steele St., Portland. Large family discounts available. RSVP: RabbiDov@JewishReed.com
Passover: A Redemption Song/traditional seder. 6:30 doors open, 7 pm seder at Congregation Shaarie Torah, 920 NW 25th Ave, Portland. RSVP by March 26: shaarietorah.org or 503-266-6131
Community Passover Seder sponsored by Kol Shalom Community for Humanistic Judaism. 4 pm check in/social hour, 5 pm seder at the Starlight Room, 1125 SE Madison St. Portland. Reservations: kolshalom.org, info@kolshalom.org or 503-459-4210
Young Adult Seder sponsored by Moishe House. 6-8 pm at Congregation Beth Israel, 1972 NW Flanders, Portland. hersch.moishepdx@gmail.com
Second Night Seder with Portland Unshul. 6 pm at The Q Center, 4115 N. Mississippi Ave., Portland. rabbidebra@asthespiritmovesus.com
Passover Seder as Theater for Families with Younger Children. 4 pm in Gesher's Passover Tent, 10701 SW 25th Ave., Portland. Role play the Passover story. Info: Rabbi Laurie at gesher@comcast.net or 503-246-5070. RSVP necessary: ourjewishhome.org
APRIL 1
Passover Seder for Men with Rabbi Gary. 6 pm at 10701 SW 25th Ave., Portland. Men in the making (adolescents) welcome. Info: Rabbi Gary at gesher@comcast.net or 503-246-5070. RSVP necessary: ourjewishhome.org
APRIL 4
OSU Passover Seder hosted by Oregon Hillel at the First United Methodist Church in Corvallis at 6 pm. Cost is free for students and $10 for community members. https://oregonhillel1.wufoo.com/forms/oregon-hillel-seder-society
APRIL 6
Passover Seder for Singles and Couples (Adults only, all relationships welcome). 6 pm in Gesher's Passover Tent, 10701 SW 25th Ave., Portland. Info: Rabbi Laurie at gesher@comcast.net or 503 246-5070. RSVP necessary: ourjewishhome.org