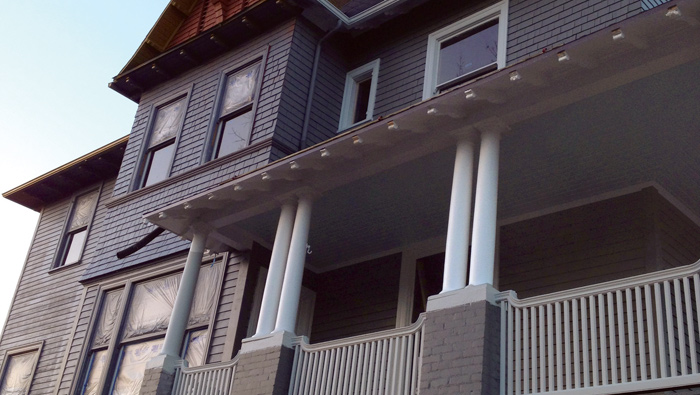 In 1892 Portland's first Jewish mayor, Bernard Goldsmith, built a "handsome dwelling" for $4,000 at the corner of Northwest 24th Avenue and Quimby Street.
In 2014 some 20 neighbors and friends raised $2.25 million to save it from the wrecking ball. And today, its new owners are working to restore it as a showpiece of Portland and architectural history.
"It was just too fine a house, and too important a resource, to lose," says Ruth Roth, part of the neighborhood group. "The people who once lived there are so important to our past."
The story of the Goldsmith House has a happier ending than many other historic properties, both in Portland and along the West Coast. Development pressure is strong and protections are weak, advocates say.
"Old buildings are vulnerable," says Fred Leeson, president of the Bosco-Milligan Foundation, an architectural preservation education and advocacy organization that operates the Architectural Heritage Center. "People want to live close to the central city, and it puts our old building stock in jeopardy.
"When we lose our old buildings," adds Leeson, "what we lose is our sense of history, our sense of place – of who we were."
The Goldsmith House, now in a process of renewal, is an important link to the first decades of Jewish life in Oregon and a testament to the skill of its Jewish architect, Edgar M. Lazarus II, who designed numerous public buildings as well as private residences. And, through David Hassin (the contractor overseeing renovations), Roth and others, the house has a continuing connection to the Jewish community.
But first, let's take a look back.
Goldsmith, born in Bavaria in 1832, came to the United States in 1848 and made his way to Portland in 1861 after stops in New York and the California gold fields. He bought a jewelry store, opened an assay office and soon became a partner in what was to become a major dry goods business.
He quickly became a member of Portland's financial elite, and by 1880 was counted among the city's wealthiest citizens. He was a member of the Stock and Exchange Board; one of five initial investors in what became First National Bank, the first nationally chartered bank on the West Coast; and a key player in cattle ranching, wheat exports, mining ventures, railroads and water transportation.
In 1869 he was elected Portland mayor for a two-year term, during which he urged purchase of several of the downtown Park Blocks and what became the nucleus of Washington Park. By 1871 he was advertising "very reasonable rates" for lots in "Goldsmith's Addition" to the city of Portland, where he, too, would eventually build the house on Quimby Street.
When he died in 1901, The Oregonian lauded him as "an exemplary citizen" with "a reputation above reproach."
Lazarus, a Sephardic Jew who said his ancestors came to the Americas with the 16th-century Spanish explorer Hernando de Soto, was born in Baltimore and came to Portland in 1891 after working for a time in Washington, D.C.
Active in the city's social and athletic life, he is perhaps most remembered as the architect of Vista House at Crown Point and several courthouses, including Portland's Pioneer Courthouse. He also designed buildings for the 1905 Lewis & Clark Exposition, and, in the Jewish community, the first Neighborhood House and the 1905 Ahavai Sholom synagogue on the Park Blocks. He died in 1939.
The Goldsmith House, among other private residences Lazarus designed, is in the Queen Anne Shingle Style he favored. It soars three stories, with steeply pitched roofs and impressive but subtle details, all sheathed in shingles.
"It's like a castle on the hill," Dan Volkmer, a Realtor involved in saving the Goldsmith House and part of the neighbors' group, said at the time. "It's incredible."
Volkmer, who specializes in historic homes, was delighted to include the Goldsmith House in last year's 4th Annual Historic Home Tour in Northwest Portland, a benefit for the Northwest Children's Theater. He's gearing up for the 2016 tour, set for June 19, and says to stay tuned for details.
"Historic homes are interesting to look at, inspiring, fanciful – with a level of craftsmanship we don't often see now," says Volkmer, who himself lives in a 1907 landmark house.
And craftsmanship – and care – brings us back to the present.
David Hassin, president of Terrafirma Building Inc., describes his work on the house as the opportunity of a lifetime. "To be able to restore a home of this age and of this stature – it just feeds my soul," he says.
Hassin, who moved to Portland in 1992, has been involved in construction for 38 years, tackling projects from infill in the Alberta Arts district to historic renovations and major commercial projects.
He grew up in Los Angeles, the son of a Holocaust survivor mother and an Israeli father, and now serves on the board of the Oregon Jewish Museum and Center for Holocaust Education. He's a past president of the Oregon Holocaust Resource Center, which merged with OJM.
For him, the Goldsmith House is a chance to reach back through time and build a bridge to the future.
Even though much of the home's interior had been gutted by the time the last-minute purchase was made, Hassin sees the beauty in remaining structural details. Some original work has been salvaged, which will be supplemented with careful reproductions.
"The amount of effort, of detail, that went into this work," he says, marveling at one or another aspect of the carpentry. "And they did this with handsaws and chisels, not power planers and air guns."
Though he's still working on framing, electrical and plumbing, he hopes to have the new owners in a finished home by Thanksgiving, if not before.
"I feel so grateful to be a part of this project," he says. "And to be able to build something that hopefully will last for another 100 years."
The Talmud teaches that one who saves a single life is credited "as if he saved an entire world."
Those who came together to save the Goldsmith House may not have saved a life, but they are helping to save – and restore – a slice of Portland history and a glimpse of the world that was.
Sura Rubenstein is a Portland writer.