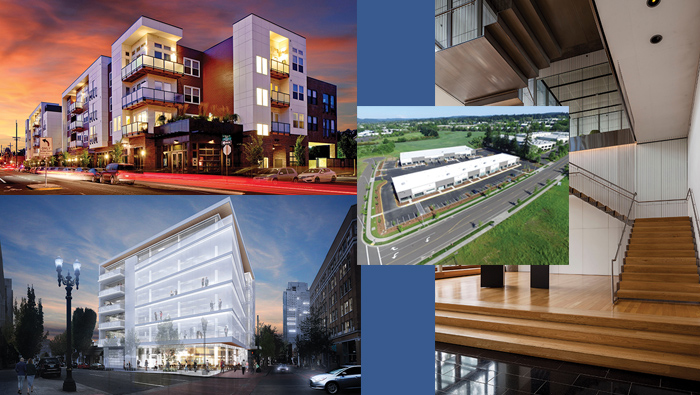 Portland's skyline is changing, and four Jewish family-owned development companies are doing their part to ensure the change is positive.
"Portland seems like a very healthy real estate market now, and with proper stewardship can continue to be," says Jack Menashe, president of Ruben J. Menashe, Inc., the company founded by his father in 1962.
Mark Goodman of the Downtown Development Group says his family "has been bullish on our city for a couple generations. … We purchase real estate as a long-term investment and look for opportunities to improve areas within the city of Portland."
"We are optimistic about the future here in Portland," says Evan Bernstein, a partner in the firm Pacific NW Properties, which was started by his father-in-law, Tom Stern, in 1990. "Good population growth, a compelling place to live and work, talented workforce and great market fundamentals give us lots of enthusiasm for the years ahead."
"We are very bullish on Portland," says Barry Menashe, who with his son, Jordan, operates Menashe Properties. "Portland is in growth mode for a lot of reasons people who live here know well."
Menashe Properties
"Portland is one of the most unique and dynamic places to be involved in real estate on the entire West Coast – if not the country," says Jordan Menashe. "It is important that we keep our 'edge.' We are still relatively affordable, have an amazing restaurant scene, have creative juices flowing on every corner and are a bit 'weird.' Portland has a lot to offer! We are just scratching our potential!"
The father/son team is also working to enhance Portland's livability. For the second year, they have donated space in one of their downtown buildings to serve as a homeless shelter for up to 100 people a night during the winter/spring months. "It's such a serious problem" says Barry Menashe. "We want to do our part."
Founded 30 years ago, the family-owned company has properties in some of Portland's most vibrant and densely populated neighborhoods. Barry says he is especially excited about a creative office space they are redeveloping at Southwest 12th and Morrison. Located on the west end of downtown Portland, the site boasts 60,000 square feet of office and/or retail space. To the north in the Pearl District, the company is developing the Canopy Hotel for Hilton at Ninth and Glisan.
Downtown Development Group
Another family with holdings in the downtown core is the Goodmans, who began investing in Portland commercial real estate when Doug Goodman (Mark's father) and his father, Walter, started City Center Parking in 1955. The company sold the parking business in 2012 but retained ownership of the surface parking lots and buildings "to be used as a platform for generations to make their contribution to the city of Portland," says Mark.
"We take great pride in our city and look for specific opportunities that enrich the community," says Mark, co-president with his brother, Greg. Greg's older son, Matthew, is vice president and his younger son, Stephen, is expected to join the family business soon. "We stay very involved in the Portland community by supporting numerous charitable organizations and actively participating on civic boards."
Mark is proud of the properties the family has already developed, including Twelve West and Indigo Apartments located at the corner of 12th and Washington. The building has 12,000 to 15,000 square feet of retail, 90,000 square feet of office space and about 200 apartments. "It's right in the heart of the West End. That neighborhood is really exciting. It's a wonderful mix of old and new. Plus it has so many fantastic food and drink and retail options; it's near bike lanes and transit, and it's in the heart of night life in the area."
DDG plans to develop other mixed-use buildings on other sites in the area, including an apartment/retail building they have begun the planning process for on Third and Ash.
"Our family started in the parking business and acquired ownership of 25 to 30 lots," says Mark. "Every one will have a better use than surface parking in its time."
Ruben J. Menashe, Inc.
Another longtime family firm has focused its recent development on a close-in neighborhood on the east side of the river. Ruben Menashe has been active in Portland real estate since about 1960.
"It's a very exciting time to be a developer in Portland because there is so much creative energy being thrown at the revitalization of the urban area," says Jack Menashe, who is president of his father's firm, Ruben J. Menashe, Inc. "The adaptive reuse and the renaissance of previously overlooked areas means less sprawl and will continue to make Portland a vibrant and attractive community with an emphasis on its core."
Jack says the company has focused on the North Williams corridor for the past eight years, long before it became the darling of apartment builders. "We saw a lot of potential on the street," he says, noting they bought their first lot on the street in 2008. "When I first looked at the lot, I sat and watched the flow of bike traffic. It was close in, it was clearly a bike corridor and it was just rife with vacant parcels and neglected buildings. It seemed ready for development."
That first lot is now the site of The Albert, a four-story mixed use building named after Jack's great-grandfather. Albert Menashe arrived in the United States in 1913. Certified LEED Gold, The Albert is mixed use with ground floor retail and apartments, of which 25% are reserved as low-income housing.
Their fourth building in the corridor will also be mixed use but will not include any apartments. "Our feeling is the North Williams Corridor has seen all the apartments it needs for a while," says Jack. "We saw a lack of other uses. We wanted to create places where people could work." So the new building will have ground-floor retail beneath offices, with parking under the building. While they do not plan to seek LEED certification for this building, it will be green. "Green building is important to us, and we feel to the future of building," says Jack. The timber-frame building wrapped in glass will have a green roof (with plantings to combat the heat island effect and provide storm water retention) and green walls (with frames built for plants to grow on the walls).
Pacific NW Properties
Another local family focuses much of its attention on business parks around the metro area. Founded by Tom Stern, Pacific NW Properties is a Beaverton-based, family-owned company with about 3.5 million square feet of commercial properties under ownership and management throughout the greater Portland metro area. They are known as one of, if not the, "top business park owner and managers in Portland."
"Over the past 20 years I have really enjoyed the process of developing business parks and office buildings from the ground up, securing good tenants and then managing these projects says Tom. "How exciting it is that my boys, Brad Stern and Evan Bernstein, also find this challenging, creative and gratifying. L'dor v'dor, from generation to generation."
Brad adds, "It's exciting to see all of the development in our market across all product types – office, industrial, multi-family and retail. Look at our downtown skyline. Portland cracked the top five for most construction cranes in the U.S. in 2016, topping New York City and San Francisco."
Last year the firm completed a two-building, 62,000-square-foot, multi-tenant business park in Tualatin called Franklin Business Park II. "Within four months of delivery, the asset was 100% leased with 10 new dynamic tenants and friends," says Evan. "This is the fastest we've ever leased up a speculative development in our 26-year history." They plan to add a third building across the street later this year.
Pacific NW's most recent development is the Fourth Plain Business Park in Vancouver, completed in February. The 40,000-square-foot, light industrial and retail building is on the corner of Fourth Plain and 152nd Avenue.
"Coming out of one of the darkest times and worst recessions our market has ever experienced from 2009 to 2012 or so, it's been wonderful to see so many people in our industry doing well over the past several years," says Evan. "Our tenants are thriving
and showing tons of confidence, contractors are busy, brokers are making a few shekels; we love it when our partners and friends are knocking it out of the park!"
Leadership for a Strong Community
In addition to the growth these noteworthy developers provide the general community, they are all involved in the Jewish community, as well. Many are members of Portland synagogues including Congregations Beth Israel, Neveh Shalom and Shaarie Torah. Most support the Jewish Federation of Greater Portland or have served on federation committees. Many have been involved with organizations such as Cedar Sinai Park, Jewish Family & Child Service, Mittleman Jewish Community Center, Camp Solomon Schechter and the Oregon Jewish Community Foundation.
The Jewish community and Portland overall are lucky to have developers focused on the current and future well-being of our region.