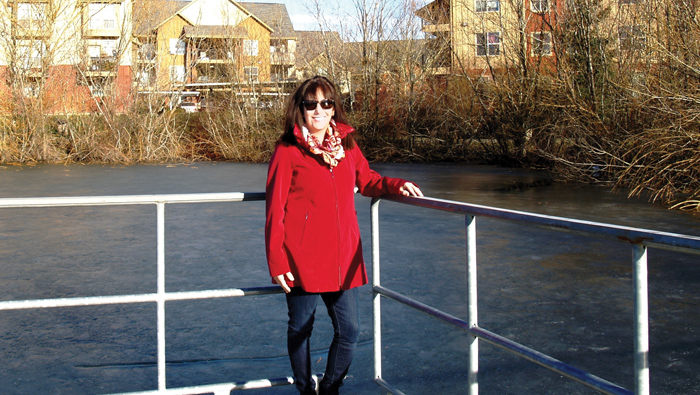 From its roots in the lumber industry, the Oregon Pacific Investment and Development Company has grown into the owner/manager of multifamily housing, retail and industrial properties in three states.
Despite the firm's name, "we are no longer developers," says Co-President Julie Saltzman Leuvrey, daughter of company founder Jack Saltzman, z'l. "We have switched our strategy to buying existing properties and renovating them – what is called a value-add acquisition strategy."
In 2004 the family-owned company shifted from development to purely acquisition. OPID now has six commercial properties plus about 1,000 multifamily units in eight properties in Oregon; 457 multifamily units in two properties in Arizona; and three properties with 616 multifamily units in California.
"We typically have developed or renovated to own and manage," says Julie. "We have passed on a lot of opportunities over the years, because we analyze the property with a long-term perspective – would we want to own it over various real estate cycles."
In Oregon Julie is proudest of a 198-unit multifamily development completed in 1999. It is a sister property to one her father developed in 1980, a 14-story tower built, coincidentally, on the site of the home where Jack Saltzman grew up, which became part of the South Auditorium Urban Renewal Area. The two buildings were renamed Linc 245 and Linc 301 in tribute to the light rail line that now runs down Lincoln Street.
Julie says Linc 245, a five-story midrise with subterranean parking, "gives us a great sense of accomplishment. … At the time, it was difficult to attract residential development downtown, which is hard to believe now. The property also includes 40 tax credit units affordable to people making 50% of area median income."
The Portland market historically attracted only local developers, she explains. Now it has attracted developers from outside of the area in large numbers. Initially, she says, most of the national players invested only in downtown office and retail, and in Westside suburban submarkets for multifamily.
"That all began to change in the last decade and greatly accelerated during the last growth cycle, which began around 2012/13," she says. "Now Portland is attracting people from all over the country as well as some international investors. One example is The Yard, a residential development on the east side of the Burnside Bridge. It just sold for a record price to Thai investors."
The family-owned OPID has a long history in Oregon. Jack Saltzman was born in 1920 to immigrant parents in Portland.
He died in 2004, but Julie still calls him her role model and inspiration as well as the founder of the family business. He grew up selling newspapers on a street corner to help support the family, before graduating from the University of Oregon and serving in the Navy. "He was part of the Greatest Generation," says Julie.
Jack started a lumber brokerage business in 1946 and got interested in real estate development while building warehouses for his lumber company.
"I think he became tired of the volatility in the lumber industry and decided to give real estate development a try," says Julie. "Oregon Pacific Forest Products was sold to the employees, and he created Oregon Pacific Investment and Development Company. He was a great role model for his work ethic, his loyalty to his employees and his unassuming nature."
Julie earned a bachelor's degree in political science from the University of California-Santa Barbara, receiving the Santa Barbara City Club award, given annually to the top six women graduating with liberal arts degrees.
"I used my award to return to France, where I had studied during fall term of my senior year," she says.
In France she met her husband, Eric Leuvrey, now a global executive account manager at Mentor Graphics. The couple moved to San Francisco in 1984, where Julie worked at two real estate investment advisors and completed an MBA in finance and real estate at UC Berkeley. They moved to Portland and Julie joined the family business in the early 1990s, when her father was having health issues. The couple's two children – Nicolas, 22, and Allisa, 19 – are both students at their grandfather's alma mater, U of O.
Julie says it is a coincidence her sister, Barbara, who works in OPID handling property management and accounting, and she "married men with very similar last names that are pronounced almost identically!" Barbara's husband, Randy Lovre, is co-president of OPID.
The family tradition of philanthropy is also still a central family value.
"My family has supported the (Jewish) Federation for a long time as well as the Jewish Community Center and other Jewish causes. We continue to support the federation in honor of our parents and to support the Jewish community here in Portland."
Additionally, Julie is a member of the OHSU Knight Cancer Institute Council and notes, "We have supported the Knight in many of its capital campaigns." She also supports a number of causes such as Friends of the Children and Habitat for Humanity.
opidportland.com  | 503-225-1102