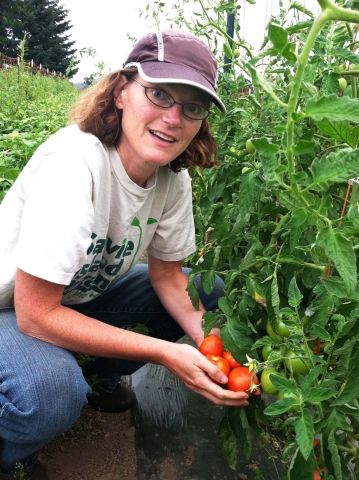 In 2008 Hazon, a New York-based Jewish environmental and sustainability organization, hosted its first Jewish Food Conference. Just four years later, as Hazon continues its annual food conference tradition, smaller conferences are popping up like mushrooms all over the country, from Boston to San Francisco. On Sunday, Sept. 9, Portland will host its first Jewish Food Conference with a daylong schedule of workshops, breakout sessions, panel discussions, a locally catered lunch and a visit to a nearby organic farm. Organizers intend the conference to become an annual event.
The Portland Food Conference is a collaborative project of the Institute of Judaic Studies and Portland Tuv Ha'Aretz, Portland's Jewish connection to sustainable, ethical food for all. It is funded by Hazon and a Community Impact Grant from the Jewish Federation of Greater Portland.
"This conference is an examination of the intersection of food and sustainability and Judaism," says Hannah Treuhaft, a founding member of Portland Tuv Ha'Aretz and a member of the Food Conference Steering Committee. "It will feature community members sharing ideas and exploring what our tradition has to say about how we grow, how we eat, how we prepare our food and what foods we buy."
The conference will begin with a panel discussion with three Jewish community leaders who are working on different aspects of sustainable healthy food: Shari Raider, farmer and owner of Sauvie Island Organics; Nancy Becker, a registered dietician with the Oregon Public Health Institute and a nutrition consultant with the Community Health Partnership; and Uri Kushner, head of food services at Cedar Sinai Park. "Rather than bring in a speaker from outside our community, we decided to highlight local Jewish luminaries who are engaged in food work," says Treuhaft.
After the opening panel discussion, participants will choose from a variety of one-hour workshops and sessions. Topics may include Jewish health and nutrition; food ethics and tikkun olam; Jewish texts, values and traditions; food history and culture; children's programs; and do-it-yourself workshops such as how to make pickles or can tomatoes. There will be a catered vegetarian lunch featuring Israeli-style food. The daylong conference will end with a bring-your-own picnic dinner at Sauvie Island Organics.
"The Portland conference is modeled after Hazon's, but it's smaller and more intimate," says Treuhaft, who sees the proliferation of regional food conferences as a natural outgrowth of Hazon's annual food conference. "Local communities are exploring the issues brought up in the Hazon conference. Having smaller local gatherings gives us the opportunity to highlight the people in our community who are working on these topics, both Jewishly and in their secular lives. Portland is perfect for a food conference like this, because Portland's place in the national conversation about sustainability – the way we eat and grow and take care of the people who grow our food – is in a different place than much of the country; we're further along. We've been talking about these kinds of things for awhile."
Treuhaft envisions the Portland conference as a beginning; a place to generate a number of thoughtful, important conversations for Jews about the food they eat. "Adding the spiritual dimension to the ongoing food dialogue complicates these conversations in a positive way," she explains. "It pushes people to look deeper at their own eating and buying habits."
"This conference won't be the end," Treuhaft adds. "It's my hope that more Jewish people start to explore these conversations and these relationships within their own lives, and this gathering is a great catalyst for those discussions."