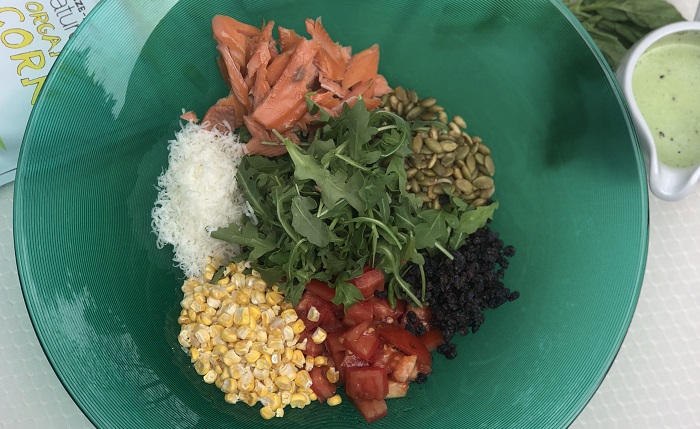 My husband, Marshall, and I recently celebrated our 24th wedding anniversary. We were married in Palm Springs, CA, in 1994. The nuptials were held at LaVallauris, a beautiful French restaurant just off Palm Canyon Drive in downtown Palm Springs.
My in-laws owned a beautiful home at Canyon Country Club. My father-in-law loved to play golf, and my mother-in-law would spend hours playing mahjong with her lady friends. We enjoyed many trips back to Palm Springs to visit them until travel became difficult for my father-in-law, and he could no longer enjoy the golf that he loved. They moved permanently back to Portland and sold their second home in the desert.
When we used to visit them, we would always look forward to lunch at their country club. We would walk in (with our then young son in a stroller) and snicker that we were by far the youngest people in the dining room. We would smile and listen to all the happy seniors exchanging hellos and swapping stories about the "old days." There would be the occasional sad reports of an ill friend or one who had passed away from a stroke or heart attack. But mostly, the visits were full of laughter and picture swapping of recent weddings or cherished grandchildren. Everyone beamed with pride and love for their growing and thriving families.
Now in my mid-50s, I realize that I am quickly approaching being a happy senior myself. While I used to be ecstatic to be asked for my ID to make sure I was over 21, I now hold my breath and hope that I am not asked if I should receive the senior discount at the grocery store! My sister always says "growing old is not for wimps," and I know she speaks the truth. I am now rarely the youngest person in the room – and that's just fine! There are always good things to look forward to when you have friends and family to grow old with.
On a recent trip to Scottsdale, AZ (another popular place for happy seniors), I had one of the best chopped salads I have ever eaten. The best part was the freeze-dried corn that gave the salad an unexpected sweet crunch. They used smoked salmon, but in my version, I am using smoked trout. Either would be good. Colorful and healthy, this salad makes the perfect lunch or light dinner entrée.
SCOTTSDALE CHOPPED SALAD
For the salad:
4-5 ounces smoked trout, crumbled
⅔ cup freeze-dried corn
3-4 cups baby arugula
½ cup diced Roma tomatoes tossed with 1 tablespoon balsamic vinegar and 2 teaspoons olive oil
¼ cup black currants
¼ cup toasted pepitas
3 tablespoons grated asiago cheese
For the dressing:
1 cup mayonnaise
¼ cup buttermilk
Juice of 1 lemon
12 basil leaves
1-2 cloves of garlic (about 1 teaspoon)
Salt and freshly ground pepper
Place all salad ingredients in a large bowl. Combine dressing ingredients in a blender. Blend thoroughly. Toss salad with dressing to taste and season with salt and pepper. Serve immediately.
Lisa Glickman is a private chef and teacher who lives in Portland. She appears regularly on KATU's Afternoon Live and has appeared on the Cooking Channel's "The Perfect Three." She can be reached at lisa@lisaglickman.com.