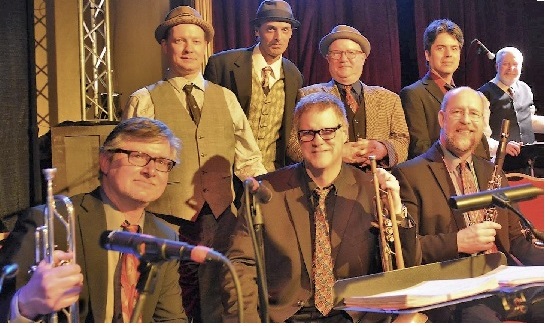 Did you know OJMCHE's rooftop is a beautiful setting for summer events? On July 24 you can discover the magic when the Oregon Jewish Museum and Center for Holocaust Education presents a Rooftop Swing Jazz Concert.
The 7 pm concert honors Benny Goodman's legacy. Portland's Cherry Blossom Orchestra will feature both standard and new arrangements of tunes from the discography of Benny Goodman's long and celebrated career in jazz. This will be a concert to live long in the memory as we celebrate a truly great Jewish-American musical and civil rights pioneer.
OJMCHE's roof top patio is an intimate setting to enjoy a special concert, swing dancers, and a no-host beer and wine bar. This special summer event is sure to be a sell out, with $25 tickets for reserved seats and $20 non-reserved seating.
Based out of Portland, The Cherry Blossom Orchestra were formed as a direct result of Louis Armstrong's visit to the city in 1965. He is one of many inspirations – which also includes Duke Ellington, Fats Waller, Jelly Roll Morton, WC Handy, Spencer Williams, the Oklahoma City Blue Devils, Fletcher Henderson, and so many more. Hot times, prohibition, speakeasies, wax & early vinyl recordings were the order of the day. The Cherry Blossom Orchestra plays the jazz created during its most important period : the 1920s to the 1940s!
---
Tickets are $25 reserved seat and $20 general admission; purchase tickets at ojmche.org/tickets/rooftop-swing-jazz-concert.