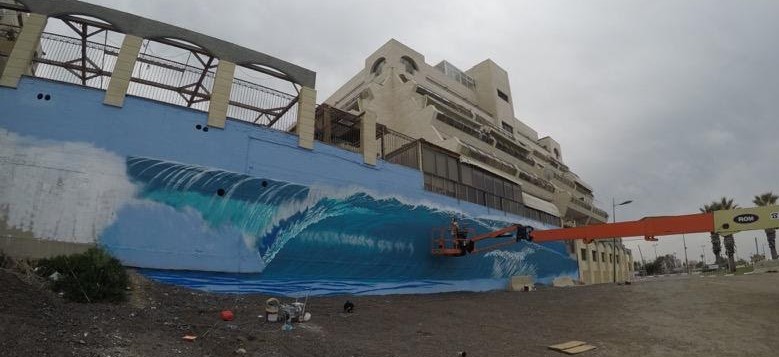 International Artists Took Near Misses Personally

A group of international graffiti artists were painting towering murals to inspire hope in Ashkelon even as rockets from Gaza targeted the city in central Israel. Almost before the paint dried on their work, Ashkelon was hit by rockets which sparked a stand-off between Hamas and Israel which nearly spiraled into another Gaza war.
The organizers of the trip, Artists 4 Israel, are no strangers to working under dangerous conditions. Artists 4 Israel originally became internationally known for transforming the bomb shelters of Sderot, Israel near the border of Gaza into works of art. "We couldn't end the fighting," said Craig Dershowitz, the nonprofit's founder, "But art brings its own measure of peace." The group also smuggled artists into the demilitarized zone along the Golan Heights and Syria during the height of the Syrian Civil War to paint messages of hope to Syrian refugees. And their work outside of Israel includes exploring unity in post-Apartheid South Africa and being the first Israeli artists to be invited to paint in public in Indonesia.
Ironically, this time the painting in Israel was supposed to be relaxed and free of risk. "What could possibly go wrong in Ashkelon?" thought Dershowitz. In the weeks leading up to the trip even the protests along the Gaza border had been relatively quiet. Artists 4 Israel prevents the spread of anti-Israel bigotry into young, progressive communities through art while at the same time helping Israeli communities heal from the scars of terror, violence and war. The world famous artists they bring to Israel are creating a beachhead against BDS and insuring that in these up-and-coming communities, Israel is seen as a beautiful place.
"When we go to Israel, we are usually covering over the scars of war with either paint or tattoo ink," says Dershowitz, "but this time was supposed to be different. Everyone was relaxed as
we rented cranes and set the artists free to turn buildings into canvas."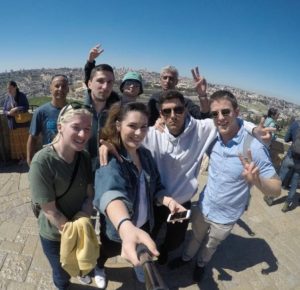 The artists came from diverse countries including America, South Africa, Korea and Brazil with the hope of connecting to the people and the country – though a near-miss with terrorism was not the kind of connection they anticipated. But even that was not able to erase the sense of peace they felt in Israel. Mars, Jenna Morello, Taker One, Hilton Alves, Royyaldog and Whitney Kerr all enjoyed the country and became quite at home in the Ashkelon neighborhoods where they created towering images designed to promote calm or convey a sense of solidarity with their newfound friends.
"I somehow adopted a kid from Ashkelon on my first day," said Brazilian artist Hilton, "he brought me some food and I began showing him how painting something this large works." Hilton left Brazil for Hawaii some years ago but spends most of his time traveling and making art around the world. "My goal is to learn from different cultures and use my art as a tool to make a difference, especially for kids."
"I think Israel has its own spirit and I will definitely come back. Israel reminds of Brazil because people are so passionate. The neighborhood responded right away with kindness even though our only connection was the universal language of art. My goal is to do 101 murals of the perfect wave around the world. Ashkelon was thirty-three."
Christian Shin from South Korea also said coming to Israel was a profound experience. Shin, who goes by royaldog in the urban art world is the son of a pastor. "My father has been to Israel several times and when he heard of my invitation said I had to go; it is life changing. He was right. I painted a woman in traditional Korean dress to represent unity between Israel and Korea."
Artists 4 Israel never tells participating artists what to paint, the organization works hard to give space for the creative process. "What is always interesting is to watch how the artists engage," says Dershowitz. "The young urban communities the artists usually come from often have been sold a narrative on what life in Israel looks like for Jews and Arabs. Being in the country often confronts the artists with a reality that differs from what they have heard. That usually spills into their art and becomes a conversation over social media with their followers. That seems to be a common experience no matter where the artists call home."
That often takes time as the artists sort out their feelings, but the rocket attacks on the heels of their trip accelerated that for this group. All of the participants expressed shock when they saw that Ashkelon was a target. "The artists became very connected to both the people and city of Ashkelon," explained Dershowitz, "Suddenly rockets were exploding near the murals they just completed and above the heads of the people that were so welcoming to them. They took it personally and that spilled over to their fans and followers."
Growing up in Johannesburg, South Africa, artist Mars is no stranger to tension and division. And he received a lot of resistance from friends and fans when he announced that he was going to paint in Israel. Mars says that what he encountered in the people he met blew apart so much of what he had always been told about Israel. "His mural was the one that stands out to me now after the city became a Hamas target," says Dershowitz who has been leading trips like this one for 10 years. "Mars painted a mural of an Israeli woman. She was beautiful in every way, but you could see pain in her eyes."