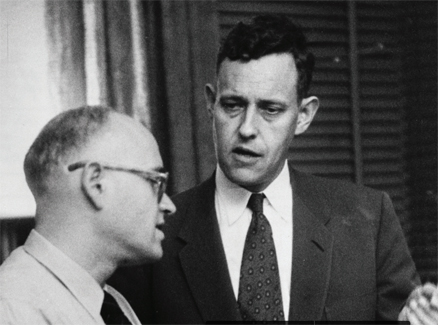 Photo: Dick Neuberger (left) with Tom McCall in the 1950s. Photo courtesy Oregon Historical Society
As the son of a Pendleton newspaper editor, I encountered visiting politicians in the 1950s and 1960s. Of that array, Richard Neuberger made an indelible impression on my young mind. My father and Dick began their friendship at The Oregonian in the 1930s.
When Dick and Maurine Neuberger visited our home in 1955, I listened to Dick talk over lunch. I had not observed an intellect so voracious as Dick's. That moment was the inspiration for the biographical research I would begin in 1978, after leaving Willamette Week. Before moving to Washington, D.C. – to become a correspondent and newsletter publisher – I interviewed Dick's mother, his widow, sister and a number of his contemporaries, such as Herb Schwab and Dr. Mort Goodman.
Upon retirement from daily journalism two years ago, I commenced a book project that will be titled Eminent Oregonians. Richard Neuberger will be one of the five lives in that book. Following its publication, I will write a complete biography.
Dick Neuberger was one of the most consequential Oregon politicians of the 20th century. He was also one of America's most prolific freelance writers. In 1954, he became Oregon's first Democrat elected to the U.S. Senate in 40 years. That election effectively created Oregon's modern Democratic party.
Neuberger was a prodigy who began his writing career at the age of 17, for The Oregonian. Following his sophomore year at the University of Oregon, Neuberger and his uncle, Dr. Julius Neuberger, traveled to Germany. It was 1933. They visited relatives in Hainstadt, from which Dick's father Isaac had emigrated shortly before 1900. Off the beaten track and away from large cities, Dick learned first hand about the nascent violence of the Sturmabteilung, known to Americans as the Brown Shirts. Returning to New York, Neuberger took his observations to The Nation magazine, which published this remarkable reportage under the title of "The New Germany." Ernest Gruening, who bought the article for the Nation, called it an "epoch-making article."
"The New Germany" is bracing reading in 2019. In The New York Public Library, I found an even more personal rendition of the Germany trip as published in Opinion: A Journal of Jewish Life and Letters. I've shared a digitized copy of that article – "Inferno – 1933" – as well as "The New Germany" with Judy Margles, executive director of the Oregon Jewish Museum and Holocaust Center.
Margles and Chet Orloff have assisted me in placing the Neuberger family in the context of Portland's Jewish community of the 1920s and 1930s.
Dick's slender 1954 Senate victory, by 2,462 votes, turned control of the U.S. Senate to the Democratic party, making Lyndon Johnson majority leader. That Senate Democratic majority lasted until 1981, and it produced landmark legislation including the CivilRights Act and the Voting Rights Act. It also produced the National Wilderness Act, of which Neuberger was an original co-sponsor. Dick also laid the groundwork for the Highway Beautification Act. His legislation created the Fort Clatsop National Memorial.
In more than one way, Neuberger was a man ahead of his time. His conservationist writings inspired the most consequential Oregon governor of the postwar era – Tom McCall – and laid the bedrock for what became an environmental ethos that has typified Oregon politics.
Neuberger lived at such a fast pace and took so many risks that it seemed he knew he'd die young – in 1960 at the age of 47.
The projected publication date of Eminent Oregonians is fall 2020. The four other Oregonians in that book are Abigail Scott Duniway by Jane Kirkpatrick, Chief Joseph by Roberta Conner, Jesse Applegate by Gregory Nokes and Robert Thompson by David Wilson.