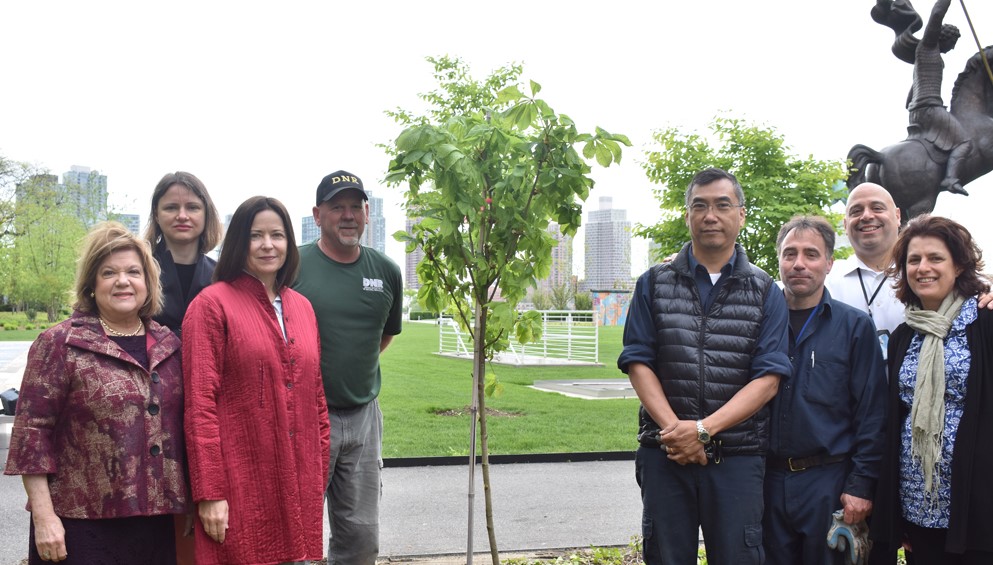 PHOTO: Participants in the tree planting at the United Nations in honor of Anne Frank's 90th birthday included, from left: Sharon Douglas (CEO, Anne Frank Center), Olga Yatskevich (The Holocaust and the United Nations Outreach Programme), Kimberly Mann (Chief: Education Outreach Section, United Nations), Bob Hawkins (Vallonia Tree Nursery, Indiana Department of Natural Resources), Thiha Myint (Plant Engineering Section, United Nations), John Grassi (Plant Engineering Section, United Nations), David Pina (General Foreman, Custodial Unit, Plant Engineering Section, United Nations) and Tracey Petersen (Manager: The Holocaust and the United Nations Outreach Programme). Courtesy of the Anne Frank Center for Mutual Respect
June 6, 2019, would have been Anne Frank's 90th birthday. Following are three pieces honoring her memory – the planting of a sapling descended from the chestnut tree she wrote about in her diary, the honorees of the Spirit of Anne Frank Award announced, and a university professor's numerical observations about the day and Anne.
Anne Frank Sapling Planted at United Nations to Educate and Inspire Future Generations
Today, on what would have been Anne Frank's 90th birthday, a tree was planted in her memory on the grounds of the United Nations Headquarters in New York. But not just any tree.
In the two years Anne spent in hiding at the "Secret Annex" – her name for the hideaway she and her family occupied to avoid capture by the Nazis – she would often sit and watch the great horse chestnut tree that stood outside an attic window.
"Nearly every morning I go to the attic to blow the stuffy air out of my lungs. From my favorite spot on the floor I look up at the blue sky and the bare chestnut tree, on whose branches little raindrops shine, appearing like silver, and at the seagulls and other birds as they glide on the wind," she wrote in her diary on Feb. 23, 1944. "As long as this exists, and it certainly always will, I know that then there will always be comfort for every sorrow, whatever the circumstances might be."
The tree outlasted the typical chestnut tree lifespan of 150 by a significant margin, but it did finally collapse in 2010 at the hands of a strong storm and after years of fungal disease at the age of 230. Still, Anne wasn't wrong.
Wisely, a few years before the tree fell, the Anne Frank House stewards created saplings of the tree, which have multiplied to create more than 300 direct descendants. The saplings have been distributed throughout a dozen nations across the world.
The Anne Frank Center for Mutual Respect received more than a dozen of the saplings and in 2013 established The Sapling Project, which donates the trees to worthy educational organizations across the U.S., which include Sonoma State University, the 9/11 Memorial, the West Lawn of the U.S. Capitol, and the Washington State Holocaust Resource Center in Seattle. Future saplings are planned to demarcate significant historical sites such as Central High School, where the Little Rock Nine defied racial segregation in 1957.
As they grow, the saplings act not only as living reminders of those who have passed, but as tools to educate future generations about the history of Holocaust, a service that is increasingly critical.
Nearly a quarter of American Millennials say they've never heard of the Holocaust, or are unsure of whether they have. And about half of all adults in the United States, Millennial or otherwise, are unable to name even one of the more than 40,000 concentration camps and ghettos from one of the darkest times in global history.*
Schools and other organizations that have received the saplings have seen a dramatic rise in the cultural and historic awareness of their students. Lessons that can connect something tangible and living to the past do a far better job of educating students of all ages.
"Perhaps in part because of their time in hiding, Anne Frank often mentions nature as a source of spiritual rejuvenation," says Elisa Rapaport, chief operating officer of the Anne Frank Center. "It's such a gift that these descendants of the actual tree that inspired her will inspire future generations, as well, reminding us of the past and the hope for a brighter world ahead."
Today's sapling planting and dedication was made possible by the Anne Frank Center's partnership with The Holocaust and the United Nations Outreach Programme, a group that has also worked with the center to host educational outreach programs commemorating Kristallnacht and Holocaust Remembrance Day.
It's a labor of love, patience, and commitment to care for the saplings, which required a multi-year quarantine through the Department of Agriculture before they could be planted. The trees require the right latitude and environmental conditions.
The Anne Frank Center's Garden Initiative similarly gives communities a peaceful place to enjoy the natural beauty Anne admired amidst perennial beds, stepping stones, and sculpture. The center is working to establish more partnerships throughout the country, as educational hubs that can host programs and work as local extensions of AFC efforts, bringing together members of the community—such as artists, teachers, landscapers, and public figures—for a common goal. A garden in Huntington, New York, was established in 2010 through the collective efforts of such community figures.
The Anne Frank Center is currently reviewing several proposals from other potential sites to host future Anne Frank chestnut saplings.
Anne Frank Center's Spirit of Anne Frank Awards
 What is done cannot be undone, but one can prevent it happening again. ~ Anne Frank
Anne Frank's name and words have become so iconic that it can be easy to forget she lived not so long ago – recently enough to still be actively remembered by the people who knew her. One of those people is Pieter Kohnstam, who knew Anne as his babysitter when he was a child in Amsterdam, before the Frank family went into hiding and his own family escaped through a series of countries, eventually settling in Argentina. While in Amsterdam, the Kohnstams were neighbors of the Franks on Merwedeplein and became close, as both families had fled Hitler's Germany.
It is in part this experience that led Pieter and his wife, Susan, now of Venice, FL, to decades of humanitarian service – promoting peace, unity, compassion, and understanding as two of the Anne Frank Center's most inspiring volunteers. The Anne Frank Center for Mutual Respect is honoring them with the 2019 Legacy of Hope Award as part of this year's Spirit of Anne Frank Awards, acknowledging the Kohnstams' tireless commitment to teaching about the Holocaust and its frightening relevance to events today.
For more than 20 years, Pieter Kohnstam has traveled the world to share his story of escaping Nazi occupation, through lectures, conferences, and readings from his book, A Chance to Live: A Family's Journey to Freedom, which has been published in English, Dutch, and German. Based on a memoir by his father, Hans, Pieter's book details his family's escape to freedom and memories from that time. Pieter recalls:
"Anne was a vivacious, outgoing girl who adored children. She had an infectious laugh and was well-liked by everyone. … She was one of those girls on the verge of becoming a teenager, who could act like a grown-up one moment and play tag with the younger children in the neighborhood the next."
It's a story that reminds us not only of the innocence of youth, but the basic human desire for connection and community. That human connectedness has guided Pieter through years of public presentations throughout the country, as he shares his story with others as a caution about what could happen again:
"Let us pray that we stand up to fight for a better world with understanding, imparting knowledge of history…and standing up to fight genocide and xenophobia."
The value of volunteerism is not lost on Elisa Rapaport, chief operating officer of the nonprofit Anne Frank Center. "It's hard to imagine anyone more committed to the goodness of humanity than those who have transformed the experience of tragedy into the power of compassion for others. The selflessness of Pieter and Susan Kohnstam represents the best in all of us. They teach, give, share, and inspire every single day, determined to leave a legacy of hope and unity across the continents."
Other 2019 honorees include: SAFA Human "Writes" Award winner Jack J. Hersch, author of DEATH MARCH ESCAPE: The Remarkable Story of a Man Who Twice Escaped From the Holocaust. The inaugural SAFA Interfaith Unity Award recognizes congregations who have witnessed unspeakable tragedy in the midst of prayer: Linwood & Al Noor Masjids in Christchurch, New Zealand; Tree of Life Or L'Simcha Synagogue in Pittsburgh, PA; and Emanuel African Methodist Episcopal Church in Charleston, SC. The world has been deeply moved by these and other horrifying tragedies. The award acknowledges that millions of people both share in the mourning and are inspired by the spirit of solidarity that has emerged – especially on what would have been Anne Frank's 90th birthday on June 12, 2019. It is an opportunity to reflect on how much, and how little, has changed in the eight decades since World War II.
Education award winners for 2019 include: SAFA Student Scholars Masaraat Asif, Emily Herrmann, Emilia Peters, and Grace Schuler; SAFA Teacher-of-the-Year Robert Lurie; and Outstanding Educators Brendan Murphy and Elliot Hearst.

The 23rd Annual Spirit of Anne Frank Awards will be held in New York City at the Edison Ballroom on Monday, June 17. To register, volunteer, or make a contribution in honor of any of the honorees, visit www.annefrank.com/safa. Holocaust survivors attend free of charge.
Numerical curiosities to celebrate Anne Frank's 90th birthday
By Aziz Inan
Anne Frank gained fame posthumously with the publication of her diary, which has sold tens of millions of copies worldwide and has been translated into more than 65 languages. Her diary represents a testament to the indestructible characteristics of humanity and a symbol of resilience to racism and discrimination.
June 12, 2019, marks Anne Frank's 90th birthday and I prepared the following numerical birthday curiosities in her memory:
Frank's 90th birthday occurs this week on 12 June (12/6). Interestingly, 12 plus 6 equals 18, 12 times 6 is 72, and 18 plus 72 results in 90.
Three times the sum of the digits of Frank's birthday, 12/6/1929, namely 30, also equals 90.
The product of the digits of Frank's birthday 12/6/1929 equals 1944, the year she and her family got arrested.
The sum of the cubes of 12 and 6, the day and month numbers of Frank's birthdate, also yields 1944.
Frank's birth name, Annelies Marie Frank, contains 18 letters. (18 represents life, chai, in Hebrew).
If Frank's birth year 1929 is split in the middle as 19 and 29, 19 and 29 are the 8th and 10th prime numbers and 8 plus 10 equals 18 too.
Also, 18 interpreted as 1/8 or 1 August is the last day Frank made an entry in her diary in 1944.
If Frank's 90th birthday expressed as 12/6/2019 is split as 126 and 2019, the sum of the prime factors of the reverse of 126, namely 621, equals 3 + 23 = 26 and the sum of the prime factors of 2019, namely 3 and 673, equals 26 square.
Frank's 90th birthday expressed as 12/6/19 is the 163rd day of 2019 and interestingly, 163 is the 38th prime number and the reverse of 163, namely 361, is 19 x 19 and 19 plus 19 yields 38.
Additionally, the sum of the prime factors of the reverse of 2019, namely 9102, equals 2 + 3 + 37 + 41 = 83 and note that 83 is the reverse of 38.
Frank's 91st birthday in 2020 will also be special too because the reverse of 2020, namely 202, equals the total number of days left in each year after her birthday. Also, 91 equals 7 times 13, 7 plus 13 equals 20, and 20 is each half of 2020.
Frank's 92nd birthday in 2021 expressed in short as 12/6/21 will be a palindrome day. Further, if her birth year 1929 is split as 19 and 29, the sum of the squares of these two numbers equals 1202 and note that 1202 is the reverse of 2021. Also, 92 is the middle two digits of 1929.
Frank's 93rd birthday in 2022 will be interesting since the sum and the difference of the digits of 93 equal 12 and 6 respectively and 12 and 6 put side by side yields 12/6, Frank's birthdate. Additionally, the sum of the prime factors of 93, namely 3 and 31, equals 34 and 34 equals the sum of the letter numbers of Anne when letters A to Z are assigned numbers 1 to 26. Also, 2022 divided by the sum of its digits, namely 6, equals 337 and 337 is the 68th prime number and 68 is twice 34.
Lastly, the sum of the letter numbers of Anne Frank equals 84 and the reverse of 84, namely 48, interpreted as 4 August (4/8) is the day she got arrested in 1944.
Your diary is a pillar of equality, freedom and humanity Anne Frank and rest assured that it will continue to be shared by generations to come.
Aziz Inan is chair and professor teaching in the electrical engineering program of the Donald P. Shiley School of Engineering at University of Portland.