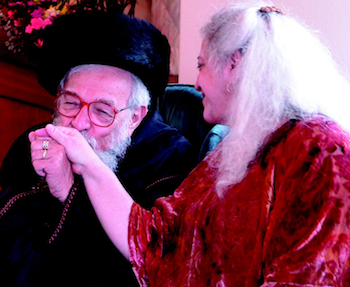 He was the prime mover in the creation of Jewish Renewal 40 years ago, and he is a world-renowned author and spiritual light, a leader in "blending mystic, Hassidic thought with modern progressive vision" that includes the divine feminine, the living planet and a faith that can touch all religions.
This is Rabbi Zalman Schachter-Shalomi, and he admits to having a thing about Oregon, "a place that honors the sea and earth and rivers. I have a feel for it and they have a feeling for Jewish Renewal. What is it with Oregon and me that so many have felt they should study with me?" he comments with a delighted laugh. It also has to do with the tremendous cultural and spiritual transformations of the late 1960s, which brought a lot of Jews to Oregon – young people who, as Ashland's Rabbi Jacqueline Brodsky says, "thought Judaism was irrelevant."
Reb Zalman's gift "is that he was able to see the potential of people and read a person's soul and possibilities and empower them as wonderful rabbinic leaders," says Brodsky, who was ordained by him. "He was visionary in so many ways – environmentally, empowering women, finding alternate rituals and music, bringing joyfulness. He brought a whole generation in on it, and it was a way to merge with our alternate culture."
Starting Renewal in the early 1970s in Berkeley, Zalman traveled and taught widely, connecting with the global network of New Thought visionaries – Ram Dass, the Dalai Lama, Thomas Merton, Jean Houston – soon calling them friends and colleagues.
Now 88 and living in Boulder, CO, his trips are few, notes David Zaslow, Rabbi of Ashland's Havurah Shir Hadash, so "Counting on Each Other," a weekend of teachings and prayer, is special. It's at Havurah April 12 to 14.
"Each year, he comes to Ashland," says Zaslow. "The rabbis lead prayers and chanting around his prayers. We surround him. It's quite ecstatic, very beautiful. All the rabbis, cantors and prayer leaders on the West Coast want to see their rebbe."
Reb Zalman will talk about theology and "ethics necessary for our own time," he says. "We're all learning about the planet as a living being. People have not yet caught up that we ourselves are that being and have to collaborate with it. The nature of nature has not taken hold. Judaism has some answers about how to deal with this Earth." The divine feminine can't live in a world dominated by the left (or rational) hemisphere of our brain, he notes, and we must activate both – the right brain being the place of heart, feeling and intuition.
"We men have a feminine component and sometimes we show it," he says.
Tipping his hat to the 1960s, Zalman said it triggered an era of shift and "we were all under the influence of change. Many who represented the linear tradi- tion of the past could not change, but I did and my students did. It showed Judaism could evolve. It has always evolved."
Of about 30 rabbis in Oregon, Zalman ordained eight, "marking his significance for Judaism in Oregon alone," says Zaslow, who is one of the 30. "Every movement and denomination has its own unique gift to bring, its own flavor and contribution. His was a progressive view of the world, combined with spiritual practice."
"Progressive means the relationship between Jew and non-Jew and bringing the divine feminine back into Judaism," says Zaslow. "He always preaches to the rabbis the urgency of not forgetting the planet as a living being. We can't do the spiritual work without that … and the interfaith work can only be done with a planetary consciousness and the rise of the Divine Feminine." Rabbi Debra Kolodny of Portland, who was director of Zalman's Aleph, the Alliance for Jewish Renewal for nine years, said his message is "compelling and humanistic, that the Earth is in God. The spiritual goal is to live in a state of awakening and relate to all the world's mystic traditions."
Reb Zalman, she notes, "brings Hassidic teaching to the forefront and weaves it into today's feminist, egalitarian and socially warm welcome to LGBT. He makes sure his values and vision are infused with that. It's a way of being in direct relationship with God that focuses on the presence and practice of it and not on every jot and tittle (or the) iteration of behaviors. He focuses on cleaving with God."
"He calls to my heart, my soul's home," says Kolodny, who was ordained by Zalman. "He is precious to me and a huge blessing to the Oregon Jewish community and to all spiritual seekers." Echoing the theme, Rabbi Yitzhak Husbands-Hankin, of Temple Beth Israel in Eugene, says, "His vision is to really believe in the goodness of God speaking through humanity in many ways. There is a purpose to all these dif- ferent traditions."
Consistently, Zalman grounds the spiritual in the political and vice-versa. As Husbands-Hankin says, "It's the urgency for humanity to awaken to this moment in global development, where it's imperative to find the common good of global religious traditions and end the small-mindedness and triumphalism of religious views. It's urgent for us in heal- ing the planet and caring for life on the planet. This refrain of interfaith is the key element in turning the corner from the historical pattern that has stood as an obstacle to human progress.
"It's a rare treasure he gives us," he says, "and he's a bold and inspiring explorer of the spirit."
Zalman has ordained more than 175 rabbis and cantors. In addition to those mentioned above, in Oregon he has ordained, Sue Morningstar, an Ashland women's health practitioner, and Jay Shupak of Congregation Shalom Bayit in Bend. Zalman was born in Poland, grew up in Vienna and was interned by the Vichy French. After fleeing to New York at age 17, he was ordained at the Lubavitch Yeshiva. He earned his master's degree in the psychology of religion from Boston University and his doctor of Hebrew Letters at Hebrew Union College. He was professor of religion for 20 years at University of Manitoba. In 1975 he became professor of Jewish Mysticism and Psychology of Religion at Temple University in Philadelphia, and in 1995 he took the World Wisdom Chair at Naropa University in Boulder. He founded the Spiritual Eldering Institute.
The visit of Zalman is also significant, notes Zaslow, because he is among the last of his generation to experience the Holocaust.
What did Zalman take from that experience?
"There's only one way to say it – a feeling of greater compassion. I've been back to Germany, to teach at the university. The good people of today are not the ones who created the problems for us. They want to be met where they are today. Every human being has to be honored and not treated like vermin."
John Darling is a freelance writer in Ashland.
JEWISH RENEWAL SHABBATON
WhO: ……………Led by Reb Zalman Schachter-Shalomi and his wife, Eve Ilsen
When: ………….april 12-14 Where: ………..Havurah Shir Hadash, Ashland
COST: ……………$285 for the entire weekend
CONTACT: ……..Rabbi David Zaslow: Shalomrav@aol.com or 541-488-0772; or ayala Zonnenschein: ayala@ashlandhavurah.org.
COnCert: …….Saturday evening concert included in shabbaton or $18 for concert only; call Bari Frimkess at 541-488-7716