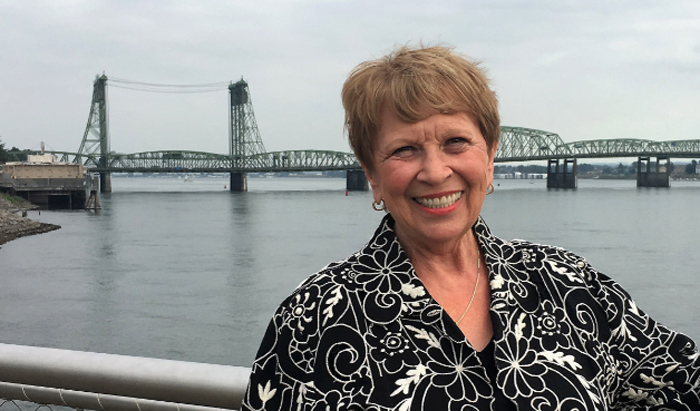 Photo: Carolyn Weinstein, Principal Broker, ABR, SRES with Hasson Company, Realtors.
While the pandemic and subsequent closure of businesses have wreaked havoc throughout the state, there is one business thriving in Oregon – real estate.
In Portland, the average price of homes has gone up 2.6% since the middle of March," says Realtor Carolyn Weinstein with Hasson Company Realtors. "I'm surprised that the market prices are still going up and that we have as much activity as we've had. I thought it would just totally stop, and it didn't."
She shares one story of showing a home on a Sunday that her client fell in love with. The listing price was $400,000, and when she contacted the listing agent on Sunday afternoon, she was told unless her client was willing to write an offer above $475,000, not to bother. She had so many offers that she had been turning people away.
"We've had other times where we've had multiple offers, but that really astounded me," says Carolyn. "In the middle of COVID!"
Carolyn notes that low interest rates may be a factor in increased sales, but she also credits low inventory. "We've had low inventory for the last four years, and it's lower right now than I've seen it," she says.
Many areas have less than one to two months of inventory. That means that if nothing else came on the market, it would take less than a month or two to sell every available listing.
The way that Realtors show clients these available homes have changed dramatically.
"You go into a place, and in many areas, you only have 15 minutes to look at the house," says Carolyn. "There's hand sanitizer there, most places want you to wear booties, and they ask if the agent touches something they would prefer us wearing gloves, and we wipe down (with sanitizing wipes) in between showings. We ask the people not to open up stuff; we open up drawers and doors for people. It's quite interesting."
She also notes that the number of people looking at a home is limited to the agent and two others. If more members of the family want to view the property, they have to make another appointment.
"I won't take anybody in my car, and I miss that," says Carolyn. "That was my time to get feedback about what we were seeing. It was a very intimate time to talk about their feelings and really get to know somebody, and I can't do that now."
Carolyn has been a realtor since 1978.
Before becoming a Realtor, she taught preschool, kindergarten and Sunday school at the Neveh Shalom Foundation School for 10 years. Carolyn also sat on the board and eventually became executive director. Due to financial constraints, she left when they combined the job of educational director and synagogue director.
"That's when I went into real estate," says Carolyn. She still sits on the board of Neveh Shalom and shares that, as co-chair of the campaign, they were raising $4 million for the synagogue's 150th celebration when COVID hit. They fell shy of their goal at $3.7 million. "I'm on the board again for another three years, and I'm also on the building and grounds committee."
She tells a funny story that the owner of Hasson Company Realtors, Mike Hasson was her student in Sunday school. "He likes to introduce me as his former Sunday school teacher," she jokes.
Hasson is a small company with less than 200 agents. "Since 1991, they have been number one in the area in terms of top-selling agents," says Carolyn. "Last year, we were number four in the nation in terms of productivity per agent."
Carolyn's daughter, Robin also works at Hasson. She says that they have worked together for 17 years and complement each other. "I'm what I call the 'rainmaker' – I'm the one that gets business," she says. "I'm the more outgoing personality. She's great on the computer and talking to people – I let her do all the paperwork and computer stuff."
She explains that Hasson has taken this time to delve deeper into the forms that they deal with daily. A virtual "boot camp" held on Zoom, where the agents can go over, line by line, every single form, and share input. "It's been a great education, you get different perspectives," says Carolyn.
"We all have to adapt, it's challenging." She adds, "These are peoples' lives in and out of properties – that's why I'm so careful with what I do."
To contact Carolyn or Robin, visit carolynandrobin.hasson.com.