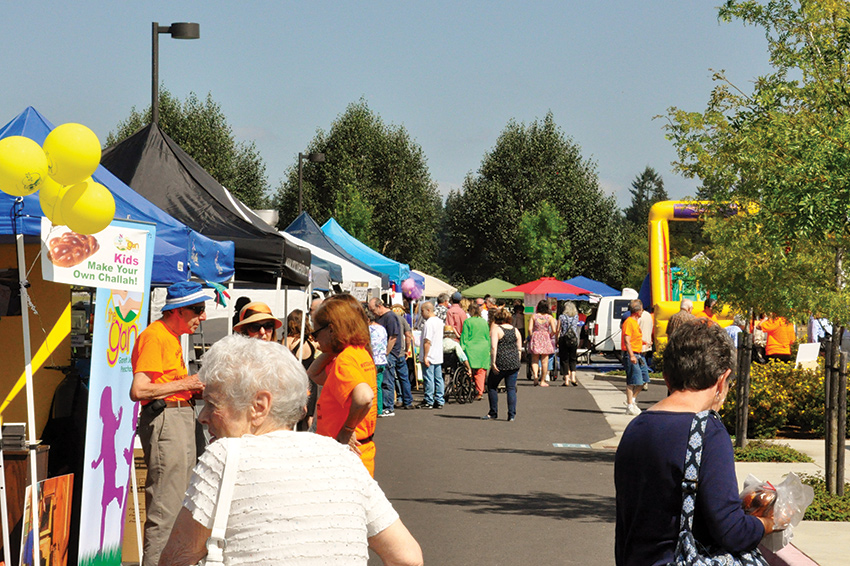 Bagel On! celebrates Jewish life in Southwest Washington
By Sarina Penland
It started as a simple idea in the mind of Robin Hayden, Congregation Kol Ami's president. Her idea to establish a "Jewishly Fun Fair" in Southwest Washington became more developed over the course of a year, with dedicated volunteers, planning and hard work.
Event chair Alan Granat came up with the name, Bagel On! Coming from New York, Alan had been searching for the perfect East Coast bagel to serve attendees.
On Aug. 17, 2014, the debut of Bagel On! was a resounding success. Hoping to get to know their neighbors and enhance their relationship within the community, Congregation Kol Ami's initial attendance goal was to attract 500 attendees. Robin says the 1,180 counted guests "far exceeded our expectations."
The tradition continues with the second annual Bagel On! A Jewishly Fun Fair slated for Sunday, Aug. 23, 11 am-5 pm. Bagel On! is designed to bring the entire community together for a great time. An abundance of food vendors will provide a taste of traditional Jewish foods and a variety of treats. Live music, including a klezmer band, and traditional Jewish dancing will be open to all to try. Vendors will offer art pieces with both Jewish and non-Jewish themes.
Kid-friendly activities include a blow-up slide, arts and crafts booths, and an opportunity to make mini challah. A fire truck will be on hand for the kids to check out as well.
The sheriff and SWAT team will be there to show off their armored vehicle and get to know the community.
Last year's popular synagogue tours return this year, with Torah Talks from Rabbi Elizabeth Dunsker. A question and answer forum will be an added feature.
Robin summed up the spirit of the fair: "What was Bagel On! really? It was teamwork; it was the coming together of all the committees within our congregation, all the Jewish groups associated with our congregation and other groups from the Jewish community at large. It was Jews working together to show the community at large who we are. We had the Boy Scouts, the Red Cross, the veterans, SWAT mobile, the Clark County Food Bank and an EMT from the fire department, all here to support us and to help us show our spirit of tikkun olam."
For more information, visit bagel-on.com or call Alan Granat at 516-302-7506.
Carvers to receive Nemer Service Award
Congregation Shaarie Torah will present the Harry R. Nemer Service Award to Steve and Esther Carver.
The Shaarie Torah Men's Club presents the Harry R. Nemer Service Award to members of Shaarie Torah in recognition of their outstanding volunteer service to the congregation. For many years both Steve and Esther have held prominent leadership roles as committee members, organizing weekly Torah readers and chanting Shacharit service. Along with his responsibilities as a past president of the congregation, Steve also serves as a gabbai. Chairs for this year's event are Richard Cohen and Steph Kotkins.
The dinner honoring the Carvers begins at 5:30 pm, June 7, at Congregation Shaarie Torah, 920 NW 25th Ave., Portland. Tickets are $36. Proceeds support various programs at Shaarie
Torah. Sponsorships are available.
For reservations, contact Congregation Shaarie Torah at
503-226-6131.
Second Annual Lefty Sing Along June 10
P'nai Or invites community to the second annual "Lefty Sing Along Honoring the Music of Peter, Paul and Mary."
Featuring Dan Anolik, Joan Glebow, Joel Glick, Les Milfred, Baruch Morris and Rob Vergun with Maggid Batya Podos. Secial guest will be Joe Hickerson, folklorist and co-composer with Pete Seeger of "Where Have All the Flowers Gone?" Also in attendance will be a special guest from the Abayudaya Jewish Community of Uganda: Rachman Nachman.
Sponsored by the Tikkun Olam Committee of P'nai Or of Portland, this is a fundraiser for Hand in Hand: Center for Jewish-Arab Education in Israel.
The event will be 7- 9 pm, June 10, in a private home in Southeast Portland (address provided after ticket purchase). Tickets are $18 and are available at leftysingalong.bpt.me.
The Jewish Tradition of Mah Jongg
Gregg Swain, co-author of Mah Jongg The Art of the Game, will give a talk tracing the connections of Jewish families to the game of Mah Jongg at 2 pm, July 1, at the Mittleman Jewish Community Center. Using beautiful photographs from her book, and other vintage photographs from the last 90 years, Gregg will explain some of the ties between the Chinese and Jewish communities, and their shared love of the game. She will trace the history of Mah Jongg using photographs of sets that might have been used during those years. No knowledge of the game is needed to understand the talk, only an appreciation for art and/or an interest in recent history.
Swain grew up in New York City and graduated from Smith College with a major in art history. She earned a doctorate in clinical psychology from Baylor University.
Although she wanted to learn how to play Mah Jongg for many years, she only learned how to play in 2010. Intrigued by the art on vintage sets, she quickly found out there was nothing written about the mysterious, often cryptic, beautiful images on the Mah Jongg tiles and boxes, and she set out to research them. She and Ann Israel co-wrote Mah Jongg The Art of the Game, the first book to showcase the beautiful art created by craftsmen over the last hundred years.
Books will be for sale after the talk.
Oregonjcc.org | 503-244-0111