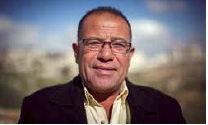 Photo: Bassem Eid, a Jerusalem-based political analyst, human rights pioneer and expert commentator on Arab and Palestinian affairs, will speak at several events in Oregon March 11-14.
Hamantaschen time in Portland and Salem
Two Oregon congregations have long histories of baking hamantaschen for Purim as fundraisers.
In Portland the Shaarie Torah Sisterhood has been baking the three-cornered holiday treat since the 1950s. The first year, the sisterhood sold 100 dozen. Last year the sisterhood made more than 2,500 dozen with the help of 100+ volunteers.
Shaarie Torah makes fruit, moen (poppy seed) and apricot filled hamantaschen. Order one dozen for $12 or three dozen for $33.
Single cookies are $1. Orders can be picked up through March 13.
Shipping is available for an additional cost. Fill out the order form at shaarietorah.org or call Barbara with questions: 971-249-2658.
In Salem, Temple Beth Sholom is celebrating its 22nd year of "dough raising." TBS is now taking orders for hamantaschen, in honor of the holiday of Purim, which celebrates the story of the Book of Esther. This year Purim starts the evening of Wednesday, March 20. The annual hamantaschen sale supports Temple Beth Sholom's many programs. TBS members and friends throughout the community make the cookies each year.
TBS bakes apricot, poppy seed and raspberry filled cookies.
A mixed dozen (four of each) is $18; $15/dozen for three dozen or more. All one flavor are $20/dozen or $18/dozen for three or more dozen.
Orders will be ready for pick up at the synagogue Monday, March 18, 9 am-3 pm.
To order, contact Sherry Dunning at 503-364-1372 or dunning3@comcast.net; the TBS office at 503-362-5004 or office@tbsholom.org; or online at tbsholom.org.
StandWithUs brings Bassem Eid to Oregon
The next StandWithUs speaker tour features Bassem Eid, a Jerusalem-based political analyst, human rights pioneer and expert commentator on Arab and Palestinian affairs.
Eid was born in the Jordanian-occupied Old City in East Jerusalem, whose place of residence became the United Nations Refugee Works Agency refugee camp of Shuafat. He spent the first 33 years of his life in Shuafat.
He rose to prominence during the first Intifada, the Palestinian uprising and was a senior field researcher for B'Tselem, the Israeli Information Center for Human Rights in the Occupied Territories. In 1996, he founded the Jerusalem-based Palestinian Human Rights Monitoring Group. In 2016, Eid assumed the role of chairman of the Center for Near East Policy Research.
Eid has spent 26 years researching UNRWA policies and has written extensively on the subject of UNRWA reform. He also is an outspoken critic of the Boycott, Divestment and Sanctions movement.
Eid begins his Oregon tour speaking to classes at Lewis & Clark University on March 11.
On March 12 he will present a public program as part of the Israel360 program at Congregation Neveh Shalom. The Jewish Federation of Greater Portland is co-sponsoring this 7 pm talk on "Internal Palestinian Politics and Conflict: An Insider's View on the Palestinian leadership and the prospects for a solution to the Israeli-Palestinian conflict."
On March 13, he will speak at 6:30 pm on "Where Are We Now? Prospects for Peace and the Two-State Solution?" at Temple Beth Israel in Eugene.
On March 14, he will speak on "The Real Effects of BDS" at Oregon State University. The talk is at the Memorial Union, Room 109 at 6 pm.
For details on any of the talks, emailnorthwest@standwithus.com.
PJA/MJCC used book sale
Don't miss one of the best and biggest Southwest Portland book events! The Portland Jewish Academy and the Mittleman Jewish Community Center host their annual used book sale March 31-April 2 (Sunday 10 am -5 pm; Monday and Tuesday 8 am-7 pm).
Thousands of books of all genres are available, and the price cannot be beat: $2 per book, and only $1 for children's books.
The annual, family-friendly sale is well attended each year. PJA students voted this book sale as their favorite school tradition.
The event is in the Stern Family Ballroom of the MJCC at 6651 SW Capitol Highway, Portland, OR. For more information email pjabooksale@gmail.com or find information on Facebook at facebook.com/pjaubs.
Proceeds support the school's library and family facilities of the MJCC.
Middle East lecture series Tuesdays
Cedar Sinai Park's Life Enrichment Department has challenged, entertained and amused residents with diverse lectures, musical performances and presentations for 20 years. Now the senior living campus is hosting a Tuesday evening lecture series open to the community.
The free lectures begin at 7 pm in Zidell Hall. The current series, which began in February, deals with the Middle East. Lectures continue through April 2.
On March 5 Cyrus Partovi, of Lewis and Clark College, will speak on "U.S. Interest in the Middle East."
Robert Asaadi will speak about "State-Society Relations in Iran"
on March 12.
On March 19 Addie Byrum, Lewis and Clark College, will discuss "Arabic (Script, Structure and Basic Expressions) and Arab Culture."
Rabbi Joshua Stampfer will talk about "How Israel Was Created" on March 26.
The series concludes April 2 with a talk on Iraqi culture by Baher Butti.
For more information on the series, call CSP Life Enrichment Director Nathan Gregg at 503-522-2116.