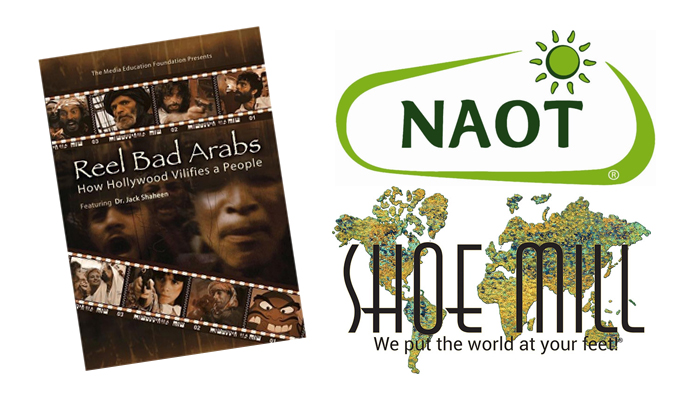 Reel vs. Real: Media Stereotypes and Islamophobia
"Reel vs. Real: Muslim Media Stereotypes and Islamophobia" will look at the American media's long history of using stereotypes to support foreign policy, military presence abroad and domestic divides. This free April 7 program is presented by Oregon Jewish Museum and Center for Holocaust Education, Muslim Educational Trust, Oregon Historical Society and World Affairs Council.
From caricatures of the Japanese "Yellow Threat" during the World War II to the typecasting of Middle Eastern cultures as incubators of religious extremism, popular media often follows whichever current fear grips society in the moment. Community leaders will respond to film clips from a documentary called "Reel Bad Arabs: How Hollywood Vilifies a People," a companion film to Jack Shaheen's book of the same title.
Speakers Rabbi Michael Z. Cahana and Dr. Jamal Badawi will talk about how they deal with Islamophobia in their own communities and audience members will have the chance to ask questions about how to best confront Islamophobia when it presents itself.
Congregation Beth Israel Senior Rabbi Cahana serves on community boards and interreligious councils, and he is a past president of the Oregon Board of Rabbis. In 1999 Rabbi Cahana and his family were featured in the critically acclaimed documentary "The Last Days." The film tells the true stories of five Hungarian survivors of the Holocaust, including Rabbi Cahana's mother, renowned Holocaust artist Alice Lok Cahana. He is a 2015 graduate of Leadership Portland through the Portland Business Alliance and serves on the Executive Committee of the Community Oversight Advisory Board.
Dr. Badawi is professor emeritus at St. Mary's University in Halifax, Nova Scotia, Canada. In 2008 Saint Mary's University granted him an honorary doctorate of civil law in recognition of his promotion of "a better understanding of Islam" and contribution "to civil society around the world." He completed his undergraduate studies in Cairo, Egypt, and earned his master's and Ph.D. at Indiana University. In addition to his participation in lectures, seminars and interfaith dialogues in North America, Dr. Badawi has been frequently invited as guest speaker on Islam in nearly 38 other countries.  He has served as volunteer imam of the local Muslim community in the Halifax Regional Municipality since 1970.
The program begins at 7 pm April 7 at the Oregon Historical Society, 1200 SW Park Ave., Portland.  For more information, contact OJMCHE at 503-226-6131.
NAOT and Shoe Mill team up for Dress for Success
NAOT has partnered with Shoe Mill and Dress for Success Oregon to donate up to 100 pairs of shoes and sandals through their Giving Back program. NAOT shoes have been handcrafted in Israel since the late 1940s.
On Friday, April 15, Shoe Mill in Tigard will host the charity initiative from noon to 3 pm. Each person who participates has two ways to help. For every pair of NAOT shoes that are tried on, Shoe Mill will donate one pair of NAOT shoes to DFSO. If shoes are actually purchased, two pairs of shoes will be donated.
"Women in need leave Dress for Success Oregon with workplace-appropriate clothing and a significant boost in their self-esteem," says Shoe Mill President Ed Habre. "We want to help put the world at their feet, one step at a time."
Shoe Mill is located in the Bridgeport Village shopping center.
NAOT created their Giving Back Program to work with worthwhile causes across the United States to donate up to 500 new pairs of footwear a month to those in need.
"There are few feelings as good helping someone who is unable to purchase new shoes due to financial burdens," says NAOT owner Steve Lax. "NAOT strives to accomplish this with every donation it takes part in."