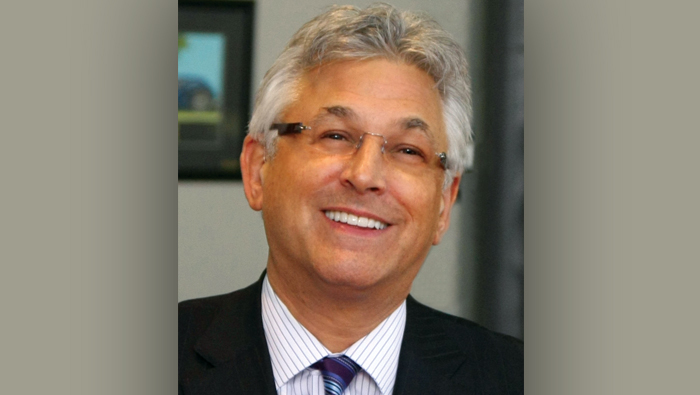 Jewish Federation to install board June 8
On June 8 the Jewish Federation of Greater Portland will welcome new board chair Ed Tonkin and the 2016-17 governing board during JFGP's 96th annual meeting.
The annual meeting will be 4:30-6 pm at Congregation Neveh Shalom, 2900 SW Peaceful Lane, Portland. New board members Charles Levy and Cheryl Tonkin will also be installed. All are welcome for this free event, which includes Rabbi Jonathan Porath speaking on "Nurturing Our Hearts and Jewish Souls."
Born in Portland, Ed graduated from the University of Washington, earning a degree in Business Administration with honors, and graduating Phi Beta Kappa and Beta Gamma Sigma (top 5% of Business School Class). He earned a Juris Doctor of Law degree from the University of Washington School of Law. Ed practiced law with the firm of Black, Kendall, Tremaine, Boothe and Higgins in Portland from 1979 until 1981, when he began work full time at the Ron Tonkin Dealerships. Currently Ed is general counsel and co- president for the Ron Tonkin Family of Dealerships.
Ed has served on the board of Portland Metropolitan Sports Authority, Metropolitan Family Services and Congregation Beth Israel. He co-chaired the federation gala in 2000 and co-chaired JFGP's Food for Thought in 2013.
"My aim in chairing federation is to help educate the Jewish community about all the amazing things federation does right here in our own community," says Ed. "Many think it's simply raising funds for Israel, but that's only a small part of it. We have tremendous needs right here in our own backyard, and I have faith that once people see the need, realize it and understand it, the wonderful spirit of this community will shine through.
"Just think for a second; if we don't continue to foster the community, perpetuating Jewish life in our community, then what does the future hold? It's one of our generation's obligations."
12TH ANNUAL SHOC WALK & RUN FOR OVARIAN CANCER
SHOC Foundation 12th Annual SHOC Walk & Run will be Aug. 6 at Latus Motors Harley-Davidson in Gladstone in support of ovarian and gynecologic cancer research.
Dedicated to finding a cure, the Sherie Hildreth Ovarian Cancer Foundation has donated $730,000 for ovarian and gynecologic cancer research at the Oregon Health & Science University Knight Cancer Institute. Sherie Hildreth's five-year battle with ovarian cancer ended in 2009, but her legacy lives on. Sherie was a lifelong member of Congregation Beth Israel, where several family members remain members. "Ashkenazi Jewish women are at higher risk of the BRCA gene mutation, which was the case with my mom," says Ashley Hildreth, who serves as executive director of SHOC.
The SHOC Walk and Run commemorates and celebrates her courageous fight, her will to support other women living with gynecologic cancers, her tenacity to raise awareness of these diseases and her relentless pursuit to raise the funds necessary to find a cure.
Participants will enjoy a beautiful 5K/10K walk or run or a 1-mile family walk alongside the Clackamas River and through the city of Gladstone. A warm pancake and griddle breakfast will welcome back participants as they return from the course. Gynecologic cancer survivors may indulge in an exclusive sit-down breakfast at their leisure.
Other attractions include massage, the Last Regiment of Syncopated Drummers, face painting, vendors, photo booth, the Rose City Rollers and the Rose City Hogs.
The event begins at 7:30 am with an opening ceremony facilitated by KATU's Rhonda Shelby, and the races start at 8 am.
Online registration is open until Aug. 3 and on-site registration will be available Aug. 5 and the morning of the event, Aug. 6. Early bird pricing is available until July 15 and discounted pricing is available for groups of four or more.
Hear "True Story of a Jewish Spy in Nazi Germany"
Chabad of Northeast Portland hosts Holocaust heroine 94-year-old Marthe Cohn on June 8, when she will her incredible story of courage, faith and espionage.
Marthe Cohn was born in Metz, France, in 1920. She was a devoutly religious Jewish woman when Hitler rose to power. As the Nazi occupation escalated, Marthe's sister was sent to Auschwitz while her family fled to the south of France.
Marthe chose to fight back, and joined the intelligence service of the First French Army. Utilizing her perfect German accent and "Aryan" appearance, Marthe posed as a German nurse desperately trying to obtain word of a fictional fiancé. She traveled the countryside and approached troops sympathetic to her "plight," thereby obtaining critical information for the Allied commanders.
At age 80, Cohn was awarded France's highest military honor, the Medaille Militaire.
In 2002 Marthe penned her memoir, Behind Enemy Lines: The True Story of a French Jewish Spy in Nazi Germany. She lives together with her husband in Palos Verdes, CA.
"It is rare that we have the opportunity in our lifetime to meet a heroine the likes of Marthe Cohn," said Rabbi Chaim Wilhelm, director of Chabad of Northeast Portland. "With the passing of time, the possibility to hear these stories first-hand grow smaller and smaller. I encourage every resident of our community to come hear this remarkable woman tell her incredible story of courage and faith".
The talk will take place at the new Chabad Center for Jewish Life, 2858 NE Sandy Blvd., Portland, 7 pm, June 8. A book signing will follow the talk. Tickets are $15, $10 students and seniors, $180 sponsor.
Tickets: behindenemylines.eventbrite.com
Harry Nemer Service Award Dinner June 26
The Men's Club of Congregation Shaarie Torah presents the Harry R. Nemer Award for distinguished and outstanding service to volunteer and synagogue leader Shelly Klapper at 5:30 pm, June 26.
Shelly exemplifies the true meaning of volunteering, giving of his time and energy for many years to Shaarie Torah. Things do not happen at any synagogue without a core of volunteers. Shelly served the synagogue not only as a board member and vice president, but he also spearheaded two capital campaign projects from 1996 to the present. He continues his involvement in every fundraising effort at Shaarie Torah.  Recently Shelly chaired the Legacy Campaign as part of the Life & Legacy program of the Oregon Jewish Community Foundation and the Harold Grinspoon Foundation.
The evening will include dinner and is held at the synagogue, 920 NW 25th Ave, Portland. Tickets are $54 per person; sponsorship levels are available.
shaarietorah.org/nemerdinner2016 or 503-226-6131
Summer at the Museum
A talk on the Holocaust and photographs are the focus of the Oregon Jewish Museum and Center for Holocaust Education this summer.
"How the Jews of America Saved Some of the Jews of Europe During the Shoah: The Story of the JDC," will be the topic of a free lecture at 7 pm, June 7, at the Mittleman Jewish Community Center.
What did the Jews of America really do to help the Jews of Europe during the Shoah? The story of how a leading American Jewish organization, the Joint Distribution Committee, acting on behalf of the American Jewish community, saved thousands and thousands of European Jews from the rise of Hitler through the Shoah and beyond.
The illustrated presentation is based on original research in the archives of the JDC and Yad Vashem in Jerusalem, and presents many scenes never before seen by the public.
Guest speaker Rabbi Jonathan Porath spent 15 years with the JDC senior staff in the Russian Department and is intimately familiar with the ethos and spirit of the organization. Rabbi Porath's talk is co-sponsored by the MJCC and OJMCHE.  His visit is sponsored by the Jewish Federation of Greater Portland, which brought him to town for its 96th annual meeting the next night.
Through June 13, visitors can catch Ruth Gruber: Photojournalist. At 2 pm, Friday, June 3 and 10, come see "Ahead of Time: Ruth Gruber-The Movie" in the museum's theater, 1953 NW Kearney, Portland.
Then from June 29 to Sept. 25, the museum presents "Every Minute Counts – Photographs by Katherine Joseph." Katherine Joseph was born in the Ukraine and immigrated with her family to the United States in the early 20th century. After a childhood in El Paso and Chicago, she made an adventurous move to New York City to pursue a passion for photography. She landed a job as staff photographer for the International Ladies Garment Workers Union, where she explored the relationship between worker, machine and the industrial environment. In 1941 she embarked on a photojournalistic expedition to Mexico to demonstrate the durability of the "Americar" manufactured by the Willys – Overland Motor Company. Joseph continued to document American workers on the home front after returning to New York. At the end of the war, like millions of American women of her generation, she set aside her camera to marry and raise a family. Katherine Joseph's photographs display a profound respect for the fundamental dignity of the people she brought into focus. This is the first public exhibition of her work.
ojmche.org | 503-226-3600