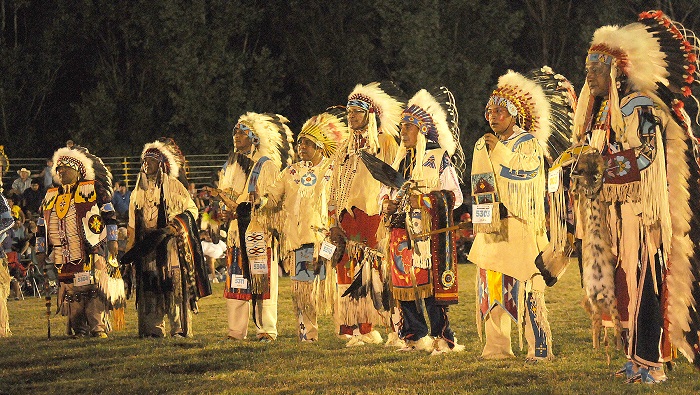 Photo: Headdresses at last year's Wildhorse Powwow. The 24th Annual Wildhorse Powwow will be July 6-8. wildhorseresort.com
Some say the Blue Mountains of Northeast Oregon, a vast lava flow that emanated from fissures in the earth, are the foothills of the Rockies. The escarpment rises abruptly from 1,000 feet at Pendleton to 3,600 at the top of Cabbage Hill on I-84.To the settlers emigrating on the Oregon Trail, the Blues were the penultimate barrier before reaching the Willamette Valley. To the Cayuse, Umatilla and Walla Walla, the 1855 Treaty Tribes of the Umatilla Indian Reservation east of Pendleton, they were and are the bountiful source of first foods, a place of recreation and, into the 19th century, a refuge from attack. To the Nez Perce, Chief Joseph Band, they blocked stockmen's intrusion into the Wallowa Valley until the early 1870s.
On a recent drive along Highway 3 from Enterprise, OR, to Lapwai, ID, on the Nez Perce Reservation, I passed penned up buffalo, drove through a corridor of evergreens that opened onto a magnificent vista of the breaks of the Lower Grande Ronde River, and had the opportunity to reflect on the many connections between Jews and Native Americans. I recalled an intercultural powwow at the Mittleman Jewish Community Center several years ago attended by the community and Native Americans.
Historically, we acknowledge policies of extermination and marginalization. We can dig deep to our ancient tribal roots as can they. We are a people. The Nez Perce are the Nimiipuu, "The People." There are some aural similarities between Hebrew and Sahaptian, a language of Columbia Plateau tribes. We share a reverence for the homeland.
"Jewie" is a sometime heard nickname on the Colville Reservation, evidence of intermarriage between traders and tribals. At a Washat, a service of the Seven Drum Religion, an elder of Nez Perce and Cayuse ancestry touched me deeply when he spoke of his people being put in boxcars after the 1877 war. Assimilation has been a concern of ours and theirs. And perhaps most grandly, the survival and resilience of Jews and Native Americans binds us with experience.
Don't let the Blues be a barrier to your fun and explorations. As described in the following, there are several enjoyable Native American events in Northeast Oregon and Western Idaho this summer.
The summer powwows kick off in Oregon June 22-24 with the Pi-Ume-Sha Treaty Days on the Warm Springs Reservation. This event features a powwow, dance competition, activities and a tribal museum.
Visit Wildhorse's 24th Annual Powwow on the Umatilla Indian Reservation July 6-8. The powwow is on open ground with drumming contests and three days of competitive dancing. All are welcome. Vendors provide food, famous fry bread and crafts. Meals are close at hand at restaurants in the casino. Room up at the Wildhorse Resort Hotel.
Don't miss the Tamastslikt Cultural Institute, a repository of tribal history and lore located behind the Wildhorse Casino. Its museum is open 10 am-5 pm, Monday-Saturday. Admission starts at $10 for adults with a sliding scale. Inside are tableaus of Plateau Indian life and a super museum store.
Nearby in Pendleton, home of the Roundup, you can find good eats, lots of history and a true West atmosphere. A trip to Walla Walla, WA, 40 miles north on Highway 11, brings you to wine country, darn delicious food and perhaps a stay at the classy Marcus Whitman Hotel.
The Nez Perce Tamkaliks (from where you can see the mountains) Celebration & Friendship Potluck, July 20-22 in Wallowa, is a favorite get-together. This is the 28th annual celebration of welcoming and friendship. The community embraces the Nez Perce, Chief Joseph Band, who were driven from the Wallowa Valley in 1877 after thousands of years in this remarkable place. Dancing, a Washat service Sunday morning in the new longhouse and a friendship feast for everybody features elk, venison, salmon and local eats.
Don't neglect your hiking and explorations. Tick Hill is a nice climb above the grounds. And you gotta get a native-designed t-shirt. You should order by early July.
Your exploration of the Wallowa Valley will take you south toward Wallowa Lake. Trails abound in the Eagle Cap Wilderness. In Enterprise you'll find The Bookloft, an excellent bookstore featuring volumes of local history and Terminal Gravity Brewing and Pub. Head south to Joseph on the Northeast Oregon Arts Trail, with galleries and an abundance of shops. Just south is the Iwetemlaykin Heritage Site, with hiking trails and super mountain views.
Please don't neglect to stop at the Old Chief Joseph memorial (it marks the start of the Nez Perce Trail), where the chief, Tu eka kas, was reburied in 1926 in a ceremony attended by thousands. The father of Young Chief Joseph is deeply loved to this day as witnessed by the tokens of respect left on the grave. It's not well known that Old Joseph's daughter, Eliza, was the wife of Joseph Gale, perhaps Oregon's first governor.
Wallowa Lake, nestled between two moraines, offers camping and recreation galore. You'll find several eateries in Joseph and at the lake and lodging from La Grande to Joseph and at the historic restored lodge.
The Nez Perce Tribe of Idaho holds two summer celebrations: The Chief Joseph and Warriors Memorial at the Pi-Nee-Waus Community Center in Lapwai on Highway 95, June 15-17, and The Chief Lookingglass Powwow at the Wa-a 'Yas Community Center in Kamiah on Highway 12, Aug. 17-19.
All are welcome at these events. They are distinctively tribal, more intimate than open air celebrations and you will experience another way of life. The museum at the Nez Perce National Historic Park in Spalding on Highway 95 is not to be missed. Summer hours are 8 am-5 pm daily. This is a small, engrossing representation of Nez Perce life and ceremony. The objects on display are often attributed to a specific historic tribal member. Lodging and restaurants are available in Clarkston and Lewiston.
This summer enjoy fun and freedom by heading east on the powwow freeway.
Michael R. Rosenbaum lives in La Grande. He was mostly retired but now works three months with fish, three months with fire lookout. Due to current dietary restrictions, he bitterly misses his belly lox, scallion cream cheese and Zabar's bagels.