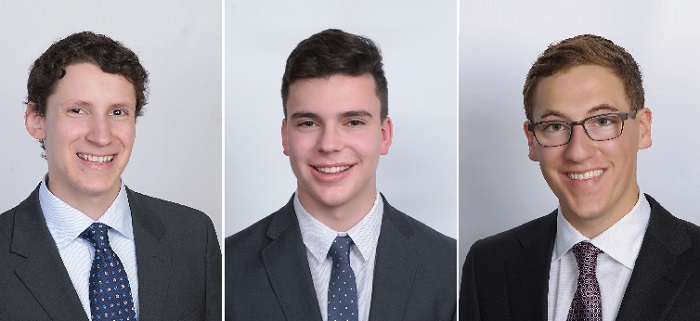 PHOTO: Three Portland teens received Diller Teen Tikkun Olam Awards this year; from left: Britton Masback, Malcolm Asher and Solomon Olshin.
Three of the 15 recipients of the 13th Annual Diller Teen Tikkun Olam Awards are from Portland. Britton Masback, Malcolm Asher and Solomon Olshin are among those who will receive the prestigious $36,000 award that honors the work of teen leaders who are committed to igniting change in their communities and around the globe.
The Helen Diller Family Foundation, a supporting foundation of the Jewish Community Federation of San Francisco, the Peninsula, Marin and Sonoma Counties, announced the recipients of its annual Diller Teen Tikkun Olam Awards on June. 11. A celebratory awards ceremony honoring the teens will be held in San Francisco on Monday, Aug. 19, 2019.
"Portland seems to be a hub for teens who are looking to change the world, solving today's most pressing issues ranging from sustainable resolutions to homelessness to police relations, to shifting the tone surrounding long hospital visits through art," says Erica Aren, Diller Teen Tikkun Olam Awards program director.
PORTLAND AWARD RECIPIENTS
Following a police shooting that shook his community, Britton Masback founded Youth Educating Police (YEP), a 501(c)(3) nonprofit that aims to bridge the gap between Police and Portland's teens, to facilitate cooperation among police officers, teens, local activists and lawmakers to reduce tension and develop consensus around key policies. Britton and his team have also created training modules for police officers to help deepen their understanding of the youth mindset and improve communication with teens. The program has resonated with the community and has garnered the support of the Portland Police Department.
After learning that 5.4 million children die every year from preventable diseases, Malcolm Asher realized he could help through art. Around the world, many children hide their symptoms until they are critically ill and medical treatment is not as successful. For many, hospitals are deeply feared and stigmatized. This lead him to start ArtPass International, a nonprofit working to increase the willingness to utilize the medical system and lift the spirits of children facing hospital stays through the power of interactive art. Malcolm and ArtPass International have created positive patient experiences for almost 20,000 children by creating and implementing a curriculum focused on art projects. ArtPass International doesn't teach art. It teaches kids to do art and it is this participation that makes all the difference. With 400+ Global Ambassadors, Malcolm hopes to continue to spread his love of art and its power to heal to hospitals around the world.
Solomon Olshin founded Shine, an organization of high school and other volunteers that invents, refines, produces, installs and maintains environmentally-sustainable and cost-effective technologies that meet basic needs of Portlanders living in off-grid "tiny house" communities as they transition out of homelessness. Solomon led building and installation of 85 solar-powered "JuiceBox" devices that provide hundreds of houseless Portlanders with light, power, heat and internet access, improving their daily lives and providing them access to social services, online job applications, and connection with family and community. That effort was featured in Oregon Jewish Life in May 2017. https://orjewishlife.com/students-solve-problems-today-build-skills-for-future/
DILLER TEEN TIKKUN OLAM AWARDS
The Diller Teen Tikkun Olam Awards began in the San Francisco Bay Area in 2007 as the vision of Bay Area philanthropist Helen Diller. The awards promote and empower Jewish teens who demonstrate and exemplify the spirit of tikkun olam, a central Jewish value meaning "repair the world." Since 2007, the program has awarded more than $4 million to 129 teens in recognition of their vision, innovation, and demonstration of leadership.
This year's award recipients are the creators of non-profit organizations, educational initiatives, student-led volunteer programs, and other projects that make significant strides in critical issues of our time, including: expanding access to mental health services, educating youth about the current political climate, and supporting immigrants and refugees struggling to improve their lives. Each awardee will receive $36,000 in support of their philanthropic vision or toward their education. Eligible applicants were United States residents, between 13 and 19 years of age at the time of the application deadline, who self-identify as Jewish.
"Now more than ever, young people are on the front lines of change, leading the way for our communities and the world," said Jackie Safier, president of the Helen Diller Family Foundation and Helen Diller's daughter.
Fostering a collaborative community among recipients and bolstering national recognition of today's young leaders is a primary goal of the Diller Teen Tikkun Olam Awards. Recipients inspire their peers to deeply engage in tikkun olam through leadership opportunities and volunteerism in youth-led organizations.
TIKKUN OLAM HONOREES BEYOND PORTLAND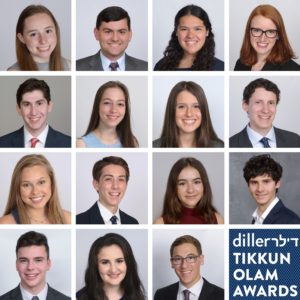 Ethan Asher, Roswell, GA, March for Our Lives Georgia –Ethan was inspired by fellow teen activists and started March for Our Lives Georgia to help stop gun violence.
Lucy Beckett, Elk Grove, CA, Camp Nefesh – Lucy brings the magic of summer camp to refugee children and helps them make friends and adjust to their new homes through Camp Nefesh.
Beatriz De Oliveira, San Diego, CA, Books for a Change – Beatriz developed coursework and collects donations to purchase books for daycares around the world sharing the power of fiction through Books for a Change.
John Finkelman, San Diego, CA, Equal Voice Initiative – John used his own experiences with a mixed identity and started Equal Voice Initiative to address the lack of support given to newly arrived refugees.
Elyse Forman, Los Angeles, CA, Girls in STEM – Elyse began an after school program called Girls in STEM to help close the gender gap in science and engineering.
Grace Freedman, Ponte Vedra Beach, FL, JaxTHRIVE – Grace and her organization JaxTHRIVE use one-on-one mentoring and tutoring to improve the academic performance of refugee children.
Arielle Geismar, New York, NY, NYC Says Enough – Arielle created NYCSE, an outlet for teen action, to address the systemic causes of gun violence and hold elected officials accountable.
Jessica Goldberg, Farmington Hills, MI,  Sib4Sib – Jessica discovered a lack of resources available for siblings of individuals who encounter mental health challenges and established Sib4Sib.
Ethan Hirschberg, Carlsbad, CA, The Journey Through Autism – Ethan shares his own experiences with the world and inspires others via his blog The Journey Through Autism, as well as through other written work and public speaking.
Adam Hoffman, Houston, TX, Day of Unity – Adam decided to put people before politics with Day of Unity, an organization devoted to shrinking the gap between political parties.
Katelyn McInerney, Birmingham, AL,  Special Siblings – Katelyn began Special Siblings in response to her own unmet needs for support as a sister to someone with special needs.
Casey Sherman, Parkland, FL, Empower the People – Casey and Empower the People work to provide voices to the voiceless through peer-to-peer voter registration and community engagement.
Application and nomination form for next year's award, as well as full descriptions of all 15 award recipients and their initiatives can be found at: www.dillerteenawards.org.