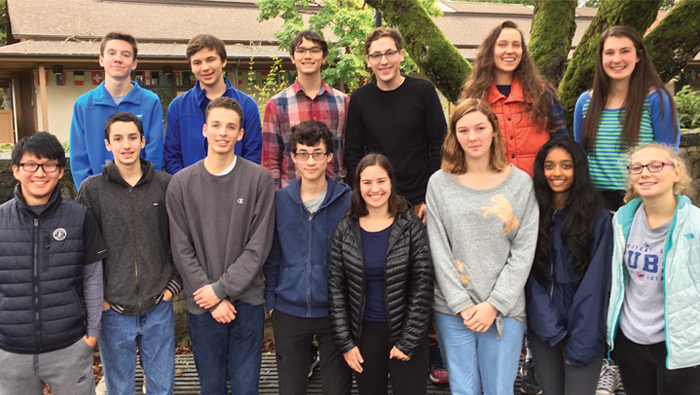 PHOTO: Catlin Gabel's InvenTeam – including two members of Congregation Beth Israel in the back row, Layton Rosenfeld, far right, and Solomon Olshin, third from the right – designed and built solar energy units for the tiny homes in Hazelnut Grove.
The ideas of two Catlin Gabel sophomores merged into a single invention that is changing lives at the Hazelnut Grove homeless village.
Solomon Olshin wanted to provide electricity to residents of Hazelnut Grove, where he has volunteered with his father, Andy, to help residents create a community of tiny houses. Classmate Anjali Haripriyan wanted to bring solar power to homeless shelters to help them use clean energy and reduce their energy costs.
The two shared their ideas with fellow members of Catlin Gabel's InvenTeam, an extracurricular club that brings together friends interested in robotics, engineering and social justice. Each year students design a project that tackles a social issue with simple technology.
Other InvenTeam projects have included The Water Trotter, which uses old car tires and UV purification to clean waterways; LostExhaust makes carpooling easy by connecting people with those who live near them and drive a similar route every day; and ScumBot, a low maintenance autonomous robot designed to skim and remove aquatic surface vegetation such as duckweed and algae from small lakes and ponds.
In addition to applying STEM (science, technology, engineering and math) skills to real life problems, students on the InvenTeam have the opportunity to learn graphic design, presentation skills, marketing, public speaking, team management and entrepreneurship. Those skills will poise InvenTeam members to succeed both at college and then in the modern workforce.
This year's project is already changing lives in Portland. In November the team built a prototype of a solar-powered LED light and charger. Then the team met with Hazelnut Grove residents to ensure the final design met their needs. Their project won $10,000 in the Lexus Eco Challenge – money the team poured back into the project to build 30 JuiceBoxes. Twenty have been installed at Hazelnut Grove, with the rest donated to the mayor's office, Benson High School and other groups that are working with homeless populations who need a power source.
The team is now soliciting in-kind donations from businesses and cash from individual donors so they can build and distribute more JuiceBoxes to homeless communities in the Portland region. They have also posted instructions to build the units online so other communities can use the technology (catlininvents.org/juicebox-doc).
Solomon has been helping the homeless since 2013 when he created SoupSac for his bar mitzvah project at Congregation Beth Israel. His project has provided 3,000 meals to homeless people in Portland. He feels this new project feeds a different kind of hunger for the homeless.
"They use laptops and cell phones to remain engaged in the community and to look for jobs," says Solomon, adding lights enable them to extend their activity into the evening during the winter.
Previously Hazelnut Grove residents could only charge their laptops and cell phones with a "noisy, dirty" diesel generator they had to buy fuel for. With the JuiceBoxes, they can stay in touch with donors such as food programs and the Rebuilding Center, which donates materials for building projects at the village.
To engage others at Catlin Gabel, the InvenTeam recruited other students to help the villagers build a portable shower unit that uses a propane water heater and a modified JuiceBox for lighting and a water pump.
"I think we are really enabling the folks at Hazelnut and other villages to be more productive and engaged in their community as they get back on their feet," says Solomon. "I do feel we are making a difference."