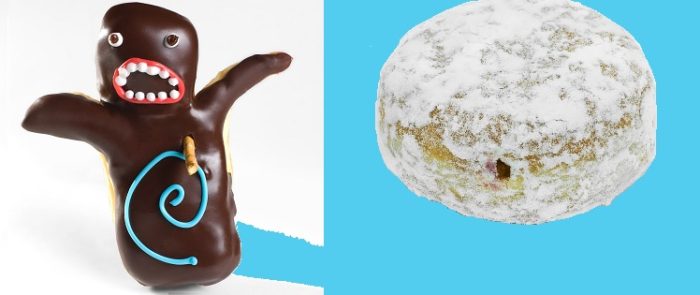 PHOTOS: Above, Voodoo Doughnut's traditional take on jelly doughnuts; left, a Voodoo twist on sufganiyot.
LAST YEAR A FRIEND VISITING from San Francisco wanted to take in Portland's famed doughnut culture.
He'd read about Voodoo Doughnut, which launched Portland's doughnuts revolution in 2003. In an article on the top 10 places to visit in Portland, Time Magazine reports: "If there was ever a business that captured the kooky essence of Portland, it's Voodoo. From the belly of two locations, sweet-fingered magicians concoct what might best be described as avant-garde doughnuts."
Our friend had also heard great things about the sophisticated brioche-based Blue Star Donuts, and wanted to stop there.
But Portland also offers at least a baker's dozen lesser-known, but just as tasty doughnut shops. We took him to Staccatto Gelato, where delicious donuts are hand-crafted Friday through Sunday, and he was duly impressed.
With Hanukkah fast approaching, I searched some of the other shops to see which ones offer traditional sufganiyot.
If you want kosher sufganiyot you need to go to Safeway's Kosher Bakery on Barbur Boulevard or the Krispy Kreme in Beaverton – both certified by Oregon Kosher.
The assistant manager at the Krispy Kreme told me they sell close to 100 dozen of their Star of David Doughnuts during Hanukkah. "One organization gets 25 to 30 dozen every year," says Sophia M. The special holiday doughnuts are a shell filled with raspberry jelly, with white icing and a blue Star of David on top.
If you're not looking for kosher, then some of the other small shops have tasty options.
Helen Bernhard Bakery is known for unpretentious traditional jelly-stuffed glazed or powdered doughnuts in a neighborhood bakery setting.
Coco Donuts uses an old family recipe and leans toward the classics including jelly-filled and glazed.
Pip's Original, which offer made to order tiny, warm donuts topped with a choice of toppings.
Voodoo Doughnut also offers the perfect sufganayot – a raised yeast doughnut filled with raspberry jelly and dusted with powdered sugar. They also offer a raised donut shaped like a Star of David and a distinctly Voodoo twist on sufganayot – the Voodoo Doll Doughnut, shaped like a voodoo doll and oozes blood red (that's raspberry!) jelly.
"Jelly doughnut sales definitely increase while celebrating Hanukkah," says Sara Heise, "executive wrangler" at Voodoo Doughnut. "We do our best to always have a selection of jelly-filled doughnuts at this time. We also create custom Hanukkah doughnuts through pre-orders."