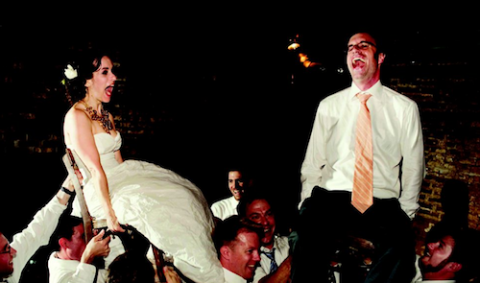 PRODUCED BY THE NORTHWEST FILM CENTER AND THE INSTITUTE FOR JUDAIC STUDIES:
Portland Jewish Film Festival: June 16-30, 2013
SUNDAY, JUNE 16 AT 7 PM
"FILL THE VOID"
ISRAEL 2012
DIRECTOR: RAMA BURSHTEIN
The winner of Israeli Academy Awards for Best Film and Best Actress, FILL THE VOID is a nuanced portrait of an Orthodox Hasidic family living in Tel Aviv. Eighteen-year-old Shira and her family are struck by tragedy when her older sister dies in childbirth. As her sister's husband is pressed to remarry, her mother makes a startling proposition. Torn between her heart's desire and religious and family obligation, Shira must decide her future. This year's Israeli submission for the Best Foreign Language Film Oscar. (90 mins.)
followed by…
THE RABBI'S DAUGHTER
ISRAEL 2012
DIRECTOR:RACHELI WASSERMAN
Racheli Wasserman's telling of her and her three sisters' search for different paths than those of their parents. (33 mins.) Join us at 6 PM for a pre-film reception in the Portland Art Museum's Andrée Stevens Room.
TUESDAY, JUNE 18 AT 7 PM
MELTING AWAY
ISRAEL 2011
DIRECTOR: DORON ERAN
The first Israeli feature film to address the issues of transgendered people and their families, MELTING AWAY follows a family drawn into crisis when the parents learn that their son is a secret crossdresser. Years later, as the father is dying, his wife tracks down their estranged son, only to find a lovely woman. How will everyone cope? MELTING AWAY is a heartfelt, moving drama of family, love, and understanding. Winner of the Audience Award at the Boston Jewish Film Festival. (86 mins.) Mature subject matter.
followed by…
THE DIVIDE
ISRAEL 2012
Director: Tzvi Yehuda Herling
A young army officer must choose between his ideals and the reality that his family's home in a settlement near Nablus is slated to be destroyed by the military. (20 mins.)
WEDNESDAY, JUNE 19 AT 7 PM
HAVA NAGILA
US/UKRAINE/ISRAEL 2012
DIRECTOR: ROBERTA GROSSMAN
One hundred and fifty years of Jewish history and culture come to life in this joyous exploration of the famous tune that represents both Jewish kitsch and continuity, "Hava Nagila." Grossman traces the roots of the song from its Eastern European Hasidic melody, through its journey to the kibbutzim of Palestine and the song's enormous popularity in America. Through lively film clips and inter views featuring such diverse personalities as Harry Belafonte, Larry David, Mel Brooks, Julie Andrews, Bob Dylan, and more, HAVA NAGILA offers a spirited and intelligent look at the shaping of postwar American Jewish identity.
(75 mins.) Sponsored by Oregon Jewish Museum and Portland Chapter of Hadassah.
followed by…
CARRYING THE LIGHT
UK 2012
DIRECTOR: GUY NATANEL
A London rabbi makes a spiritual journey on foot from the Frankfurt Synagogue in Germany, where his father was the rabbi before the Holocaust, back to London so the eternal light of one sacred place can light that of another. (56 mins.)
THURSDAY, JUNE 20 AT 7 PM
GYPSY DAVY
US/SPAIN/ISRAEL 2011
DIRECTOR: RACHEL LEAH JONES
When an American white boy with Alabama roots becomes a Spanish flamenco guitarist in Andalusian boots, what happens along the way andbehind the scenes? GYPSY DAVY wryly tells the story of David Jones, stage name David Serva, through his five women and five children—one of whom is the director. After all, who knows the man who came and saw and conquered, "strumming their pain with his fingers," better than they? Part duel and part duet—between a guitar-wielding father and a camera-pointing daughter—Jones offers a personal and political portrait of a man, a family, and a generation. (96 mins.)
SATURDAY, JUNE 22 AT 7 PM
THE BALLAD OF THE WEEPING SPRING
ISRAEL 2012
DIRECTOR: BENNY TORATY
Torn apart by tragedy, a legendary band reunites to play an emotional final concert in THE BALLAD OF THE WEEPING SPRING, a stylized homage to Spaghetti Westerns, samurai epics, and South American mysticism, shot entirely in Israel but set in a mythical time and place. The film's story centers on the brooding Jossef Tawila, once the leader of a Mizrahi band, who lives a hermit-like existence in the wake of a terrible accident. In a series of quirky vignettes across stunning exotic locations, Tawila brings together his old musician buddies to grant the last wishes of a dying friend. Nominated for nine Israeli Academy Awards, with wins for Best Original Music, Best Original Soundtrack, Best Production Design, and Best Costume Design. (105 mins.)
followed by…
STAND UP!
ISRAEL 2011
DIRECTOR: ASI TZOBEL
Dudi, a distracted young yeshiva student, secretly dreams of being a stand-up comic, but it's a secret that may have a price. (25 mins.)
SUNDAY, JUNE 23 AT 4:30 PM
A.K.A. DOC POMUS
US 2012
DIRECTORS: PETER MILLER, WILLIAM HECHTER
Doc Pomus's dramatic life is one of American music's great untold stories, despite his being the only member of the Rock and Roll, Songwriters, and Blues Halls of Fame. Paralyzed with polio as a child, Brooklyn-born Jerome Felder reinvented himself first as a blues singer, renaming himself Doc Pomus, then emerged as one of the most brilliant songwriters of the early rock and roll era, writing "Save the Last Dance for Me," " This Magic Moment," and dozens of other hits for everyone from Ray Charles and Elvis to The Drifters and Marianne Faithfull. Packed with incomparable music a nd rare a rchival imagery, A .K.A. DOC POMUS features interviews with his collaborators and friends, including Ben E. King, Dion, Leiber and Stoller, and B.B. King. (98 mins.)
SUNDAY, JUNE 23 AT 7 PM
THE WORLD IS FUNNY
ISRAEL 2012
DIRECTOR: SHEMI ZARHIN
Blurring fantasy and reality into a multi-layered, tragicomic exploration of past traumas and catharsis, THE WORLD IS FUNNY is now Israel's alltime
box office champion, earning a record-breaking 15 Israeli Academy Award nominations. The central characters are estranged siblings who have endured childhood abandonment only to face new challenges in adulthood: a w idow whose older son has just awakened from a lengthy coma; a radio producer and his terminally ill Russian girlfriend; and a travel agent whose daughter was killed in an army accident. As these narrative strands and diverse personalities comingle with countless others, what may seem unrelated will prove anything but. (122 mins.) Mature subject matter.
MONDAY, JUNE 24 AT 7 PM
THE LAW IN THESE PARTS
ISRAEL/PALESTINIAN TERRITORIES 2011
DIRECTOR: RA'ANAN ALEXANDROWICZ
A Grand Jury Prize winner at the Sundance Film Festival, THE LAW IN THESE PARTS is an unflinching examination of Israel's contorted legal framework for governing Palestinians in the Occupied Territories and the complex moral and legal dilemmas therein. Since the 1967 war, inhabitants of the West Bank and Gaza Strip have been subjected to what was intended to be a temporary system of military rather than civilian justice, overseen by the Israeli Defense Forces. Alexandrowicz places now-retired judges, attorneys, and generals on a cinematic witness stand. Can a country sustain a prolonged military occupation without eroding its democratic values? Winner of the Best Documentary Award at the Jerusalem International Film Festival. (100 mins.) Sponsored by J Street Portland.
TUESDAY, JUNE 25 AT 7 PM
OUT IN THE DARK
ISRAEL/US 2012
DIRECTOR: MICHAEL MAYER
One night in Tel Aviv, Nimr, a Palestinian student, meets Roy, a young Israeli lawyer, and they fall in love. Being a gay Palestinian is noteasy for Nimr, and despite Roy's efforts, Israel refuses to grant Nimr citizenship and a haven from his unaccepting family. Both young men are faced with difficult choices and sacrifices to ensure their love will prevail. (96 mins.) Mature subject matter. In Hebrew and Arabic with English subtitles.
WEDNESDAY, JUNE 26 AT 7 PM
BESA: THE PROMISE
US 2012
DIRECTOR: RACHEL GOSLINS
During World War II, Albanian Muslims provided shelter for thousands of Jewish refugees from Germany, Austria, and Bulgaria. Invoking the ancient moral code of besa (a vow to care for anyone facing danger), many people in Albania including Muslims, Catholics, and Orthodox Christians sheltered, hid, and protected Jews from the occupying Germans. BESA addresses the broad history of the rescues by following two characters affected by the experience: Rexhep Hoxha, a Muslim Albanian s torekeeper, and Norman H. Gershman, a Jewish-American photographer. Featuring Gershman's striking portraits, award-winning cinematography, and an original score by Philip Glass, BESA is "a story like no other."—Huffington Post. (90 mins.)
THURSDAY, JUNE 27 AT 7 PM
LET'S DANCE!
ISRAEL 2010
DIRECTOR: GABRIEL BIBLIOWICZ
This extraordinary window onto Israeli society explores how the need to move, shift, and be in constant motion has produced generations of great dancers and choreographers who have turned the country's modern dance community into an international success story. Through the works of leading choreographers Ohad Naharin, Rami Be'er, and Yasmeen Godder, the film delves into the exotic and vibrant world of Israeli dance culture to create a u nique and surprising view of Israeli society and one of its most exciting and joyful aspects. (52 mins.)
followed by…
THURSDAY, JUNE 27 AT 8:15 PM
LIFE IN STILLS
ISRAEL/GERMANY 2011
DIRECTOR: TAMAR TAL
At the age of 96, Miriam Weissenstein never imagined that she would be facing a n ew chapter in her life. But when " The Photo House"—her late husband's life's work—was destined for demolition, she knew she needed help. Miriam and her grandson Ben join forces to save the shop and its nearly one million negatives that document Israel's defining moments. Winner of the Best Documentary Award at the Docaviv Film Festival. (60 mins.) In Hebrew and German with English subtitles.
SATURDAY, JUNE 29 AT 8 PM
THE OTHER SON
FRANCE 2012
DIRECTOR: LORRAINE LEVY
Joseph, an 18-year-old preparing to join the Israeli army for his mandatory military service, lives at home in Tel Aviv with his parents. A blood test for Joseph's military service reveals that he's not their biological son. During the Gulf War, Joseph was evacuated from a clinic along with another baby, and the pair was accidentally switched. While Palestinian Joseph went to Tel Aviv with the Silbergs, their actual Jewish son Yacine was brought to the West Bank by an Arab couple, Said and Leila. The revelation turns the lives of the two families upside down, forcing them to reassess their respective identities, values, and beliefs. (105 mins.)
SUNDAY, JUN 30 AT 4:30 PM
PORTRAIT OF WALLY
US/AUSTRIA 2012
DIRECTOR: ANDREW SHEA
"Portrait of Wally," Egon Schiele's portrait of his mistress, Walburga ("Wally") Neuzil, is the pride of the Leopold Museum in Vienna. But for 13 years, the painting was locked up in New York, caught in a legal battle between the Austrian museum and the Jewish family from whom the Nazis seized the painting in 1939. Shea's film traces the history of this iconic image—from Schiele's gesture of affection toward his young lover, to the theft of the painting from Lea Bondi, a Jewish art dealer fleeing Vienna for her life; to the postwar confusion and subterfuge that evoke THE THIRD MAN; to the surprise resurfacing of "Wally" on loan to the Museum of Modern Art and the legal battle that followed. (90 mins.)
preceded by…
WOODY BEFORE ALLEN
FRANCE/RUSSIA/USA/GERMANY 2011
DIRECTOR: MASHA VASYUKOVA
An adventurous mediation on past and present : two former Konigsbergs—a man and a city that no longer use the same name, one a Russian city which was renamed Kaliningrad, another a film director who changed his name to Allen. (14 mins.)
SUNDAY, JUNE 30 AT 7 PM
POLICEMAN
ISRAEL 2011
DIRECTOR: NADAV LAPID
"A boldly conceived drama pivoting on the initially unrelated activities of an elite anti-terrorist police unit and some wealthy young anarchists, POLICEMAN is a striking and controversial debut feature from writer-director Nadav Lapid. Provocatively timely in light of recent unrest tied to social and economic inequities in Israel, this is a powerfully physical film in its depiction of the muscular, borderline sensual way the macho cops relate to one another, as well as for the emphatic style with which the opposing societal forces are contrasted and finally pitted against one another. Although the youthful revolutionaries come off as petulant and spoiled, their point about the growing gap between the Israeli haves and have-nots cannot be ignored, even by the policemen sent on a rare mission to engage their fellow countrymen. (105 mins.)