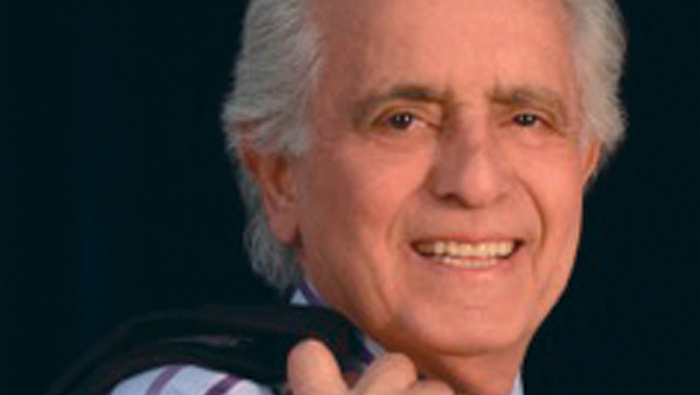 Of the 12 guys on Mark Medoff 's championship high school basketball team, one became a grocery store manager, Mark himself became a writer/producer/director/actor/professor and the rest became doctors or lawyers. Perhaps that's because he grew up in the largely Jewish community of Miami Beach, FL.
"Everything closed down for the High Holidays," says Mark.
Mark was set on the trajectory to become a doctor like so many of his friends, but he got sidetracked by a comment from a high school teacher that he had writing talent. That praise was just the impetus he needed to turn in a new direction. "Fortunately, to their credit, my parents were wonderful about my wanting to pursue writing. They supported me both financially and emotionally."
After attaining a bachelor's degree from the University of Miami and a master's from Stanford, Mark began teaching at New Mexico State University in Las Cruces to subsidize his writing. He soon fell in love with the profession and is still an active professor at NMSU. "The students really keep me engaged. I love going into the classroom, and the university has given me the freedom to teach whatever I want."
Mark's life changed dramatically in 1979 when he wrote the play "Children of a Lesser God." After opening at the Mark Taper Forum in Los Angeles, the play, about the relationship between a woman who is deaf and her teacher, ran for 887 performances on Broadway and earned Mark a Tony Award for best play. In 1986 he adapted the play for the movie, starring
Marlee Matlin and William Hurt, and received an Academy Award nomination.
Mark and his wife, Stephanie, are generous donors to NMSU through the Mark and Stephanie Medoff Endowment and several other endowments they have established. Mark also supports the work of his students, often acting as producer or director for them. Mark and Stephanie have three daughters; the older two live in Las Cruces. They have eight grandchildren there. His youngest daughter, Jessica, is an opera singer who lives in New York.
"We're a very close family," Mark says. "We think of ourselves as an extremely functional family in a rather dysfunctional world."
In 2000 he wrote the play, "Tommy J & Sally," which was commissioned by the Kennedy Center.
"The original stirrings of the play came to me when there had been a shooting at my daughter's junior high school," says Mark. "All the parents got together, but no one knew what to do. A few of us started an integrated writing after-school program called Another Planet. We included both at-risk kids as well as those who were more traditionally middle class. They acted as conduits for the information and took it back to their schools. Then we started collecting the writings they created; we took them all the way to our state legislature.
"Several years later, one of the African-American young men who had been in the program came walking up our driveway. I was out of town at the time, but had been thinking about him. He told Stephanie his family had moved to Riverside, CA, and that life was very difficult for him there. Stephanie and I talked it over and offered to take him into our home to live with us and finish high school in New Mexico. We helped him through college and he is now in graduate school. In fact, he came by just the other day and dazzled my students with his intelligence and articulateness. He's like our adopted son."
The play takes various turns through artistic license that did not occur in reality, but the idea was incubated in the Medoff home. "Tommy J and Sally" involves two characters, a young African-American man and a famous white pop singer, who is presumably Jewish. Over the course of one evening, their confrontations and conversations take them to many places, including the impact of the Jewish culture on race relations.
Janet Arnold directed "Tommy J and Sally" in a Phoenix production in December 2014. Her interview with playwright Mark Medoff originally appeared in Arizona Jewish Life.