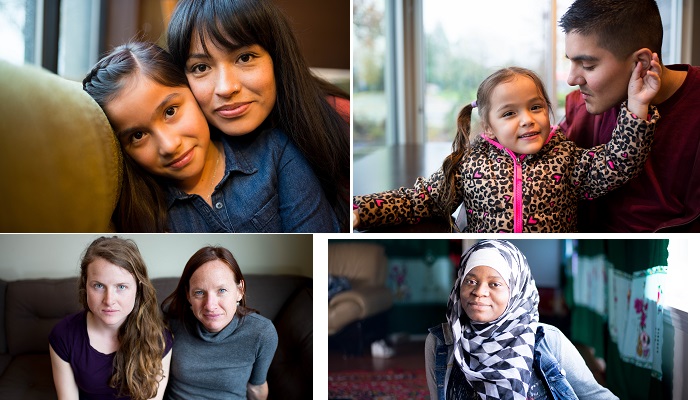 PHOTOS: These portraits of teen-parent families are among those on display at Paragon Arts Gallery, 815 N Killingsworth, Portland, through June 12.
Photographer Eden Swartz has been photographing teen families for three years.
Photographer Eden Swartz doesn't want her exhibit "Illuminating Family, Reframing Teen Parenthood" to be the culmination of her project. She hopes it is just the first step to enhancing the esteem of teen parents and changing society's views of them.
Eden has a degree in fine arts with a focus on photography. She has taught yoga for 18 years and prenatal yoga for 11 years. She is now in the fourth year of teaching prenatal yoga at Portland high schools. The intersection of those interests was the genesis for her project on teen parenting.
The teen parents get a professional family portrait. The portraits in the exhibit are accompanied by the parent's story, some of whom are now older and can reflect on the success of their life despite what many in society consider a failure.
"The teens get to have a voice," says Eden, adding that including now successful adults who had children as teenager gives others a chance to see their potential for success.
But the exhibit has a broader purpose. She hopes the faces and stories side by side will inspire those who see them to view teen parents in a different light.
"Teen parents are not failures," says Eden. "If we offer resources and stop creating barriers, we will have happier, more successful people. If we don't offer services and resources, who is that helping?"
The project has evolved organically. Initially, Eden volunteered to teach yoga to pregnant teens because she wanted to offer them the benefits of prenatal yoga and help create a sense of community among teens in similar situations. She begins each class talking about pregnancy, or breastfeeding or some other topic of interest to young parents. Then she invites the teens to share what they are experiencing.
She began creating family portraits for the teens (they can choose whomever they want to be in the photo) to give them a portrait from an artist. The parents loved the photos, so she asked them to write a bit about their family story. As she spoke with people about the project, women and men would tell her they were teen parents and have gone on to excel in parenting and in business.
Eden received a Career Opportunity Grant award from the Oregon Arts Commission to print and frame the photos in this month's exhibit at Paragon Arts Gallery at PCC's Cascade Campus.
At the exhibit opening in May, three teen parents spoke. Shanne Sowards became a father at 15. He stayed involved with his child and has been successful professionally in manufacturing and sales. He has coached more than 15 seasons of youth and adult sports. In 2012, he founded Squires, a nonprofit mentoring program for young fathers in Portland. Britni Locke became a mother at age 18. She is a first-generation college graduate and a Licensed School Social Worker. She works for Portland Public Schools to reach young people who feel disengaged from education. Vanessa Salceda is a teen mom to a 3-year-old daughter.
Eden is herself a mother. She and her husband, Aaron Baer, have two sons who attend Portland Jewish Academy. Levi Swartzbaer is 12 and Mayim Swartzbaer is 9.
Eden grew up in Boca Raton, FL, surrounded by Jewish people.
"I didn't realize we were a minority until we moved to Portland," she says. That realization inspired the couple to enroll their sons at PJA so they would have a strong Jewish identity.
Edenswartz.com | pcc.edu/paragongallery