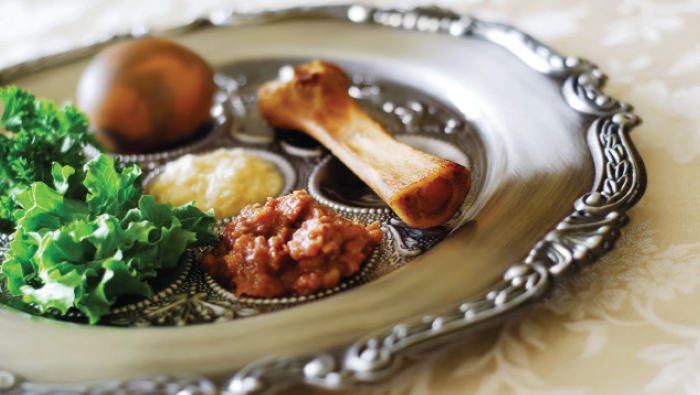 Last month Oregon Jewish Life asked our readers to submit their favorite classic and contemporary recipes for Passover.
We'd like to thank our readers for the flood of recipes that came in. Here we present two traditional and two modern recipes that tickled our taste buds.
The cooks who submitted the winning recipes will each receive two tickets to the April 12 performance of Shen Yun. The winners will receive prime seats in the orchestra section to see Shen Yun bring ancient Chinese legends to life through music and dance at the Keller Auditorium.
In addition to the tickets, the two grand prize winners (one traditional recipe and one modern) will also receive a copy of Amelia Saltsman's new cookbook, The Seasonal Jewish Kitchen. The book was inspired by the farm-to-table movement, which is all the rage in Oregon. In it, Saltsman shares 150 recipes that offer a refreshingly different take on traditional and contemporary Jewish cooking.
TRADITIONAL
Grand Prize
Sarah Philips, Portland
Pacific Salmon Gefilte Fish
This flavorful recipe, which I learned from my stepmother, seemed exciting and exotic at our family seders in the Midwest. Since moving to the Pacific Northwest, I've enjoyed having an excuse to incorporate local ingredients into my seder. The recipe multiplies easily, and it has become a favorite in recent years at our Moishe House young adult seder. I save the leftovers and take them for lunch all week with horseradish.
4 quarts fish stock (or vegetable stock, if fish isn't available)
1½ pounds Pacific salmon with skin removed (cut into 1-inch chunks)
1 carrot (cut into chunks)
½ onion (cut into chunks)
1 tablespoon matzah meal
1 tablespoon ice water
1 egg
1 tablespoon parsley, chopped
Salt & pepper to taste
Bring stock to just under a boil. Process all other ingredients in food processor until they form a thick paste. Moisten hands and roll mixture into ¼ cup ovals. Place gently in stock. Cover and keep under a boil for about 30 minutes. Test for doneness by inserting a toothpick into one of the fish pieces – if it comes out clean, they are done. Cool in the stock and refrigerate.
Serves ~8
TRADITIONAL Runner-Up
Susan Tuttle, Medford
Matzah Balls from Scratch is my family's recipe. German-Jewish women from northern Germany emigrated prewar to New Zealand; my mother, a war bride who came to New Orleans, made these every Pesach from l950-something until 2010. My cousins, sister-in-law and I all use this recipe and think of these as "real" matzah balls. Your guests will rave over the fluffiness and flavor!
Makes about 24 balls
Half box of matzah
½ cup chopped onion
¼ cup chopped walnuts
2-4 tablespoons vegetable shortening or schmaltz
Salt & pepper to taste
½ teaspoon powdered ginger
½ teaspoon ground nutmeg
4 egg yolks
½ cup matzah meal
Pot of your favorite homemade chicken soup
Fresh asparagus
Break up dry matzahs by hand and soak in warm water for about 5-8 minutes until soft; press water out through colander until you have a flaky, damp matzah "mess." In large fry pan or wok, sauté onions and nuts in oil until translucent and soft. Add soft broken matzah to hot mixture and continually mix around until all is hot and a bit browner (5 minutes). Add seasonings and stir in thoroughly. (No eggs yet!)
Place pan in preheated (325º) oven for about 10 minutes to evaporate and partially dry mixture. Remove, cover and cool to lukewarm. Add beaten egg yolks and mix in well. Add matzah meal and stir in well.
When mixture is cool enough to touch, form balls, about 1½-2 inches in diameter, which may be a bit sticky. Place on baking sheets (use parchment paper with matzah meal lining to keep balls from sticking). Bake at low temperature for about 15 minutes or microwave for 2 minutes on 8-9 power.
Heat your favorite homemade chicken soup until hot and bubbly. Add fresh asparagus and plop balls into hot, bubbly soup. Boil until balls float.
You can prepare these in the morning and refrigerate before adding to soup.
MODERN
Grand Prize
Meira Spivak, Portland
Potato Chip Schnitzel
The Oregon NCSY recently put together a community kosher Pesach cookbook called The PDX Passover Cookbook, and this was the first recipe I submitted for it!
I make this recipe every Pesach. It is my kids' favorite. What can be healthier than refried potato chips? Probably everything, but it's totally worth the calories.
Ingredients
8-10 pieces chicken breast
Oil for frying
2 10- to 16-ounce bags potato chips (can use barbecue), crushed
6 eggs, beaten
In a frying pan, preheat oil (about a third full) on medium heat.
Place beaten eggs in one bowl and crushed chips in another.
Dip the chicken breast in the chips, then the eggs and then the chips again.
Fry in oil, turning once when golden.
Check with fork to make sure that the inside is cooked.
MODERN Runner-Up
Meredith Katz, Portland
30 Minute Moroccan Meatballs
Composed of ingredients traditional to the seder plate, 30 Minute Moroccan Meatballs are perfect for the festive meal. Plus, I love substituting pulverized almonds for bread crumbs. I started doing it for Passover, but almonds being a great source of protein (in addition to the egg and lean meat,) I have started doing it all year round! These meatballs are a new and favorite addition to my Passover menu – quick, healthy and made with Moroccan spices, which lend a taste of comfort food to this healthy dish.
1 pound lean ground turkey or lamb (99% lean ground turkey works well)
1/3 cup almonds (to serve as "bread crumbs")
1½ teaspoons ground cumin
1 teaspoon ground cinnamon
1 teaspoon kosher salt
½ teaspoon black pepper
1 cup loosely packed fresh flat-leaf parsley leaves
1 inch fresh ginger, peeled (running a spoon along the skin will do the trick)
2-3 cloves garlic
1 large egg
Optional cooked quinoa, for serving
Place rack in center of the oven and preheat oven to 425º.
To prepare the almond meal: In a food processor, pulse the almonds until consistency of large bread crumbs (about 3-4 quick pulses). Do not over-process the almonds. Pour pulsed almonds from food processor into large bowl. Add cumin, ground cinnamon, salt and black pepper. Stir to combine.
To assemble the meatballs: Add parsley leaves, ginger and garlic to food processor, pulse for 20-30 seconds or until finely shredded. Transfer contents of food processor to the bowl with the almond meal. Add ground turkey and egg. With hands or large fork, mix contents of bowl for 3-5 minutes or until egg is scrambled and ingredients appear to be evenly distributed.
Roll the meatballs into 1-inch balls (about 24 balls total), then arrange on  a nonstick  baking sheet. Bake until cooked through, 18-22 minutes, flipping meatballs halfway through. Serve over quinoa.