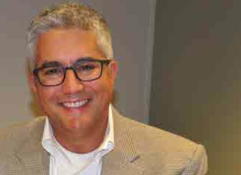 Robert Cohen knows the value of reliable resources. He's used available resources to meet his goals throughout life, and now he's providing reliable staffing resources for small and midsized companies in the Portland metro area.
In August Cohen opened PrideStaff, a staffing agency that as a franchise draws on both corporate resources and the benefits of local ownership to provide dependable staffing for businesses and reliable work for individuals and veterans looking for temp, temp-to-hire and direct-hire positions. PrideStaff is the employer of record and handles payroll and provides health insurance for the temp workers. The route to becoming a business owner has provided the 56-year-old Cohen with valuable experiences – including six years in the Army and 23 years as a corporate executive – that he believes will make PrideStaff a valued staffing partner for the region's business community.
Cohen was born and raised in Philadelphia, where his family belonged to "an extremely Conservative congregation," which he describes as similar to today's modern Orthodox. Throughout his life he has primarily belonged to Conservative synagogues wherever he has lived, including Congregation Neveh Shalom in Portland.
When his plans to attend grad school ran into a stumbling block called money, he decided to enlist in the Army and let the military pay for his higher education. He enlisted in 1984, and went on to be commissioned as a captain, serving s a maintenance helicopter test pilot. After the Army paid for his master's degree in systems management, he was stationed in Germany for three years. Though he still owed the Army three years for his degree, after the Berlin Wall came down in 1989, he was offered the opportunity to get out early as the United States downsized its Cold War era military.
He used his training and education to begin a successful corporate career in health care, including17 years in health care information technology. After his divorce, he didn't hesitate to use the resources of the early internet to locate his first love. When he found out Caryn was still single and living in Florida near his new job, he reconnected with his "soul mate," whom he first met on the Atlantic City Boardwalk in 1977 and then dated from 1978 until 1981 when he moved to California planning to attend grad school.
His says their reunion and subsequent marriage when he was 40 was "beshert," a term he also uses to describe his discovery of Oregon as a wonderful place to live for a family that hikes, bikes and skis. "I love beer and coffee, and the weather really isn't bad."
In 2003 while working for Siemens Healthcare Technology, he volunteered to be the "executive sponsor" to work with Pacific Northwest health care providers and to visit Coos Bay quarterly.
"So I started coming quarterly and fell desperately in love with Portland," he says. So he began to use networking and professional resources to find a suitable job in Oregon. It took nearly nine years, but in August 2012 he was hired to run a business unit for GE. Before Caryn's first house-hunting trip to Portland, she contacted some of the synagogues to see if they had any members who are Realtors. She found Robin and Carolyn Weinstein "and they became our conduit to connect with the Jewish community," says Cohen.
Tired of the corporate world with frequent moves, Cohen says he decided it was time to open his own business. He once again turned to resources to help him find a franchise opportunity that fit him. While staffing was not on his radar, a franchise consultant told him his passion to coach, mentor, solve problems and talk to people made him a great fit for the staffing field.
He describes his new career as owner of PrideStaff Portland as amazingly energizing. Now Cohen himself has become a valuable resource. In the temp staffing industry, most offices are either "mom and pop shops" or branches of large corporations. He says the beauty of PrideStaff is that he has the corporate leverage and support for areas such as payroll and health insurance, but he has the flexibility of being a sole proprietor who can use his own strengths and interests to expand his business.
For instance, the national PrideStaff model does not include working with returning soldiers to integrate them into civilian employment. But with his military background, Cohen has both the passion to help veterans and the knowledge to read a military resume and translate that into skills needed by local companies looking for administrative/office help, light industrial and tech manufacturing (the core sectors targeted by the PrideStaff model).
"Returning soldiers are not part of the franchise model, but I can recast the skills they know to fit into our core model," says Cohen. "They don't know how transferable their skill set is into a job, and employers don't know how to look at a military resume. Many skills are translatable, but the soldier and employer don't know how to translate. For instance, fixing radar in the military means they can read schematics and fix things. That makes them a good fit for technical manufacturers.
"Additionally, just being able and willing to show up for work and put their nose to the grindstone is something many people don't have, but these soldiers do," Cohen says, adding that former soldiers also have security clearance.
In October Cohen spent a day at a Hire Our Heroes job fair at Joint Base Lewis-McChord near Tacoma, WA. He says talking, coaching and mentoring the former soldiers was rewarding in itself, but "If I help just one soldier find a job, it's awesome."
Linking people needing work with companies needing qualified workers gives Cohen the sense that he is giving back – just one of the Jewish values he has tried to imbue in his four children: Jessica, 28, and her husband, Adam, and son, Leo, of Dallas, Texas; Alexandra, 23, of Austin, Texas; Chase, 11, and Micayla, 8. The two younger children attend Hebrew School at Neveh Shalom.
PrideStaff Portland: 12600 SW Crescent St., Suite 180, Beaverton | 971-371-4028 | pridestaff.com