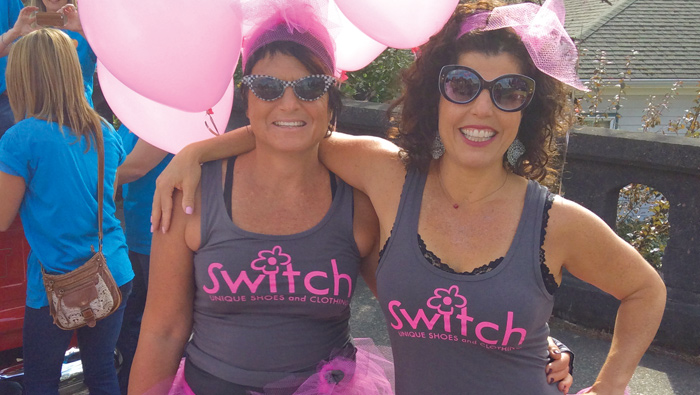 Switch Shoes and Clothing owners Rina Menashe and Jen Robinson have much in common that led them to their fashionista fate – business partners providing women's footwear, apparel and accessories from small independent designers in Israel, Europe and Portland.
The 9-year-old Multnomah Village boutique features several exclusive Israeli clothing lines and Israeli shoes, boots and sandals for women.
The women's journey to Switch has many similar twists. The two were married on the same day 23 years ago worlds apart – Rina in Israel and Jen in Oregon. Their children's friendship brought them together, and they discovered their complementary skills would mesh well in business.
An Israeli from Tel Aviv, Rina served in the Israeli Army, earned a degree in philosophy and met her husband, Moshe, in sixth grade. They moved to Oregon. Rina spent years designing retail space and doing visual merchandising.
Born in Philadelphia, Jen moved with her parents to Berkeley and then to Ashland. Jen's retail savvy comes from growing up at her mom's secondhand clothing store in Ashland. She, too, met her husband in sixth grade – on a basketball court. After graduating from Oregon State University with a degree in psychology and women's studies, she and her husband, Jason, moved to Portland. Jen got a part-time job in a boutique on Hawthorne. She took some time off to have her two children before returning to the workforce and working her way up to become an assistant buyer.
The following interview with the two has been edited for clarity and brevity.
How did your friendship evolve into a business partnership?
Jen: At the time I met Rina, I was an assistant buyer at Paloma in Hillsdale. Our children went to different kindergartens but met on the playground. Then they went to the same elementary school, and that is when Rina found me.
Rina: I used to work at Nordstrom; one of my jobs was doing window displays. When I was working on windows, people would knock on them and point to my shoes and want to know where I bought them. So I began thinking about opening a shoe store and bringing shoes from Israel. I knew Jen had a lot of experience in retail, and I didn't know about that aspect of the business. So I started to nudge her.
Jen: Just a little nudge! I was in my mid-30s and had been at one small boutique for nine years. Rina was charismatic and charming and told me about her idea. I was not a risk taker, but apparently at that moment I was. We were not sure we wanted to open a store; we were thinking of representing a variety of shoe lines. Rina bought an orange trunk to carry the shoes around. We still have it.
Rina: Moshe, my husband, brought samples back from Israel when he went on his business trips.
Jen: With our connections we got a meeting with Nordstrom. It didn't quite work out, but we met this woman in Seattle who bought shoes from us. Burnt Sugar was the name of the store in Seattle.
Rina: Then we had an event. We opened a "store" for the night in 2005 in the Pearl. We wanted to see how people reacted. The whole theme was white, but the shoes were very colorful. We had a deejay. It was amazing – we sold so many shoes and the people were terrific. Over 200 people came. It was a great party.
Jen: We then had a dinner at Seasons and Regions to talk about what a business would look like. I think I was clear with Rina that I needed a community.
You created a business plan that drew on both your strengths?
Jen: Yes. Working with women is a big part of what I do. I gained so much knowledge when Mary Sellin (now retired owner of a well-known boutique on Hawthorne) took me under her wing. Then after my children were born, the mentoring from Kim Osgood and Mike Rocheck at Paloma allowed me to continue increasing my knowledge. Rina is this genius merchandiser who creates magic when you walk into a space.
You both have families. Was location an issue?
Rina: We talked about location, and we both decided we wanted to work where we live. We wanted to be in our community. We decided on Multnomah Village. Driving through the Village, I saw our location being built. In 2006 we opened.
Jen: It was a First Friday (when Multnomah Village stores stay open late). We had such a small budget. Our inventory was so low that it looked like we were closing a store not opening one.
Tell me about the Switch shopping experience?
Jen: The main issue for us is not only that the customer find something wonderful, we want the customer to have a positive experience. We want them to come back. For example, one customer came in wanting to get some ideas and then go to another store for a less expensive price point. This customer ended up buying two pairs of shoes. As she was leaving she told me, "I was having the worst day. You welcomed me and you made me feel so good." She had never been in before. It wasn't what she purchased, it was the outcome of how she felt and knowing she would be back.
Rina: Our philosophy is about being comfortable in our store. For a lot of woman, shopping is an emotional experience. Maybe they had a bad day. Maybe they had a great day. We offer a cup of tea. We don't ignore them. One lady confided in me she was having personal problems. She wanted to try things on and play, maybe buy. But that was not the point. You can come in and have your own unique experience.
Jen: The philosophy at Switch is every single woman who walks in the door has a story. We are willing to listen to it. At Switch everybody has a voice. That is the philosophy Rina and I have in our buying and the people we serve as well as the people we hire.
Does it help you when you buy for the store?
Jen: When I go to buy I put about five customers and their different styles in my brain. This way "I take them with me," and I know I am going to be a successful buyer.
Rina: Life is too short to blend in. Every woman that comes in has a beautiful side to her. We want to bring it out. Women can complain about their bodies all day long. We listen, we admire and we want you to try our merchandise on. People can come in and be comfortable saying, "I don't really know what I want to wear." We love that because then we can work with the customer and the merchandise.
Jen: I am in it for the relationship that is developing with the customer. I am not going to limit dressing to trends. New and unique is how we keep it fresh.
Rina: When we train our employees, we tell them that the show begins when the customer comes into the store. We keep merchandise fresh for our customers. We regularly mark down goods and bring in new merchandise.