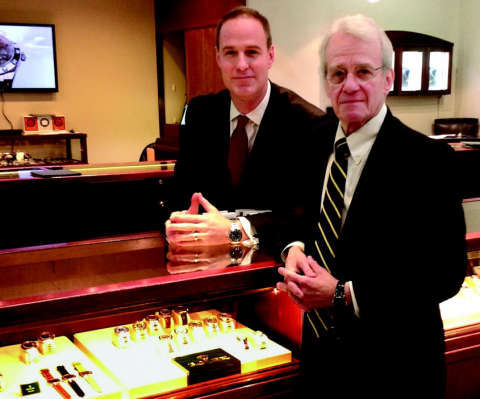 Packouz Jewelers was established in 1917 by Nathan Packouz. The jewelry store on Southwest Broadway in downtown Portland was owned by the Packouz family for three generations until store manager Rick Mahler bought it about two years ago. Nathan's grandson Larry Packouz has remained at the store to mentor the new owner but claims he plans to retire in a year or two. Rick was store manager for about 15 years before buying the business. The two men recently sat down to talk about the business – its past, present and future and how they each fit into those eras.
Rick, how would you describe your relationship with Larry?
He is both a friend and mentor. I have deep respect and appreciation for Larry Packouz's knowledge of the jewelry business. I hope he stays forever and ever. Larry is Packouz Jewelers. And he will be here until he doesn't want to be here anymore. Larry can stay as long as he wants. Hopefully he will work here until he doesn't want to work anymore.
Larry, can you tell us your family's history with the business?
My grandfather Nathan Packouz came to Oregon from Poland with his brother and cousin. He was 8 years old and sold newspapers. When he was 18, he went to Los Angeles, worked in the jewelry business for about a year, saved a little money, came back and opened Nate's Jewel Box. A short time later he changed the name to Packouz Jewel Box. It was located a few blocks from our present location for about 45 years. My father, Bill, came into the store after attending the University of Oregon for two years. Then World War II broke out. He was in the Coast Guard for two years before working at the store. I followed after graduating from U of O in 1966. Shortly after my grandfather passed away, my dad had to move to Palm Desert for health reasons. So, when I was 25 years old, I started buying the store from my dad.
Rick, what was your experience in jewelry?
I started working at Zell Bros. Jewelers. My six years at Zell's was a wonderful education in the business.
I had great success at Zell's, but they were going through changes, and Larry and I became friends. I became a manager at Packouz in 1994.
Rick, how has the retail jewelry store business changed?
Due to the economy, acquisitions and a number of other things, independently owned, high-end jewelry stores are going away quickly. Larry and I are very proud that we have been able to maintain our identity and keep the way we do business a priority. We make decisions together. If there is one thing I want to make clear, it is that this store is a historical place.
What about your location and clients?
Rick: We have the best location in the state of Oregon. We are downtown on Broadway. Broadway is revitalized – Ruth's Chris Steakhouse, Nordstrom's, the hotels. We can see Rob Solomon's US Outdoor Store's new neon sign from our front door. We have the best location of anyone. Being downtown, there is something colorful going on every day. We get actors, actresses and sports stars; in this kind of business, names are confidential.
Everybody who comes into the store is comfortable. People come in to visit and say hello. The store is a living, breathing historical place. It is bigger than these four walls. It is as much a social destination as it is a business. It is a warm, fun place to be. Word of mouth is how we grow.
Larry: We are fortunate that our clients continue to buy jewelry. We take care of them and they take care of us. Some of the clients are third- and fourth-generation customers. We have made wedding sets for some clients whose parents' wedding sets were made by my grandfather.
Packouz Jewelers | 522 SW Broadway, Portland | packouzjewelers.com | 503-228-3111
Gloria Hammer is a freelance writer who divides her time between Portland and Hood River.