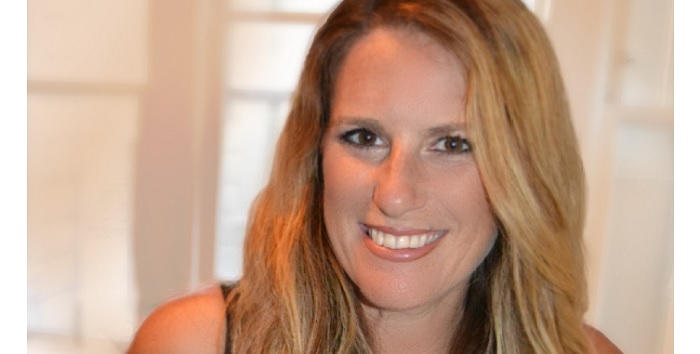 An avid runner, dancer and yoga instructor, Elyse Kaye says being "overly blessed" in terms of breast size made it impossible to find a sports bra that supported her active lifestyle.
Fortunately, she had the support of her Jewish community when she decided to take on the challenge of developing a sports bra that enabled large-breasted women to exercise in comfort. "They have been the pillar of my growth, spreading the word and supporting me on this crazy journey from my synagogue to sorority legacy and camp friends," writes Elyse in an email to Oregon Jewish Life. Elyse lives in the Bay Area and has cousins in Oregon's Willamette Valley. "Hebrew Free Loans helped pay for the patent," she adds.
Elyse introduced Bloom Bras with a Kickstarter campaign in 2016, asking for $20,000 in seed money. She met the goal in 82 hours and ultimately raised $50,000 on the site.
The name Bloom comes from her late paternal grandmother, Frances Bloom Kaye Tartar, with whom she was close. Frances died of breast cancer, and Elyse says she got her love of food and travel – as well as her figure – from her. She later learned that her great-grandmother Bloom sold corsets, a fitting ancestry for a bra developer.
"I have tried every sports bra available in my size, and each one had its flaws – from making me feel like I was in a suit of armor, to having my girls right under my chin, to feeling like I was falling out of the bottom," says Elyse in an email interview. "Plus, my body is constantly changing. I wanted a bra that was comfortable, breathable, adjustable, sexy and without awful underwire or Velcro. It was an engineering challenge, not a design flaw."
So she recruited a team that was up to the engineering challenge. Elyse not only partnered with NASA and shipping and packaging experts, but also with celebrity corset designer Camilla Huey. Huey's Garment District atelier has produced designs for Oprah Winfrey, Adele, Cate Blanchett and Katy Perry.
Elyse had spent 20 years working in product innovation for companies such as Black & Decker, HoMedics, Nine West, P&G and House of Marley before launching her own brand.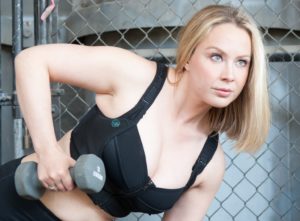 Bloom Bras offers sizes 28D to 50K, so women can now find truly supportive and customizable workout bras that will make them look as good as they feel.
"Most larger-busted women know all too well the day-to-day struggle of standard sports bras when working out," notes Elyse in a press release. "Problem areas often include the dreaded uni-boob, painful chafing and those God-awful red lines underneath shoulder straps and around rib cages. One of the hardest pain points to deal with is that self-conscious feeling that comes with being 100% unsupported as she hits the treadmill or any topsy-turvy yoga pose."
The Bloom Bra uses state-of-the-art compression materials and cooling, moisture-wicking power mesh combined with a reinforced front zipper to "lift, not squish." Working like a shelf to lift the breasts rather than squash them, the Bloom Bra distributes weight throughout the back and sides rather than putting pressure over the shoulders and across the ribs, allowing for natural movement of the breast.
The key to the Bloom Bra's design is an adjustable "lifting strap and cinching cup," making it perfect for women with one breast being larger/smaller than the other.
"A woman's body changes about 10% throughout the month naturally due to hormones, what you ate last night, cycles, temperature when exercising" says Elyse. "If you are a DDD, that is a full cup size."
For more information about Bloom Bras, visit bloombras.com.