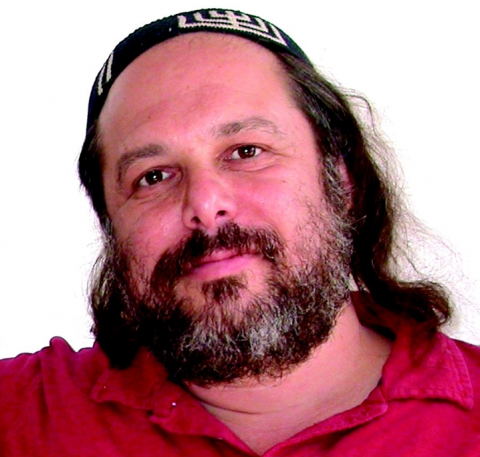 One of the greatest gifts of Jewish learning is how, in the hands of a gifted teacher, texts that were formulated centuries ago can be made relevant to modern lives. Case in point: "Overcoming Your Inner Pharaoh," an interactive workshop series taught by Eugene's Shmuel Shalom Cohen. The premise is simple but elegant. Shmuel posits that if we think of our hopes and dreams as a kind of personalized Promised Land, then whatever is blocking us from attaining them is our inner Pharaoh. His solution is to use the story of the Exodus from Egypt as a process for overcoming those internal roadblocks. The 13-week workshop turns the 10 plagues into the 10 steps needed to reach fulfillment.
The workshop is timed to use the power of Passover (and the seder night in particular) to transform the enslaving energy of Egypt into a powerful force that should propel you in a straight trajectory toward your aspirations. If all goes well, at the end of the workshop, you'll have assimilated a set of learning tools that can be used any- time you feel you're hindered from moving forward in your life. "The idea for 'Inner Pharaoh' evolved through my frustration with how, during the Passover seder, we study the Exodus from Egypt as a history lesson, yet only superficially experience that inwardly," Shmuel says. "Of course, nobody likes the idea of experiencing 10 plagues, but there's a way this can become a positive thing."
When I asked Shmuel for an example, he replied, "Consider the first plague of water turned to blood. In Hebrew, water is spelled mem- yod-mem; the letters are big-small-big, like a picture of breathing. The Torah says our soul, which connects to the infinite, is in our blood. By breathing deeply and being aware of the blood circulating in your body, fears become smaller as they are compared to the infinite. Water/breathing becomes blood/soul connecting to the infinite; a first step, moving us toward our Promised Land."
Shmuel has personally made such journeys in life before. He was born into a mostly secular Jewish family, and attended a Conservative Hebrew school in Palo Alto, CA. After his bar mitzvah, however, he walked away from Judaism, considering it to be empty ritual in a language he didn't understand. He explored various religious traditions while attending UC Berkeley, where he earned a bachelor's degree in computer science, and while working in Silicon Valley. This path eventually led him back to his Jewish roots, coinciding with a shift to Eugene in 1995. After a 10-day retreat in Israel in 2001, Shmuel moved to Jerusalem and lived in the hippie
Shmuel Shalom Cohen Orthodox neighborhood of Nachlaot while attending yeshiva.
In Israel Shmuel began developing Conscious Torah, a system of teaching Judaism as a path of personal growth and consciousness- raising based on Torah. The circle closed in 2010 when he returned to Eugene to begin teaching classes and workshops. He also founded and is the executive director for Jewish Events Willamette- valley ( JEW ), a nonprofit organization whose mission is to build Jewish community, Jewish pride and Jewish learning. Phillip Stillman, who took Cohen's workshop in Israel, says that the experience was practical and beneficial. "I now understand the exodus I must take on a daily/weekly basis from the Pharaoh in me as I search for freedom from personal slavery," Stillman wrote. "Even better, I now have practical tools to do so."
Classes will begin in the first part of January. Contact Shmuel Shalom [Geoffrey] Cohen at ShmuelShalom@ConsciousTorah. com or 541-514-2571. Also check out ConsciousTorah.com and JewishEventsWillamette-valley.org.
Joseph Lieberman is a freelance writer and photographer in Eugene.