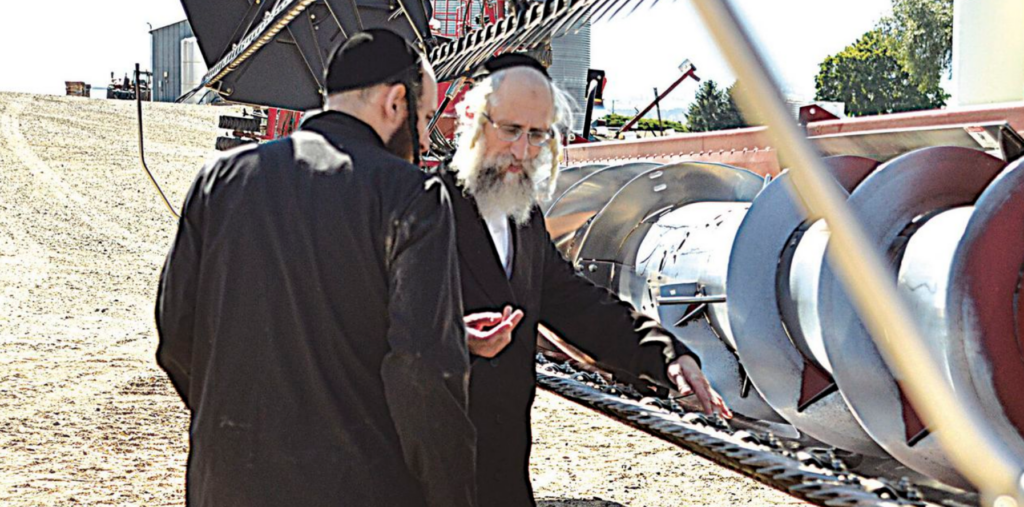 Photo: Rabbi Joseph, left, and Rabbi David examine the header of a combine at Cornerstone Farms near Enterprise to make sure it's been thoroughly cleaned before harvesting a kosher crop Monday, Sept. 13, 2021. (Bill Bradshaw/Wallowa County Chieftain)
By Bill Bradshaw, Wallowa County Chieftain
Why is this wheat different from all other wheat?
Because it can be made into matzah, the thin, crisp unleavened bread, traditionally eaten by Jewish people during the Passover seder — when a child will ask the first of four traditional questions from the Haggadah, — "Why is this night different than all other nights?" The answer is that it was the night God had the angel of death "pass over" the homes of the ancient Israelites while they were still in bondage in Egypt.
Since at least 2008, Orthodox Hasidic Jews from Brooklyn, New York, have traveled to Wallowa County to inspect and purchase wheat — and this year, spelt — from Cornerstone Farms Joint Venture, one of the largest grain producers in the county operated by Tim and Audry Melville and their sons, Kevin and Kurt.
Samuel Porgesz, the manager of a kosher bakery in the Williamsburg neighborhood of Brooklyn, said the Hasidim have meticulous requirements to make sure the wheat they use is absolutely kosher for Passover under Jewish dietary laws.
"The kosher law is that whenever we start the harvest, it has to be under rabbinical supervision," Porgesz said. "Before we start the harvest, we make sure all the combines and all this equipment are clean of any previous grains. We want to make sure it's not contaminated with any other grains. The second it's harvested, it's always going to be under rabbinical supervision."
Read the entire article here.