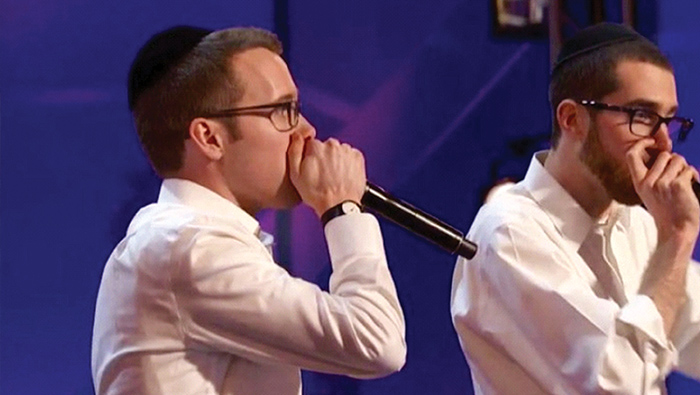 Think you've heard it all? Have a listen to beatboxing. Also known as vocal percussion, it replicates the sounds and rhythms of drums along with noises that heretofore humans didn't make.
Portland has a recognized expert rising from our own Laurelhurst neighborhood, Portland Jewish Academy and Grant High. An Orthodox Jew, Ilan Swartz-Brownstein, also known as Aleph Bass, honed his skills on weekly schleps to Congregation Kesser Israel. He and his friend, Josh Leviton, recently took well-deserved bows on NBC's "America's Got Talent," including all-expenses-paid trips to Los Angeles and a peek inside the set where "Seinfeld" was filmed.
Ilan attributes his beatboxing start to high school buddies who enjoyed messing around. One day a friend complained that Ilan's beatboxing was most annoying, and he should either get better or quit.
"Breathing and making drum sounds at the same time is always a challenge," Ilan says. He worked with instructional videos and practiced tirelessly on cross-country runs and, of course, his 9-mile walks to Congregation Kesser Israel each Shabbat. Ilan is now a senior majoring in marketing at Yeshiva University in New York, where he beatboxes every day except Yom Kippur and Tisha B'av.
America's Got Talent
So how did Ilan's stint on "America's Got Talent" get started? "They want a good story," he explains. "People look at us and think we're Torah scholars and then we beatbox. We're a surprise."
Ilan and Josh's surprise began at a November New York City audition that happened to fall at 7:15 pm on Shabbat. "We sent in a video, and they wanted a second audition so we rushed out of services that day," Ilan says. "We wore kippot, white shirts and black pants. When a producer asked, 'Which one of you is from Alaska?' I said, 'I am, can't you tell,' which they thought was funny. (Ilan is originally from Alaska). When we finally got out about 11:30 pm, we bought candles and spices for Havdallah."
The audition was a success, so it was on to the first round. In March, AGT flew Ilan and Josh to Pasadena for three days of interviews, practice and tips. "The audition was unreal," Ilan says.  "There were all these lights. We could see about 3,000 people, but we couldn't make out faces. When we started singing and dropped the bass (i.e., beatboxing with a punch), everyone stood up and cheered. The judges loved it. All four of them said, 'yes!' "
Second Round Preparations
Chances of making the second round were good but not guaranteed. The go-ahead came in April, leaving them only two weeks to prepare their new set. Then it was on to NBC's Studio City in Los Angeles, where AGT videotaped them studying Torah, riding bicycles, even coming out of the dry cleaners on the "Seinfeld" set.  Still, since the duo was eliminated after the second round, the videotapes weren't shown when their set aired on national TV in July. Disappointed but invigorated, Ilan enjoys recounting his unusual experience and its takeaways.
"Thirteen million people watch this program," Ilan says. "The videos would have been a way to show what Judaism really is, so when they didn't use them, I was disappointed. Then I realized the opportunity we'd had to spend time with the 20 other acts. There was a Mormon rap group, contortionists, other religious Christians. Maybe they'd heard the word Judaism, but they'd never met a Jew. One lady with a dance act came up and asked, 'How do you guys keep those menorahs on your heads?' "
"Part of being Jewish is showing the beauty of being Jewish," he says. "We made a tremendous impact backstage. Young people want to change the world. That's what Josh and I wanted to do on 'America's Got Talent.' But the biggest impact we had was behind the scenes. There's a lesson in that."
Ilan and Josh's impact has extended in ways that still surprise them. "Once this aired in July, my phone didn't stop buzzing for three days," Ilan says. "We had hundreds of emails and messages on FaceBook and Twitter. High school friends, elementary schools teachers, people from South America, Jews and non-Jews wrote. They gave us credit for our pride in being Jewish and talking about Israel on TV. We still get requests to perform. We're going to Palo Alto and UC Berkley. Kids like us and think beatboxing is fun. Hopefully, this journey will not end soon."
Check out Jewish beatboxers online at youtube.com/watch?v=k7Vu5nAHBlk