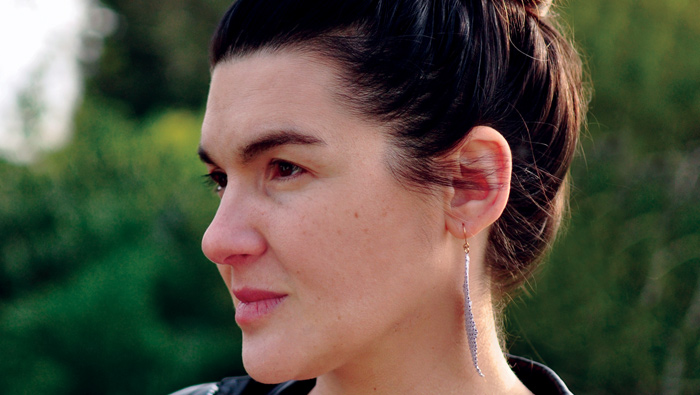 Asked what it meant to receive the 2015 American Poetry Review/Honickman First Book Prize for her manuscript, Divinity School, Portlander Alicia Jo Rabins was unequivocal:
"I feel like I won the lottery. There were over 800 submissions."
In the world of poetry, this prize represents a hugely prestigious honor, one that includes the publication and national promotion of a poet's first full-length book. Divinity School was published in September and is distributed by Copper Canyon Press through Consortium. Locally, the book is available at Powell's Bookstores.
Alicia Jo's poetry has been published elsewhere, including Boston Review, Ploughshares, 6×6, Court Green, and anthologies from NYU Press and Knopf. Her chapbook, The Girl Who Wants to be a Landscape, published by Artscape Press, was selected by Mary Oliver for the Artscape Poetry Prize in 1995.
Divinity School reveals Alicia Jo's ongoing concerns, which center on her spiritual, emotional and physical responses to life as a woman, mother, Jewish scholar, musician and seeker. Divinity School also reaffirms for Alicia Jo her lifelong impulse toward poetic expression.
"I had a period of time after I graduated college when I started to realize that my sense of self-worth was determined by whether I had written well that day," she explains. "I had an instinct that that wasn't a healthy way to live my life, but I didn't know how else to think about it because I was young and ambitious. So I stopped writing, and I decided I would only write again if it came back unbidden by me. I was determined to write from a spiritually healthy place, not to judge my validity by my output."
During her hiatus from poetry – the summer of 1998 through the end of 2000 while she was in her mid-20s – Alicia Jo studied Jewish texts at The Pardes Institute of Jewish Studies in Jerusalem.
Alicia Jo began writing poetry at age 12, inspired by the humor and wit of children's poet Jack Prelutsky. "He's like Shel Silverstein – funny twists at the end, comic, formal rhymes. I got the same kind of pleasure from him that I now get from John Donne and other poets who do with words what Bach does with music – humor, counterpoint and light."
Now in her late 30s, Alicia Jo works at the same artistic pursuits that have occupied her since her early 20s: music, writing and spirituality. "I've changed and I haven't changed," she acknowledges. "I hope I've grown wiser, but I feel like I'm the same person with the same central concerns. I have more awareness of people outside myself now, being cracked open as one is by beautiful and terrible things."
Alicia Jo's creative interests have always overlapped, in the manner of a Venn diagram. In her music, particularly her indie band Girls in Trouble, she explores the complex lives and feelings of women in Torah and Talmud. Some of the poems in Divinity School chart parallel journeys, as in the poem "The Story of Noah" and the song "Measuring Tape" on
GIT's newest album, "Open the Ground," which was released this fall.
Alicia Jo also has an abiding fascination with the intersections among people. "Where does one person meet another person – strangers, partners, lovers, sisters?" she asks. "Where does God meet humanity? Where does the outside world meet the private world that we carry within us? The membranes where two worlds meet have always held my interest."
Poet Matthew Olzmann, in his advance praise for Divinity School, writes, "In Divinity School, the eternal and the body are never far apart. … This is a gorgeous book – roiling with desire and awe, it stretches toward the divine, while offering a resonant meditation on the astonishment of being human." Alicia Jo concurs. "Anyone who writes is in a body (first and foremost). I wanted to embody a place, physicality in my poems. One thing I love about halacha and Jewish traditions is that the body is so present in them and so many of the laws are about the body. I find the body a path to wisdom." She adds, "I struggled with image and eating disorders in high school, and I now see my experience with that is like monks who mortify the body. There's something spiritual happening there. I've always had a profound respect for the cycles of the female body and the wisdom of that, beyond any intentional activity. Our bodies are part of something so much bigger than us."
The title Divinity School emerged after the collection was completed. Alicia Jo explains, "When I submitted the book (to American Poetry Review), the title was Malchut (rulership). Kabbalistically, the word "Malchut" is associated with the Shechinah, the feminine of the divine. After I submitted the book, I received a grant from the Joshua Venture Group for feminist Jewish work. In November 2014, at a Joshua Venture retreat with six other Joshua Venture grant recipients in Pennsylvania, I overheard a woman say, 'Sometimes I think I should go to divinity school.' I have an image of that as angel wings and a school backpack. I like the connotations of divinity school, the idea that divinity school teaches us to be divine."
References to Jewish texts appear throughout the poems, ranging from Hassidic advice about keeping your ego in check to Talmudic sayings that compare Torah to water finding the lowest place (i.e., Torah resides in the humblest among us), as well as actual Torah stories, like that of Noah. Alicia Jo says, "Because this is a mainstream prize, the book becomes accessible and valuable to readers who perhaps don't know about the traditions I'm building on. I hope Jewish readers will find interest in the idea of poetry as a drash (interpretation of Biblical text), a continuation of Jewish text."
You can listen to a free podcast interview with Alicia Jo about Divinity School at Late Night Library: latenightlibrary.org/alicia-jo-rabins-divinity-school. For more information, visit aliciajo.com.